Premier League: With 16th win on trot, Manchester City are engaging in plunder with grace, as victory march gathers pace
It will take a slide of miraculous proportions for the title to slip out of Manchester City's hands, given the fact that they just recorded their 16th win on the trot.
Scores of 5-0, 1-0, 3-1, 2-1 and now, 4-1. A total of 15 goals to three against the very best that English football — Liverpool, Chelsea (away), Arsenal, Manchester United (away) and Tottenham Hotspur, in that order — has to offer. Manchester City are engaging in plunder and arson with grace as the victory march gathers pace.
The numbers are so many that it would be a pointless exercise to list them all. They would only dull City's achievement. The club's only loss this season arrived against Shakhtar Donetsk in the Champions League, when there was nothing at stake for the English side. Pep Guardiola's doubters are increasingly difficult to spot.
City, arguably, had the best side on paper the last two seasons. Yet, it could not even finish in the top two. So, what has changed?
Certainly, there is a sense that players have been made to buy into Guardiola's ideas. Last season, the likes of Gael Clichy, Pablo Zabaleta, Aleksandar Kolarov and Jesus Navas held them back. The wide players in Guardiola's system are vital. They stretch play, run directly, look for angled passes into the box, among other things.
There was a marked difference on Saturday. Leroy Sane and Raheem Sterling had the beating of Spurs in the wide areas all match. Sane particularly gave Kieran Trippier a horrible time. It was indeed curious to see Mauricio Pochettino stick with the young full-back, despite having Serge Aurier on the bench.
Sane, with his two nimble feet, time and again beat Trippier to put a delectable ball in the box. The German finished with two assists and he could have had more. The funny thing about City's 4-1 win was that it could have been much worse for Spurs. Numerous chances were missed, and we are not talking just about Gabriel Jesus' botched penalty.
It took City, however, only the opening quarter to start the shelling. For all the host's dominance, it was a moment of generosity which shook the score-line. Pochettino was not pleased as one of the shortest men on the pitch, Ilkay Gundogan, took advantage of lax defending to head home from Sane's corner.
"The way we conceded the first goal was a massive gift for Manchester City. It changed completely all that you prepare and wanted to develop on the pitch," said the Spurs manager afterwards. It certainly did. Spurs had begun the game looking to hustle City; after the first goal, they were forced to chase it, leaving spaces for the host to exploit.
This played into the hands of City's most dangerous player, Kevin De Bruyne. After the match, Guardiola could not find words to describe the Belgian's performance. As he has shown in other games against big sides this season, De Bruyne can find space where it seemingly cannot be found. Making a deft run here, opening up the pitch with a clever touch there, the playmaker delights by squirreling on the pitch with innumerable posers in tow.
We learnt something new about him yesterday as well; at least something that is not well-known. De Bruyne's left foot is stronger than it was thought to be. For the second goal, a mistake by Harry Kane, allowed City to break in numbers and the Belgian was released by Sane on the left. Initially it seemed De Bruyne would deliver one of his characteristically searing passes into the six-yard box; rather he unleashed a venomous left-footed shot which Hugo Lloris could not parry, despite getting a hand to it.
De Bruyne had once discussed how he acquired the comfort of playing with two feet. "Because I destroyed too many flowers & shrubs, I was banned from using my right foot by my [childhood] neighbour. His objection did have a huge advantage: I could practice with my left." Now, De Bruyne destroys defences.
The Belgian's goal took the life out of Spurs, who had threatened to make a match of it early in the second half. The overwhelming dominance of City eventually had its say as Sterling carried himself to the position of top-scorer for the club this season.
A special mention, though, should be reserved for goalkeeper Ederson, who is quietly having a fantastic season. On Saturday he completed 26 passes, reaching his teammates with attempts that traversed over 50 yards. Guardiola was much criticised for rejecting Joe Hart last season due to his inadequate ball circulation but he seems to have found the answer in Ederson.
The Brazilian goalie's completed passes were more than Christian Eriksen (24) and Dele Alli (17). Although the former snatched a goal in the end, the latter once again flattered to deceive. Alli has been unable to touch the heights of the last two campaigns, although that is not uncommon in a player's developmental stage. His temperament, however, is liable to put him in more trouble — the studs-on challenge on De Bruyne was worthy of a sending-off.
With another defeat away from home against a fellow top six side, Spurs have been left with much to ponder. Pochettino knows that his side's indifferent form is not helping the club's hopes of qualifying for the Champions League again. However, it is improbable that his players will have to battle an opposition of City's calibre every now and then.
For Guardiola's City are setting a standard rarely witnessed in English football; 16 straight wins and counting. It will take a slide of miraculous proportions for the title to slip away now. Guardiola is doing his thing again.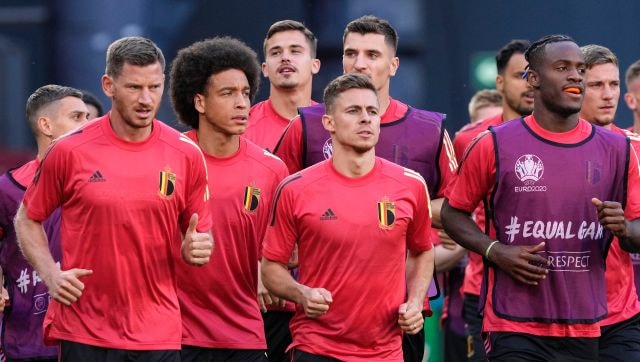 Sports
Five days after Eriksen required emergency medical treatment to revive him at Copenhagen's Parken Stadium, Denmark play Group B leaders Belgium.
Sports
The Manchester City playmaker suffered fractures to his nose and left eye socket after a collision with Chelsea's Antonio Rudiger in the Champions League final a week ago.
Sports
Arsenal, Chelsea, Liverpool, Manchester City, Manchester United and Tottenham face a £25 million fine and 30-point deduction if there are further attempts to break away.