Premier League: Under Jurgen Klopp of Germany, Liverpool fans re-discover what it is to be Liverpudlian
To paraphrase Bill Shankly — Liverpool was made for Jurgen Klopp from Glatten, Germany (whose coat of arms, incidentally, is the steering wheel of a ship), and Jurgen Klopp was made for Liverpool.
It's 25 June, 2020. Liverpool have ended their 30 years of hurt, claiming their 19th league title — first since 1990 — with an unprecedented 7 games remaining. In doing so they have won a league championship quicker than any team in the history of the English first division. This was aided by Manchester City losing 2-1 away to Chelsea at Stamford Bridge, meaning that Liverpool's closest contenders, City, will not be able to mathematically chase the Merseyside club down.
A win for Manchester City against Chelsea would only have delayed the inevitable. Liverpool were on a streak of 18 successive league victories. The Reds' emphatic 4-0 win vs Crystal Palace was their 23rd straight home win. Both those numbers are league records. Yet this Liverpool team, after a couple of days of partying, will set their sights again on a few more records to tumble.
Liverpool captain, Jordan Henderson stated explicitly that the job is far from over, and that a league record points tally is in his team's sights. That's the measure of this unit, never resting on its laurels.
But between now and then, before beginning preparations for their next fixture, in which Manchester City will give Liverpool a guard of honour, everyone associated with the club in any capacity, has the right to get inebriated to within an inch of their lives. They deserve it. The fans and the management have willed this team to become Club World Champions, Super Cup winners, European Champions and will now be drinking from the golden chalice of the Premier League once they are awarded the title. It's been a long time coming.
Its been thirty years since Liverpool last won the league. When Steve McMahon was lifting the cup alongside Alan Hansen, a sum total of zero Liverpool players were born from amongst the ones who took the field against Crystal Palace. Jurgen Klopp, at the tender age of 23, was with German minnows Rot-Weiss Frankfurt, having played zero games. Back then he used to lug boxes of heavy DVRs to and from lorries to the video rental shop he worked in, attended college and then worked at a cinema warehouse to support his wife and newborn son. He would get less than five hours of sleep every day, pinballing from one responsibility to the other. To him, coming back home to spend some time with his child was the highlight of his day. That sense of family and homeward qualities is what this Liverpool team are bound by.
Earlier than that, when Jurgen was appearing for his A-levels his headmaster reached out to counsel him. He was told, that he didn't have the aptitude for anything substantial and hoped that football worked out for him. After 4 major trophies in the span of a year, you could say that it perhaps did.
Jurgen, despite all odds, was adamant to continue his education, willed himself to obtain a diploma in sport science from the Goethe Institute. He wrote a paper on the science and the art of walking. And thus began the steady but determined journey of nourishing his mind and challenging the precepts of human potential by sheer hard work and good faith. This was a self-affirming path that led to him retiring as Mainz's record goalscorer with 56 goals in 2001.
Jurgen Klopp's managerial career since then has been philosophically akin to that of a professional cross-country trekker. A person who knows all about the art and science of pacing oneself through the steep inclines and the narrow ridges across any terrain of life and career, and to do it with a smile as wide as the river Mersey and with a spirit as relentless as its undercurrent. Remember, this was a manager, that not too long ago was called a serial loser of finals. This is a man of unchartable spiritual depth, first, then a world-class manager.
I was reading Dan Fieldsend's 'Local' as a precursor to Liverpool FC's inevitable crowning as Champions. It is a book on the social, cultural, sporting and political significance of Liverpool as a symbol and a city; and by far the most evocative book ever written on the club. From there, allow me to share a passage about the Mersey bay:
"The bay of Liverpool is so difficult to enter, it's undercurrent is so volatile, that whenever a large ship arrives a pilot boat has to be sent out first to guide it in safely. I believe there's a metaphor in there… 'Scouse', as far as I'm concerned is as much a mentality as much as it is a locality. There are Scandinavians, Irishmen and Ulstermen, Southerners, and others from elsewhere who have navigated rough waters and have worked hard to understand that fact."
To expand on this beautiful metaphor, I believe Jurgen Klopp has fulfilled his role as the tug boat, the pilot boat, and drawn this sea-liner of an enterprise to shore. But it couldn't have been possible without the guiding light thrown from the shore, that is the politics and core values of Liverpool as a city and what it represents.
Jurgen Klopp spoke openly about which way his moral compass points, well before he was the manager of left-leaning, socialist club Liverpool. "My political understanding is this: If I am doing well, I want others to do well, too. If there's something I will never do in my life it is a vote for the right."
In other words, to paraphrase Liverpool's first footballing prophet, manager Bill Shankly from the mining town of Glenbuck, Scotland — Liverpool was made for Jurgen Klopp from Glatten, Germany (whose coat of arms, incidentally, is the steering wheel of a ship), and Jurgen Klopp was made for Liverpool.
This blossoming romance between fans and franchise, couldn't have made possible without the collective manifestation of millions upon millions of Liverpool supporters the world over. And if you who is reading this is among them, it is you who has willed this into being because of what you chose to believe in and stand for, all these years. That persistence has paid off.
Pat yourself on the back, get on a call on your mates, and remind them, that this is just the start. That this is the beginning of a dynasty. This Herr Klopp's very own version of Shank's bastion of invincibility. This is merely the first storey.
Commemorate this bright day in the midst of all the death, darkness and disease around us. Say 'NO' to obscurity and ennui. Yawp from the rooftops of your mind. Re-affirm your dreams. Take courage from the now well-known journeys of Mohamed Salah, Andy Robertson, Roberto Firmino, Jordan Henderson, Jurgen Klopp, etc and tell yourself, "if they can do it..."
This Liverpool team is living proof. This team gets it. This is your team. This team is your blueprint. This is your year. But remember, you needn't sprint before you can walk. Be like Jurgen Klopp.
Sports
Chelsea were revitalised by Tuchel's arrival, climbing the table to finish fourth before winning European club football's biggest prize against Manchester City in Porto last weekend.
Sports
"You know I was so grateful to arrive a second time (in the final after doing so with PSG last year) but this felt different. I told people before somehow it was," Tuchel said.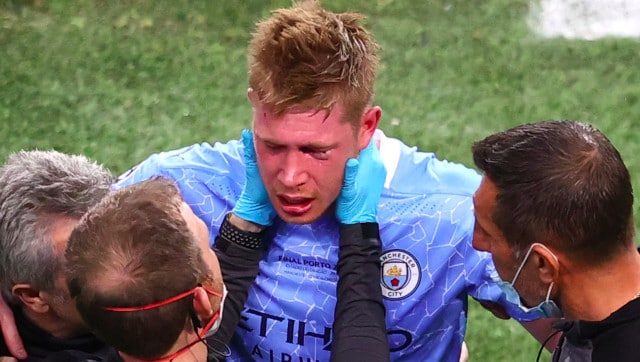 Sports
"Kevin De Bruyne has joined the group and that's fantastic news. He looks ready, he looks fresh, and just to see him walking into the dining room was a real highlight of the day," Martinez told reporters at Belgium's team base near Brussels.