Premier League: Tammy Abraham, Christian Pulisic continue hot-streak in front of goal as Chelsea beat Crystal Palace
Abraham read the game well to beat Palace's offside trap in the 52nd minute and met a backheel pass from Willian before shooting low for his 10th league goal of the season
Christian Pulisic scored his fifth goal in three Premier League games as Chelsea beat Crystal Palace 2-0 in the Premier League on Saturday

Abraham read the game well to beat Palace's offside trap in the 52nd minute and met a backheel pass from Willian before shooting low for his 10th league goal of the season

Pulisic ensured Chelsea's sixth consecutive league win in the 79th with a header when Michy Batshuayi's shot was deflected and looped into the air
London: Christian Pulisic scored his fifth goal in three Premier League games as Chelsea beat Crystal Palace 2-0 in the Premier League on Saturday.
Palace's defense survived a Chelsea onslaught in the first half — the Blues recording 11 shots to zero for Palace at the break — but Tammy Abraham broke the deadlock soon after.
Abraham read the game well to beat Palace's offside trap in the 52nd minute and met a backheel pass from Willian before shooting low for his 10th league goal of the season.
Pulisic ensured Chelsea's sixth consecutive league win in the 79th with a header when Michy Batshuayi's shot was deflected and looped into the air.
The American didn't get a Premier League start from August until 26 October, when he took full advantage with a hat trick against Burnley. He followed up a week later with a goal against Watford.
Find latest and upcoming tech gadgets online on Tech2 Gadgets. Get technology news, gadgets reviews & ratings. Popular gadgets including laptop, tablet and mobile specifications, features, prices, comparison.
Sports
Spurs, without silverware since 2008, are second in the Premier League, through to the League Cup quarter-finals and well-placed to qualify for the Europa League knockout stages.
Sports
The northwest English club said it was confident "critical systems" required for matches to be staged at Old Trafford are secure, ensuring the team can host West Bromwich Albion on Saturday.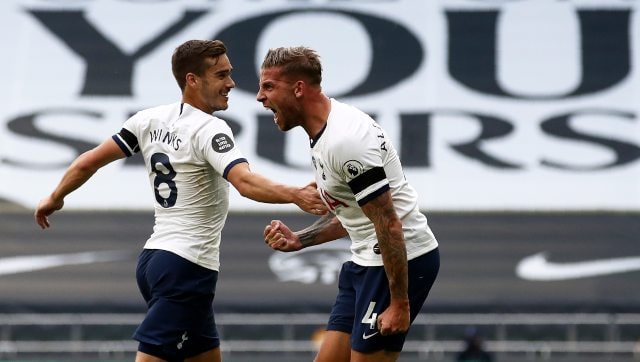 Sports
Alderweireld sustained an adductor injury in Saturday's win against Manchester City.