Premier League: Surging Manchester City eye title charge, Chelsea need lift in form against Watford
Manchester City will be aiming to continue their recent scintillating form when the free-scoring Premier League leaders host Burnley on Saturday.
London: Manchester City will be aiming to continue their recent scintillating form when the free-scoring Premier League leaders host Burnley on Saturday.
Pep Guardiola's side are two points clear of second-placed Manchester United as they chase a first English title since 2014.
While City have been finding the net at a record-breaking rate, champions Chelsea are stuck in a rut and lie nine points off the top ahead of their clash with Watford.
Here are five things to look out for in the Premier League this weekend:
Can anyone stop sparkling City?
Inspired by Kevin de Bruyne's majestic form, Manchester City have taken the Premier League by storm and Burnley could be the next lambs to the slaughter.
City's 7-2 rout of Stoke City last weekend made them the first English top-flight team to score 29 times in their first eight games since Everton in 1894-95.
De Bruyne has been key to City's surge -- the Belgian's 32 assists are the most by any Premier League player in the period since September 2015.
Adding Leroy Sane, Gabriel Jesus, Sergio Aguero and Raheem Sterling to the mix is almost cruel on City's opponents.
"We play in a flow at the moment. It's not just me. It's wonderful to see the goals," De Bruyne said.
Conte must lift Chelsea mood
Without a win in three games in all competitions, Chelsea are in danger of being cast adrift in the title race as the injury bug bites hard at Stamford Bridge.
Having already lost N'Golo Kante, Victor Moses and Danny Drinkwater to injuries, Blues boss Antonio Conte could have done without David Luiz, Tiemoue Bakayoko and Gary Cahill suffering knocks in the midweek clash against Roma.
Add in Roma's fightback from two down to earn a 3-3 draw and it was all to much for Conte, who lashed out at Jose Mourinho's criticism of managers who complain about injuries.
Ahead of fourth-placed Watford's visit to the Bridge, Chelsea defender Cesar Azpilicueta reflected the frustration, saying: "The mood at the moment is not the best. We have to get back to winning ways."
Euro stars Spurs threaten Reds revival
Fresh from their impressive 1-1 draw at European champions Real Madrid on Wednesday, Tottenham Hotspur will pose a severe threat to Liverpool's hopes of building on their much-needed demolition of Maribor.
Matching Madrid blow for blow showed Tottenham deserve to be ranked among Europe's heavyweights and their goalkeeper Hugo Lloris believes Mauricio Pochettino's team, unbeaten in their last 10 games, are coming of age.
"There is a great potential in the squad and I am looking forward to seeing this development," he said.
Liverpool eased the pressure on boss Jurgen Klopp with a 7-0 win against Slovenian minnows Maribor, but, back in domestic action, they have no margin for error after one win in their last five league games.
Mourinho makes case for defence
In the opening weeks of the season, Manchester United were playing with such a stylish swagger that it was briefly possible to believe Mourinho had changed his spots at last.
But Mourinho, the modern game's ultimate pragmatist, has reverted to type over the last week, hatching safety-first game-plans for United's goalless draw at Liverpool and the 1-0 win at Benfica.
With another away game coming up at Huddersfield Town on Saturday, it will be intriguing to see if Mourinho allows his players more freedom against a less intimidating opponent.
United midfielder Nemanja Matic has total faith in his boss. "Mourinho is a brand, and the best coach I've ever worked with," he said.
Arsenal, Everton face character test
With fragile Arsenal accused of lacking 'cojones' and Everton in the midst of a malaise that threatens Ronald Koeman's job security, Sunday's meeting of two troubled teams will serve as a referendum on their immediate futures.
Watford striker Troy Deeney's claim that sixth-placed Arsenal can't cope with a physical approach rubbed salt into the wounds of the Gunners' 2-1 defeat last weekend.
Arsenal midfielder Jack Wilshere disagrees, saying: "I look around this team and you can't question our character."
Koeman, whose team are just two points above the relegation zone, would dearly love to prove Wilshere wrong as Everton try to win for just the third time in the league this season.
Fixtures (1400 GMT unless stated):
Saturday
Chelsea v Watford (1130 GMT), Huddersfield v Manchester United, Manchester City v Burnley, Newcastle v Crystal Palace, Stoke v Bournemouth, Swansea v Leicester, Southampton v West Brom (1630 GMT)
Sunday
Everton v Arsenal (1230 GMT), Tottenham v Liverpool (1500 GMT)
Sports
Guardiola had irritated a section of City's fanbase by asking for more support after just 38,062 turned out at the Etihad Stadium for Wednesday's 6-3 win over Leipzig in the Champions League.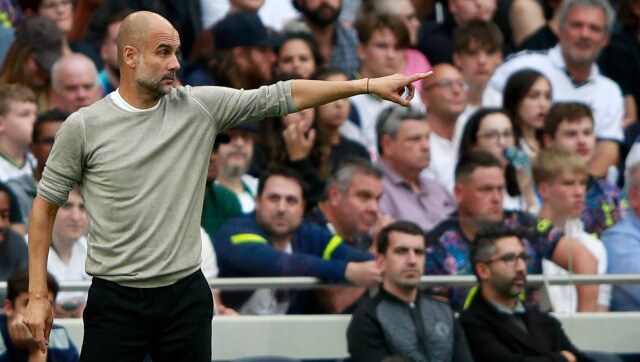 Sports
The City boss said this week that he wanted a bigger crowd at Saturday's home game against Southampton than the 38,062 who watched his side's 6-3 Champions League win over RB Leipzig in midweek.
Sports
The Premier League champions start their campaign against Bundesliga side RB Leipzig on Wednesday, less than four months after their painful 1-0 defeat to Chelsea.