Premier League: Stuck in loop of passivity, Arsenal complete mediocre season to cap off Arsene Wenger's reign
Arsenal not only finished twelve points adrift of the eventual 'top four' of the Premier League, but they conceded 51 goals in 38 games – only Everton and Leicester City produced worse defensive attributes among the top ten English clubs.
Catcalls and chants of frustration, quiet sighs of disappointment followed by angry rants – the atmosphere in the away end at the Amex Stadium was noxious as Arsenal stuttered to a 2-1 defeat at the hands of Brighton & Hove Albion in the first week of March to make it a fourth consecutive away loss in the English Premier League since the turn of the year.
A little more than two months later, as Arsene Wenger hung up his boots with a 1-0 win over Huddersfield in his final game in charge of the Gunners, the Arsenal fans have mellowed down in nostalgia of bygone years. The vicious sports media had taken a step back to revere Wenger's revolutionary changes to the initial Premier League era. However it was that evening at Brighton, when Arsenal struggled to outclass a newly promoted side, which served as the mirror for the ennui Arsenal Football Club had succumbed to.
Arsenal's mediocre summer transfer window saw only two notable signings in Sead Kolasinac and Alexandre Lacazette. With the club facing an uphill battle to keep Alexis Sanchez and Mesut Ozil, both in the final year of their contracts, the Gunners were at a disadvantage while clubs around them continued to splurge.
Even though they refuted enquiries from Manchester City on deadline day, Arsenal managed to hold on to Sanchez for barely six more months. The Chilean secured a swap deal that saw Manchester United's Henrikh Mkhitaryan move to London. Borussia Dortmund targetman Pierre-Emerick Aubameyang's arrival to the Emirates in January combined with Ozil's contract renewal had fanned the hopes of Arsenal fans, but all in vain as the Gunners resorted to old methods – crashing out of club competitions and lagging behind in the Premier League race.
Two defeats in the first three matches of the season had all but foreshadowed the disappointment that Wenger's final season at Emirates would be. Inconsistency has been Arsenal's bane in the past decade – while they carved out wins over a more talented Chelsea side in the League Cup semi-finals, they wilted pitifully against the likes of Newcastle United and Leicester City.
Arsenal not only finished twelve points adrift of the eventual 'top four' of the Premier League, but they conceded 51 goals in 38 games – only Everton and Leicester City produced worse defensive attributes among the top ten English clubs.
It wasn't simply a lack of talent in their ranks but their poor temperament which compelled Arsenal to finish sixth in the Premier League. Arsenal were only behind the spectacular Manchester City in terms of points earned at home (Arsenal won 47 out of 57 points available at the Emirates with a better goal difference than Manchester United), but their away record was abysmal. The Gunners only amassed 16 points in their 19 away league fixtures this season, a point lesser than Southampton in as many away games.
A runners-up finish in the League Cup as they surrendered to Manchester City in the finals did not harm Arsenal's reputation, but displayed the sheer gulf in class between the two clubs – while Manchester City shattered record after record to mount an elite title challenge, Arsenal barely survived the rigors of the marathon league.
The third-round FA Cup defeat to Nottingham Forest didn't add any feather in Wenger's cap either. It became apparent that supporters of the club had grown increasingly disillusioned with their manager and rightly so as Arsenal were stuck in a loop of inadequacy and passivity – going through the motions of the season but not making any kind of impact year after year.
Recent ventures into the transfer mercato has bolstered Arsenal's midfield and attacking setup, but they are still a far cry away from a complete squad. The ageing Petr Cech and the unreliable David Ospina below the bars have erred on crucial occasions, with whimsical defending from the back four often being the root cause of Arsenal's miseries across competitions.
The UEFA Europa League campaign could have been Wenger's final claim to fame – the elusive European silverware would not have only salvaged Arsenal's current season and the next, but also restore the Frenchman's legacy which has suffered dent after dent over the years.
A professional performance from Atletico Madrid over both legs of the semi-finals denied Wenger his fairytale ending at his beloved club, dismantling the suavely astute performances Arsenal had stitched together in Europe this season – a painful reiteration of not only their poor luck, but also the fact that the Gunners are not simply good enough when it comes to challenging for trophies at the highest level.
"I don't know what will stay or remain through the victories or defeats. I think what will remain is the formidable human aspect of the last 22 years – that is special and I will cherish that. I had fantastic human experiences at the club, above the results, it was a human adventure," Arsene Wenger proclaimed after Arsenal's last match of the 2017/18 English Premier League season.
And the 68-year-old was correct in terming his peregrination at the North London club as 'a human adventure', for it showcased the entire spectrum of human emotions for Arsenal supporters – from ecstasy to apathy, from vexation to exhilaration. In the end, as Wenger leaves the club not only without any successor in place, but also with a disjointed squad in the need of quality additions across the pitch. Arsenal fans can only reminisce the golden years, while hoping that a fresh approach at the helm changes things for the better.
Where Arsenal go from here remains to be seen, with speculations suggesting Mikel Arteta could be in contention for the high-profile job, but this season could very well be the watershed moment in Arsenal Football Club's modern history – the juncture in time when they finally seized the reins of their own fate. But this time, the Gunners will need more than a human adventure. They must accomplish a triumphant quest for glory.
Find latest and upcoming tech gadgets online on Tech2 Gadgets. Get technology news, gadgets reviews & ratings. Popular gadgets including laptop, tablet and mobile specifications, features, prices, comparison.
Sports
With football suspended for 100 days in England due to the pandemic, the lack of revenue from international matches and domestic cup games hit the FA, who said they are planning for potential losses of around 300 million pounds
Sports
Former Arsenal defender Gilberto Silva says he knows what it's like to be a dominant side in the Premier League, and like Arsene Wenger's 'Invincibles' Jurgen Klopp's Liverpool will now become a target for other clubs.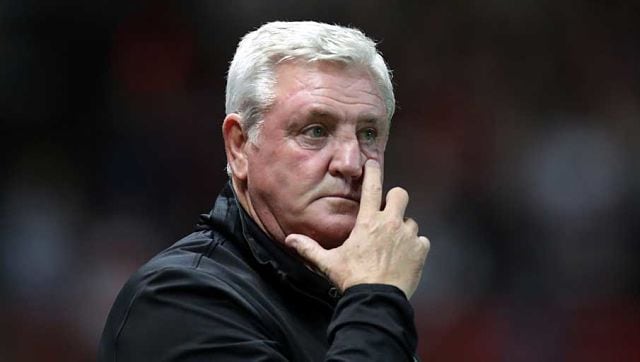 Sports
A group with an expected 80% investment from Saudi sovereign wealth fund PIF have made a reported 300 million pounds ($370.95 million) bid to buy United from British businessman Mike Ashley.