EPL roundup: Leicester inch closer, Spurs beat United to stay in hunt, Liverpool run through Stoke
Premier League roundup: Leicester remains seven points clear at the top while Tottenham is waiting to pounce on any slip-up by them after an eventful Sunday.
London: Leicester's first target was exceeded long ago: Premier League survival. Another landmark was achieved Sunday: Champions League qualification for the first time. By the end of the month, Leicester should have secured the prize once simply unthinkable for such a team: the Premier League trophy itself.
Jamie Vardy's double at Sunderland sealed a 2-0 victory that guaranteed a coveted top-four finish. Leicester remains seven points clear at the top and is starting to resemble a Premier League thoroughbred with its effortless march to a first title.
This isn't what a title run-in should look like for a team yet to win the league title in its 132-year history and was in a relegation scrap this time last season.
Tottenham is waiting to pounce on any slip-up by Leicester. The second-place London club responded to Leicester's Sunderland success by ending a 15-year wait for a home win over Manchester United. A 3-0 victory was secured by Dele Alli, Toby Alderweireld and Erik Lamela scoring within five minutes, 46 seconds in the second half.
The goal flurry came when the game should have been over. It started 30 minutes late at White Hart Lane because United was stuck in traffic traveling by bus from central to north London.
But it was lethargic Tottenham stuck in first gear as the game eventually kicked off, with United motoring forward to apply early pressure. The atmosphere was subdued as Tottenham could find no way to enter United territory until the 17th when David De Gea thwarted Harry Kane from close range.
It pushed Tottenham a step closer to joining Leicester in the Champions League next season, having only featured in Europe's top competition once before.
Manager Mauricio Pochettino, who said he missed the third goal because he was in the toilet, hasn't fully given up on delivering Tottenham's first title since 1961 even though Leicester remains seven points in front after beating Sunderland 2-0 earlier Sunday.
"It was important for us after the Leicester game to show character and maturity," Pochettino said. "We sent a message we are there, waiting and fighting. And if they fail we need to stay there. Seven points is a difficult gap to reduce but we have to believe."
Pochettino only got the job in 2014 because Van Gaal spurned Tottenham's interest to succeed the ill-fated David Moyes at United.
United looks unlikely to be with them, given that crosstown rival Manchester City is four points ahead in fourth place.
As things are progressing, record 20-time English champion United could see Leicester guarantee the title by winning at Old Trafford in three games time.
Leicester is in unfamiliar territory but not showing it. There are no nerves, no sign of anxiety from Claudio Ranieri's team. Some observers suggested the manager was crying when he entered the field after Sunday's fifth successive win.
"It's fantastic when you see before the match a lot of old ladies with Leicester shirts outside the stadium," Ranieri said later. "I said, 'Unbelievable, they came from Leicester to support us.' That is emotional; that is fantastic; that is football.
"I want through you to say thank you for the support. It's unbelievable. They are amazing. They are dreaming and we want to continue to dream. But to do this, we must be concentrated."
It's looking bleak for Sunderland, which is four points from safety but with a game in hand over Norwich.
There was little at stake in Sunday's third game apart from Liverpool gaining confidence ahead of its Europa League quarterfinal second leg against Borussia Dortmund, which is locked at 1-1.
Liverpool dislodged Stoke from eighth place by beating the Anfield visitors 4-1. Alberto Moreno's fine opener was canceled out by Bojan Krkic in the 22nd minute. But Daniel Sturridge restored Liverpool's lead before halftime and substitute Divock Origi netted twice after the break.
The victory lifted Liverpool into eighth place.
With inputs from agencies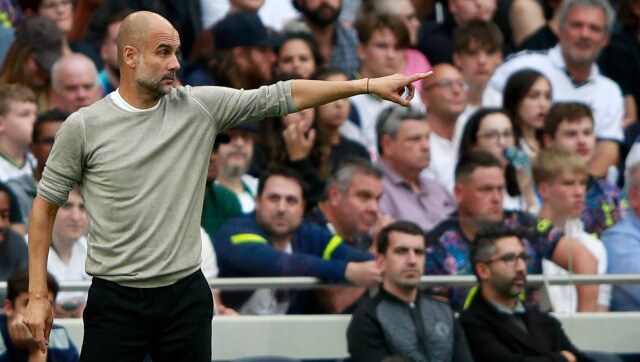 Sports
The City boss said this week that he wanted a bigger crowd at Saturday's home game against Southampton than the 38,062 who watched his side's 6-3 Champions League win over RB Leipzig in midweek.
Sports
The Premier League champions start their campaign against Bundesliga side RB Leipzig on Wednesday, less than four months after their painful 1-0 defeat to Chelsea.
Sports
Ronaldo's return added to a squad already packed with star quality that Solskjaer believes is now ready to compete with the best in Europe.