Premier League: Pep Guardiola hails 'special' Gabriel Jesus for his show against Swansea City
Manchester City manager Pep Guardiola admits even he is surprised by the stunning start Brazil forward Gabriel Jesus has made to his career in English football.
Manchester: Manchester City manager Pep Guardiola admits even he is surprised by the stunning start Brazil forward Gabriel Jesus has made to his career in English football.
The 19-year-old scored twice on his full home debut as City recorded a 2-1 victory over Swansea City on Sunday, meaning the youngster has scored three goals in his first two starts in the Premier League.
After arriving in England at the start of last month, Jesus is emerging as one of the most exciting prospects to land in the English top flight for some time.
"Yes, I'm surprised," said Guardiola, whose side climbed to third place in the table, 10 points behind leaders Chelsea.
"When he came here after he finished the season and won the (Brazilian) championship with Palmeiras, we spoke.
"The last two or three years he never had a break because Brazil played a lot of games. I said, 'Take your time, come back when you feel you're ready.'
"But he's 19 years old, Brazilian guys are physically strong and he only needed a few training sessions to be ready.
"The guy told me he is never tired, always healthy and recovers quickly. We need to protect him, but everybody is surprised at his level."
Jesus opened the scoring in the 11th minute with a close-range volley and gave City victory in stoppage time after Gylfi Sigurdsson had levelled with nine minutes to play.
"In the box, he is something special with the ball," Guardiola said.
"It is clear how his first touch is good. With his second, third, he needs to improve, but without the ball he is involved.
"He is so intelligent, knows when to put pressure on the central defenders.
"Some guys need a lot of time to settle, to know the league, the team-mates and others (settle) immediately, and that guy arrives like this."
Clement unhappy
Jesus revealed at the weekend that a personal phone-call from Guardiola helped make up his mind to join City in a £27 million move that was completed last month.
"When we buy a player, we expect the best for our decisions," Guardiola told journalists at the Etihad Stadium.
"We take a lot of decisions every five minutes. We take and you judge, but always judge after, not judge before.
"Sometimes we are right and sometimes not. We are so delighted because most of the big important clubs in Europe wanted him and he decided to come here.
"We expect the best because he is a striker for Brazil and it is not easy to play for the Brazil national team.
"Suddenly he arrives and you have to play immediately. Eight minutes against Tottenham and you think, 'Wow.' I think he is hungry and has the desire and shows so many good things."
Jesus secured three badly needed points for City, although it appeared that his opening goal would only be worth a point after Sigurdsson netted an 81st-minute equaliser for Swansea.
But halfway through four minutes of injury time, Jesus struck again, leaving Guardiola with the tough decision on exactly how and when he will be able to rest the in-form striker.
"We will see," he said. "There are a lot of games. Now he deserves to be on the team, but we will see what happens in the next games because there are many."
Swansea manager Paul Clement, having seen his side undone so late in the game, was unhappy with the free-kick that led to City's winning goal.
"My opinion was it wasn't a foul," he said. "(Luciano) Narsingh tried to evade the challenge of (Aleksandar) Kolarov and the linesman gave the decision.
"Then the restart was 10 metres deeper than where the free-kick was, in a more central position and the ball was rolling. Those were things the ref was picking up on all game."
Find latest and upcoming tech gadgets online on Tech2 Gadgets. Get technology news, gadgets reviews & ratings. Popular gadgets including laptop, tablet and mobile specifications, features, prices, comparison.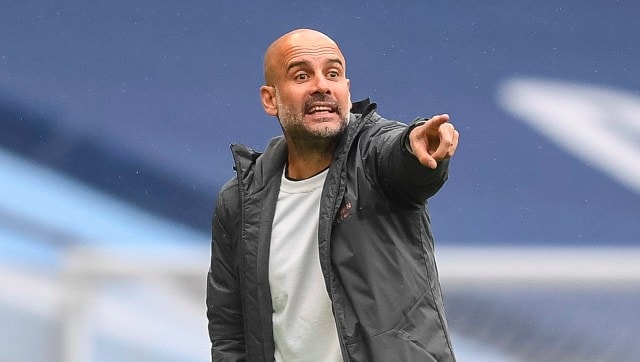 Sports
Four Premier League matches have so far been called off, including City's trip to Everton last month, but a different approach appears to have been taken in the FA Cup over the weekend.
Sports
"Manchester City FC can confirm that Scott Carson, Cole Palmer and one member of staff have tested positive for Covid-19," the club said in a statement.
Sports
The agreement will enable Bolivia's most successful club to tap into the City Football Group's (CFG's) expertise including in the areas of scouting and coaching.