Premier League: Ole Gunnar Solskjaer's unbridled positivity will lift the spirits of jaded Manchester United
There's unbridled positivity Ole Gunnar Solskjaer is bringing that everyone associated with Manchester United have lacked ever since the departure of Sir Alex Ferguson.
Following Ole Gunnar Solskjaer's appointment as Manchester United's interim manager, there was a video circulated by social media fan accounts. This video showed a clip from Solskjaer's a training session at Molde (the club he leaves to take charge of a rocking United boat) where the former Manchester United super-sub striker was instructing his players to "bloody shoot" any time they approached the edge of the box.
Ole Gunnar Solskjaer approaches his life, his career as a player and then as the manager of Molde with the simple philosophy of "if you don't score, you don't shoot." There's unbridled positivity he's bringing that everyone associated with Manchester United have lacked ever since the departure of Sir Alex Ferguson.
This video was an attempt of the Manchester United fan accounts to cajole themselves and their followers to the expect something different than the drudgery they have been subjected to under Jose Mourinho.
Before his departure, an overperforming Molde find themselves second behind leaders Rosenberg in the Norwegian Eliteserien. Solskjaer dragged the perennial also-rans and aided to win back-to-back League Championships in 2011 and 2012 and one Norwegian Cup in 2013. But let that not fool you. The Norwegian Eliteserien, all due respect, is hardly elite.
The Norwegian league is ranked 27th in UEFA's League Standards Coefficient. This isn't make for a good reading considering leagues from Austria, Greece, Cyprus, Scotland and even Belarus rank higher. This is to suggest that Ole, despite his storybook successes and giant-killing attacking philosophy embedded with Molde, will be looking to surmount a learning curve the size of the Norwegian cliff of North Cape and a gulf in class as wide as the Hardangerfjord at one of the most celebrated clubs in the world; and that his methods may not immediately translate into results.
His failed stint at Cardiff points at that.
What will change most importantly, however, is the level receptiveness the United players will have towards new ideas and the tenderness the Norwegian will bring. There has a marked jadedness among the players under Mourinho, who might as well author a football equivalent of the memoir named "How To Lose Friends and Alienate People" if he's to get anything out of his tenure in Manchester apart from his £18 million severance package and a couple of token trophies against a prepubescent Ajax (Europa League 2016-17) and an overachieving Southampton (EFL Cup 2016-17). Ole Gunnar Solskjaer has been brought in to detox the club of the cancerous blaming culture and self-doubt Mourinho left behind.
In 2017, when title rivals Rosenberg signed former Arsenal world-beater Nicklas Bendtner, the returning Solskjaer responded by saying "We may not have a Steve Bruce or an Eric Cantona but we have Björn Bergmann Sigurdarson. I would not replace Sigurdarson with any player in Norway." Beauty, Solskjaer would argue, is in the eye of the beholder; and the centre forward who was absolutely dire at Wolverhampton, sparked with self-belief scored 16 goals in 27 games.
The other aspect to Solskjaer's managerial style that was almost entirely overlooked by the cheque-book flashing Mourinho, was the impetus he puts on reserve and academy players to stake their claim and displace underperforming, established first-teamers. Manchester United can look forward to his know-how in the field of nurturing local talents, having been a ridiculously successful reserve team manager for the Manchester club, winning the Lancashire Senior Cup, Manchester Senior Cup, Premier Reserve League North, and the Premier Reserve League over two seasons (2008-2010). His appointment will again open lines of communication and traffic between Old Trafford and Leigh Sports Village, respecting a tradition that was lost under Mourinho.
One can point to the time in Molde when the 17-year-old Braut Håland was assigned to lead the line against the tightest of defences in the Norwegian league. The youngster repaid Solskjaer's faith by scoring goals.
"I had to think about my own strengths, how can I do the most damage for the opposition if I come on? I used to sit and analyse games. I didn't quite pay attention to their strikers, instead, I'd look for what their defenders are doing wrong," Solskjaer was quoted saying in his managerial philosophy.
Tactically, Manchester United fans can expect a sort of flexibility that comes with a 4-3-3 formation. He's also known to experiment with a 3-5-2 to accommodate against more attacking teams.
The stark difference however is, that unlike Mourinho, he believes that his teams should be more proactive than reactive, focus on their own strengths than play to the opposition. And this for a club with the stature and the reputation of United, should be the routine.
With the installation of a fan-favourite, there have been immediate accusations of short-termism leveled at the figurative bobbleheads who run the Manchester United board of yet again bowing to the popular choice instead of perhaps the right one. It's a precarious balancing act one understands, with modern football superclubs being listed in the stock market, there is culpability to investors and sponsors, but Manchester United, as per evidence have been guilty of undermining themselves as a football club.
It's no coincidence that over the last three years, the signings of Paul Pogba, Romelu Lukaku, Zlatan Ibrahimovic, etc, and more tellingly Mourinho were made following the financial year when Manchester United saw a sizeable, uncharacteristic dip in revenue in 2015 (of £410.85 million) that raised multiple red flags.
The narrative must now shift squarely back to football. One obstacle Solskjaer faces is in the shape of Paul Pogba and the sheer pulling power he has over the dressing room and his utilisation.
There have been numerous column inches and air-time devoted to lambasting the French midfielder's disruptive behaviour, especially after his Instagram post, supposedly taking a dig at a departing Jose Mourinho, which was promptly deleted but not before drawing censure about his professionalism from former players like Gary Neville.
But if there's anyone who can infuse the likes of Pogba with the importance of team ethic and positivity, it's the selfless Solskjaer.
To play with the famous lines from Christopher Nolan's Batman movies, Ole Gunnar Solskjaer may not quite be the hero Manchester United deserve, but is certainly one they need.
Sports
FIFA president Gianni Infantino promised the 2026 World Cup would be "much, much bigger" than the 1994 edition, the last time the tournament took place in North America.
Sports
In an exclusive conversation with Firstpost, the Afghanistan men's national coach blames former president Ashraf Ghani and current Taliban regime for dragging football into the dark.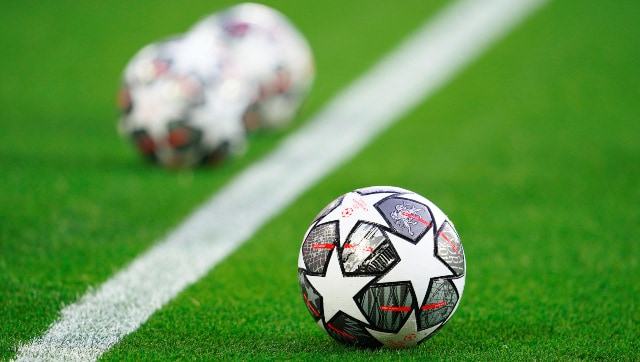 Football
The German football federation passed a new regulation for gender-nonconforming players with the civil status "diverse" or "unspecified" on Thursday.