Premier League: Naby Keita becomes third Liverpool player to be injured during international break after tweaking hamstring
Liverpool's injury woes have gotten worse after midfielder Naby Keita was helped off the field injured during an Africa Cup of Nations match between Rwanda and Guinea.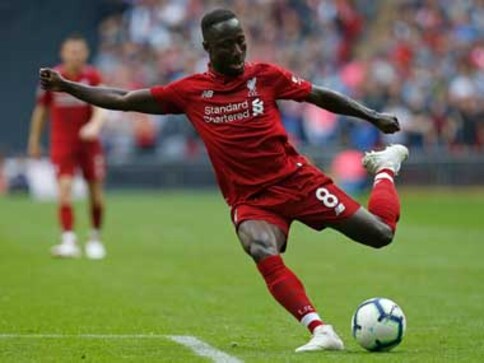 Kigali: Liverpool midfielder Naby Keita had to be piggy-backed off the field by a Guinean team-mate Tuesday after hurting a hamstring because no stretcher was available in a Rwandan stadium.
He was the third Anfield star to be injured on Africa Cup of Nations duty after attackers Mohamed Salah (strained thigh muscle) and Sadio Mane (broken thumb) since last Friday. A Guinean official confirmed to AFP that Keita, who joined Liverpool during the close season from RB Leipzig, had injured a hamstring but gave no further details.
The 2019 Cup of Nations qualifier at the Stade Nyamirambo in Rwandan capital Kigali finished 1-1, depriving leaders Guinea of qualification with two matchdays to spare. Salah scored direct from a corner last Friday but had to be substituted just before full-time as Egypt defeated eSwatini (formerly Swaziland) 4-1 in Cairo.
Mane suffered his injury while helping Senegal outclass Sudan 3-0 in Dakar 24 hours later. Liverpool, third in the English Premier League behind Manchester City and Chelsea on goal difference, are away to third-from-bottom Huddersfield Town this Saturday.
also read
Football
City thrashed Real Madrid 4-0 at the Etihad for a 5-1 aggregate victory that exacted revenge for a dramatic semi-final exit to the Spanish Giants in the Champions League 12 months ago.
Football
Toney was charged by the Football Association in November for allegedly breaching the rules 232 times.
Football
Bielsa's long-expected signature had created great excitement in Uruguay over the past month, following an underwhelming group stage exit at last year's World Cup in Qatar.