Premier League: Maurizio Sarri needs to fix Chelsea's broken system but their feeble stars aren't free from blame
Chelsea's system is broken. Teams have worked a way out to stop them from effectively playing their football and so far Sarri has had no answer to counter that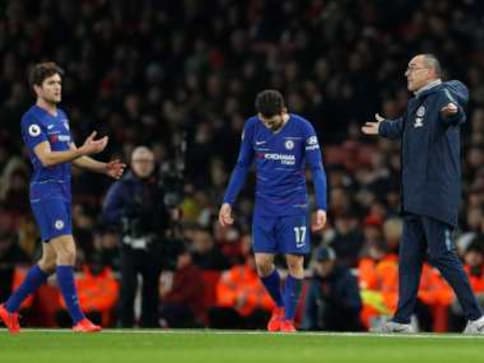 Chelsea's system is broken. Teams have worked a way out to stop them from effectively playing their football and so far Sarri has had no answer to counter that

N'Golo Kante had seven touches inside Arsenal's penalty area on Saturday compared to Kovacic's two and Jorginho's one.

Chelsea have won just one game under Sarri after falling behind and it came against Cardiff City at home. The west-Londoners faced similar problems under Conte.
Arsenal's 2-0 victory over Chelsea in the Premier League on Saturday was more to do with the Blues' deficiencies than the Gunners' quality. Unai Emery's men played their heart out, stuck to their game plan, but that's a bare minimum you expect when you meet your city rivals in a derby game.
Chelsea made life a lot easier for Arsenal by being appallingly blunt in everything that they did or tried to do at the Emirates on Saturday. Thus the game revealed a lot more about Chelsea's vulnerabilities or sheer deficiencies than they did about Arsenal's strengths.
Chelsea failed to register a single shot on target for 80 minutes and their solitary effort on the Arsenal goal came from their left-back Marcos Alonso in the 81st minute. Having enjoyed 64 percent of the possession, that makes a pretty bad reading. Chelsea went 106 minutes without registering a shot on target with their previous one coming in the 64th minute of the game against Newcastle.
Chelsea's system is broken. Teams have worked a way out to stop them from effectively playing their football and so far Sarri has had no answer to counter that. Man-mark Jorginho and The Blues have struggled to build from the back. It doesn't just reduce Chelsea's threat but presents opposition a good platform to attack them when they lose the ball.
"Everyone knows Chelsea like to have the ball. But I think they are not very aggressive with the ball. I think it is possible to control them without the ball and it is also possible to hurt them when you recover the ball," Jose Mourinho who almost secured a win over Chelsea in his tumultuous final season with Manchester United told the beIN Sports panel after the game.
"I don't think Chelsea are an easy team to play against, but they aren't very difficult to analyse. You know their principles and their fundamental situations. You (make things tough) for Chelsea to build in the first phase. If you close the left side with David (Luiz) and Marcos Alonso and give the ball to the right, it's hard for them," he added.
Emery deployed Aaron Ramsey in the hole behind the strikers to deny Jorginho space and the ploy worked well for Arsenal who were able to disrupt Chelsea's play in the first half.
The second half exposed the lack of threat in Chelsea's midfield. The midfield of Jorginho, Mateo Kovacic and N'Golo Kante is too passive. None of the players carry a goal threat and it puts the entire burden of scoring on the front three. With teams blocking Chelsea's left-hand side, The Blues are forced to attack from the right which isn't their strongest side offensively with Cesar Azpilicueta, Kante and Pedro operating. Pedro's strength is his movement off the ball, but he isn't as effective anymore with the ball at his feet compared to Willian or Eden Hazard in creating an opening.
As for Kante, he is the least technical player among the midfield three and thus has the least amount of threat closer to the opponent goal. Most teams including Arsenal haven't had a problem surrendering space to the Frenchman who has more often than not ended up in more advanced positions than his midfield partners who have the ability to pick a pass in tight spaces.
Kante had seven touches inside Arsenal's penalty area on Saturday compared to Kovacic's two and Jorginho's one. This was no masterstroke from Emery but an adaptation of the ploy that has worked well for teams while playing against Chelsea.
Chelsea's problems are compounded by the lack of a quality out-and-out striker. Olivier Giroud and Alvaro Morata have failed to pose a serious threat all season and haven't been clinical enough in front of goal when the chances have fallen to them.
Subsequently, Chelsea's play has become too predictable and Sarri needs to tweak his ways to be able to sustain their challenge on all fronts. The Blues face a semi-final second leg against Tottenham at Stamford Bridge on Wednesday. Trailing 1-0 in the tie, Sarri's tactical acumen will be put to an immediate test.
The Italian manager decided to lash out at his players after the game against Arsenal, calling them "difficult to motivate".
"It seems to me that as a group of players they are not particularly aggressive from a mental point of view," Sarri said. "They don't have ferocity in their mentality.
"That's something that is down to the kind of players they are, their characteristics. It's something that is difficult to change. You have to try and influence their mentality. It's something that could take quite a long time," the former Napoli boss added.
Those were strong words from the Chelsea manager and seem a bit harsh considering Sarri has been reluctant to make changes to his playing XI and have a favoured group of players. However, not all that he said is untrue.
The Blues' current season is starting to resemble last campaign under Conte where the defending champions ran out of ideas as the season progressed. Chelsea were similarly predictable in their play and there was little maneuvering space for Conte considering the limited resources at his disposal.
Chelsea have won just one game under Sarri after falling behind and it came against Cardiff City at home. The West London club faced similar problems under Conte. Last season, Chelsea won just 19 percent of the matches they trailed in and lost 63 percent of those games. Even the year before when The Blues won the title accumulating 93 points, they lost 50 percent of the matches they fell behind in. The season before the statistics was even worse. Chelsea won just one of the 19 games in which they trailed their opponents. The numbers show that The Blues haven't been the best chasers and their stats this season are the worse among the top six. This period of a lack of response corresponds to Chelsea losing the big characters in their dressing room like Didier Drogba, Frank Lampard and John Terry. Terry was part of the squad in two of the above mentioned seasons but his role on the pitch was limited.
So, when Sarri says that the current group of players won't be well-known for showing fighting spirit, he isn't completely wrong. Chelsea have some highly talented players in their current squad but none of those would classify as natural leaders. In big games when the tide is against you, you need the leaders and the big footballing brains in your team to step up. It can't always be down to the manager to find a solution. As big players, you are expected to react and be intelligent enough to change the course of the game without the manager's inputs. Chelsea lack those kinds of players and it has certainly not helped Sarri in bedding his system at Stamford Bridge.
Against Arsenal, Luiz's casual pass to Antonio Rudiger almost cost Chelsea a goal in the very first minute. That piece of sloppy play set the tone for the rest of the half and Arsenal, who were coming on the back of a defeat, were boosted by The Blues' insipid play in the opening exchanges, which Sarri pointed out in the post-match press conference.
It is the manager's job to motivate players, but there's precious little a manager can do about the intensity with which the players start the game. It was in the opening half hour that Chelsea lost the game against Arsenal.
It's not all doom and gloom for Chelsea who still occupy fourth place in the Premier League, have a shot at reaching in the League Cup final and remain in contention in the FA Cup and Europa League. But recent performances and results have proven that Sarri would need to find a way to get the group of players he has at his disposal be more effective at either end of the pitch. The Italian though feels the problem is mental and not technical or tactical. Either ways Sarri will have to lead the resurgence.
"It (the mentality) could be changed by a new player coming in, or perhaps one of the old heads in the team assuming responsibility and driving the rest of the team forward." Sarri said after the game.
Two and a half years ago, Chelsea went to the Emirates and lost 3-0 with an Italian coach in-charge. The loss proved to be the catalyst for a remarkable turnaround that saw The Blues lift the Premier League title. A similar outcome is highly unlikely, but Sarri needs similar surgical change to his system that can reinvigorate their season. He will have to do so with whatever characteristics of players he has at his disposal because it will eventually be his job that will be on the line.
Testing times for Sarrismo!
Football
On Tuesday, the gross spend by Premier League sides had surpassed the competition's previous high of £430 million in January 2018.
Football
Malo Gusto has signed a contract at Stamford Bridge to the summer of 2030 but will finish the current season back in Ligue 1 with Lyon on loan.
Football
Arsenal were forced to come from behind at the Emirates after Marcus Rashford's thunderous strike opened the scoring with his ninth goal since the World Cup break.