Premier League: Manchester United's season in limbo after humbling loss to title-chasing Liverpool
Against Liverpool, Manchester United seemed careless in possession, slow in positioning and unimaginative in passing. United were spineless yet again.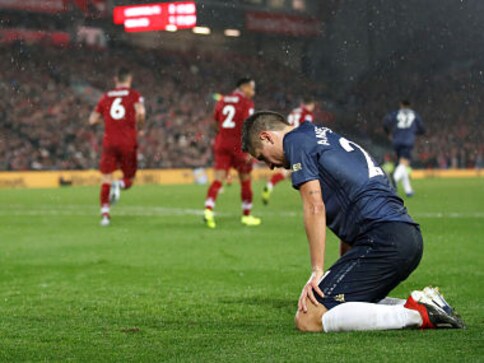 After 24 minutes Jose Mourinho needed a plan B, except, it never came. It was too early to bring on Belgian battering ram Marouane Fellaini, and yet, times were desperate already. His team were submissive, dysfunctional and ultimately, playing football unbefitting of the club that dominated the English game in the past two decades.
Nominally, Manchester United lined-up in a 5-3-1-1 formation, but that mattered little. At the back Victor Lindelof and Matteo Darmian were exposed; in front of the defence, Nemanja Matic and Ander Herrera played in a state of constant confusion. Up front, Romelu Lukaku proved to be a flat-track bully. Liverpool defender Virgil Van Dijk easily monstered the Manchester United striker.
There seemed little organisation to Manchester United's game. Had Mourinho not held a team talk before kick-off? Did the players not have the autonomy or intelligence to adjust and tweak the game plan, if any, during the course of the match? They seemed careless in possession, slow in positioning and unimaginative in passing. Manchester United were spineless yet again.
They were not just supine, but when Liverpool attacked with their powerful trident, Manchester United almost scuttled. Their centre backs dropped so deep that they forced the midfield to play lower as well, allowing Liverpool, who were in perpetual motion in the last third, plenty of space and a chance to break the lines.
In a rousing opening quarter, Liverpool sped past Manchester United but failed to find the net. Brazilian striker Roberto Firmino had four shots and Mohamed Salah probed and poked. It seemed only a matter of time before Liverpool would score and the hosts' manager Jurgen Klopp turned to the crowd and cupped his ears with his hands to demand higher decibels from Anfield.
When the goal did arrive, in the 24th minute, it did so beautifully. Once more Liverpool worked the ball patiently and Fabinho carved the United defence open with a measured delivery into the run of Sadio Mane, who took it on the chest and volleyed it low past David de Gea. Anfield exulted in all the mastery, expertise and finesse that Liverpool had demonstrated in crafting the goal. They had ridiculed Manchester United and Ashley Young had been left in no-mans-land, caught between two positions.
Fabinho's delightful dink had matched Mane's superb finish. The goal was the culmination of Liverpool's dominance, so embodied by Fabinho, who with his composure, tenacity and great vision anchored the home team. With a silky touch, he orchestrated Liverpool's game, relishing his role as a de facto box-to-box midfielder. The Brazilian was, arguably, the man of the match.
Ironically, his compatriot Alisson, who had received so much praise during midweek for his heroics against Napoli in the Champions League, let Manchester United, out of nothing, back into the game with a howler. Jesse Lingard was the first to react and stabbed the ball home. For Liverpool's number one, it was a horror show; for United, a lifeline.
At the half, Mourinho did revert to what has become his perfunctory backup plan: Fellaini. For a moment, the Belgian injected United, now playing in a more orthodox 4-3-3 formation, with steeliness and solidity. The visitors defended stoutly, rebutting Liverpool. There was even a growing sense, as Liverpool seemed to be short of ideas for a prolonged spell, that it would be fitting for the towering number twenty-seven, who helped United with some excellent defensive headers, to score the winner.
Alas for Fellaini and his brigade of briefly resurgent warriors, Xherdan Shaqiri, who had substituted the industrious Naby Keita, decided otherwise. He scored twice with deflections. The pinball goals were ultimately a measure of justice. The gulf of class between the historic rivals was noticeable in the fabric of the entire game. Liverpool, 19 points clear of Manchester United, had simply left Mourinho's team behind. They need no longer worry about the Red Devils this season.
The victory added to Liverpool's title credentials but left United's season further in limbo. Mourinho was asked after the game if he can still fix Manchester United. The ecosystem at Old Trafford has become too toxic for that in Mourinho's egocentric quest for self-affirmation. There is no system in which the players can flourish and on Sunday that showed. They played like a team without a manager.
Football
Deals came thick and fast in the final hours of the window on Tuesday, with big-spending Chelsea setting a new British record in signing Argentina's World Cup winner Enzo Fernandez from Benfica for 121 million euros ($132 million, £106.8 million).
First Cricket News
Several current and former women cricketers hailed Wednesday as a 'landmark day', after the BCCI announced the five successful bidders for the Women's Premier League teams.
First Cricket News
The five teams for the inaugural edition of the Women's Indian Premier League were announced on Wednesday by the BCCI.