Premier League: Manchester United's problems down to players who don't care and a manager who can't inspire
Manchester United were in deep muck before the referee blew the kick-off whistle at the Olympic Stadium. At 2-1 down, they could smell the gunpowder from inside the barrel and yet couldn't bring enough out of their mental and physical faculties to close down an opponent with the ball.
Adversity often shapes and defines character. Those with mental fortitude and a strong bent of will bring out their toughest inner selves when their feet start feeling the edge of a cliff. Jose Mourinho has made a career out of this steely resolve and grit, and a habit of extracting every last ounce out of his players when situations are tailor made for them to fall apart. His best years at Porto, Chelsea and Inter Milan were defined by how his teams dealt with rocky roads. In the 74th minute against West Ham this Saturday, three Manchester United defenders stood still for four entire seconds as Mark Noble scanned the field ahead of him, weighed his options, and threaded a pass through to Marko Arnautovic to make the scoreline 3-1 in the home side's favour.
Manchester United were in deep muck before the referee blew the kick-off whistle at the Olympic Stadium. At 2-1 down, they could smell the gunpowder from inside the barrel and yet couldn't bring enough out of their mental and physical faculties to close down an opponent with the ball.
Mourinho's compelling yet polarising public avatar makes him an easy target whenever his clubs show a decline. The oft-used third season narrative rears its ugly head soon as he finishes two seasons with a team, and even if United's current complications sound like a perfect fit, they don't quite fall in as seamlessly.
For starters, the origin of that phrase is borne out of the fatigue his players feel after the intensity of his first two years. For all twenty-five months of his reign at Manchester United, far smaller teams with far smaller resource pools have shown a stronger inclination for intensity than his team, so mental and physical exhaustion doesn't begin to qualify as reasonable explanation for what's happening inside an institution as big as this. It has been a week that you do not associate with this club, and the three hundred minutes of vapid, docile football were mere highlights on a dark, big cloud.
Nuno Santo and Manuel Pellegrini are managers of great pedigree, and their teams should never be taken lightly, but a matchday squad that has Paul Pogba, Alexis Sanchez, Anthony Martial and Romelu Lukaku is expected to get past their expectedly well-drilled units. United have endured a mean spell before, lost consecutive matches too, but what's turning out to be this team's biggest Achilles heel, is the indifference among the players to exhibit passion and desire while on the pitch. Coming off a poor start to the league, and a defeat to a lower-league opposition in the Cup, you would expect athletes of such competence to dust themselves off and put in a sustained period of teeth-grinding application to arrest the slide.
Mourinho is usually bullish in press conferences, especially if he's had an unfavourable result, but he was wistful in the interviews after the match against Wolverhampton, wishing his players exhibited the same World Cup final-esque intensity and hunger that Santo's men showed. His post-match interviews should almost never be taken at face value, but Mourinho was pretty straightforward with this one. The man who has an answer to almost everything, did not seem to have one for why some his players looked like they expected to win, rather than earn it through honest effort.
Grit is a huge part of the cultural fabric Manchester United is built with. The club represents an industrial town, and during simpler times, the working class audience toiled entire weeks just to have time to grab a beer and visit Old Trafford on a Saturday afternoon. Throughout its long history, the terraces at the Trafford have demanded tenacity and resolve from the men who wear the badge. The benchmark placed for coaches and managers is even higher. Even in recent years, when the manager's spot hasn't quite been the picture of stability, the coat of arms on the black blazer came with its expectations of a degree of infallibility. The manager of Manchester United is a father figure, a protector of everything at the club, and recent times have shown Mourinho in very different light.
Mourinho's troubled relationship with some of his players, especially Pogba, has unravelled over the last few weeks, but no one quite expected the visuals which came out of their training session, and Pogba's eyes gave away more than the lack of audio concealed. Mourinho's ire has been directed at Pogba ever since the French midfielder chose a happy start to the season to light up a needless touchpaper, and the flames have only burned brighter since.
Once you push aside the petulance, you begin to see why the manager's frustrations, unlike his means to air it, weren't completely off target. Against Wolverhampton, Pogba's failed Cruyff-turn led to the counter-attack which led to Joao Moutinho's terrific equaliser. As the Wolves stitched pass after pass into United's box, Pogba was seen trudging along gingerly. Against West Ham United too, Pogba and Anthony Martial were jogging on the pitch while the midfield and defence scampered around to hold out the incisive combination of Felipe Anderson, Marko Arnautovic and Yarmolenko.
Pogba is a stunningly talented athlete and isn't by any stretch the sole rotten apple in a basket of Cortland Red, but the manager is barely at fault for expecting his talisman, one he even made second-captain at the beginning of the season, to show a semblance of fire. As a matter of fact, if Pogba was the only one on the wrong side of the faultline, Mourinho wouldn't have half the creases that he sports on his forehead so routinely now, but the Frenchman is a sorry reflection of an entire squad who just couldn't bother themselves with putting the same effort with the ball as they do with the mobile camera.
Mourinho, himself, has a lot to answer for. It has been two years since he arrived, and United are still struggling with establishing a footballing style or identity. That it is taking an elite manager more than twenty-four months and counting, to figure out his best formation and lineup, is mind-boggling. He has made no secret of his vexation towards the United board for not getting him Toby Alderweireld, but it is seriously unimaginable to think that this club and manager depended on the signing of one central defender, keeping in mind they have signed two over the last two years itself, to function properly.
Mourinho couldn't be blamed for Lukaku missing gilt-edged chances, neither is he responsible for his defenders making basic technical mistakes with alarming frequency, but a man manager of his stature should've ensured an environment where his players function at full potential out of second nature. He's done that with some distinction before, and that is exactly why he was hired by the Manchester United board.
Sandwiched between the two league games against Wolverhampton and West Ham, was the Carabao Cup game against Derby County. The sight across the technical area that night must have warmed Mourinho's heart. He has had a huge role to play in the creation of Frank Lampard as an astute football man, giving him the impetus required to push beyond his highest technical ceilings. That he would have to end a night on the losing side against Lampard the manager must have been his happiest dream at Chelsea and the scariest nightmare at United.
When Mourinho first came to the Premier League, he chest-thumped his way to greatness, and Lampard was a part of the core group of players who enabled and empowered him. Lampard's Derby County may just have tugged at the curtains for Mourinho's time as a top manager ruling over the highest echelons of European football.
Football
Gomes, who won the Copa Libertadores last year, moved to Molineux despite interest from Lyon
Football
Sean Dyche, who has agreed a two-and-a-half-year contract, has a tough first match -- up against Premier League leaders Arsenal at Goodison Park on Saturday.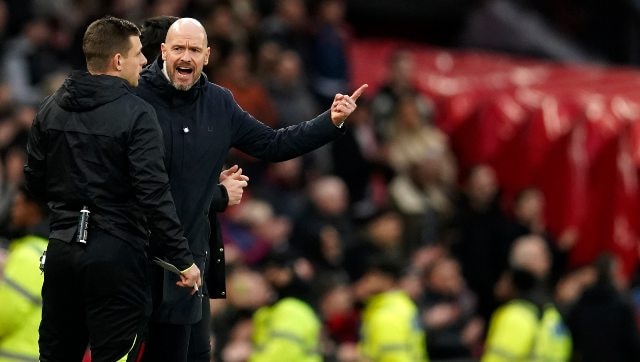 Football
Ten Hag's team had to survive a nervous finale at Old Trafford after Brazil midfielder Casemiro was dismissed before Crystal Palace's Jeffrey Schlupp scored to reduce the deficit.