Premier League: Manchester United played like the Arsenal of old and paid for it
Despite the terrible day they had, a goal in the last minute to rescue a point is very unlike the Arsenal of old and is much more in tune with the pragmatism that the Gunners have shown lately.
"Finally I lost against Arsenal. That is the feeling I take home. Finally I lost against Arsenal."
Jose Mourinho's final statement at the post-match press conference after the Manchester United vs Arsenal match was just good 'ol Jose. The fact of the matter is that his team was 1-0 up until the 89th  minute and dropped off in the latter stages. One would think that they were 3-0 up with a minute to go, the way they were playing in the final 15 minutes. But it's been three great performances by Manchester United at home now and three draws for all their efforts. Very unlike Manchester United, but a lot like the Arsenal of old.
To be honest, this game wasn't a classic by any means. But Premier League is increasingly becoming about applying pressure and withstanding it.
Case in point, Arsenal. They are one of the best counter-attacking teams of the league and showed it when they demolished Van Gaal's men 3-0 at the Emirates in October 2015. They came with the same gameplan to take United's pressure and then counter, but Mourinho had other ideas.
Playing fast players up front, like Anthony Martial and Marcus Rashford, along with willing defenders like Juan Mata made it easier for Manchester United to apply pressure on an Arsenal line-up that relies on picking the ball in tight spots and making something out of thin air. But the Gunners did themselves no favor by picking a team of Aaron Ramsey, Francis Coquelin and Mohamed Elneny. All three of them were effectively throttled out of possession – repeatedly – by a United team that defended in numbers.
Playing a midfield three against Arsenal's two was always going to reap dividends. Especially if it meant Paul Pogba would play in his preferred role of being the left man in a three man midfield. And the international break favored the home team as Michael Carrick got to play alongside Ander Herrera. Mourinho will continue to play this midfield three for as long as he can and it will be replacing an ageing Carrick that will be his biggest problem this season.
Defensively, Manchester United applied pressure in all parts of the pitch and Arsenal ended up showing their weaknesses. It required Alexis Sanchez, Mesut Ozil and Theo Walcott to come deep to pick the ball up. Granted that when they did snatch the ball, it looked like chances could be created but because they were so deep in the half, it effectively gave United players plenty of time and room to return and defend against any counter. A counter to counter counters if you will!
It was on the offensive arena that both teams disappointed. Granted, Manchester United got plenty of chances, but most of them can be attributed to poor defending more than anything else. Pogba fashioned a couple of through balls and was the only player who looked to create something meaningful in the attacking third.
Antonio Valencia was easily United's stand out performer. Coming back from an injury that kept him out for almost a month, Valencia was a rock in defence and as usual, troubled defenders with his direct approach to dribbling in the right hand side of the field. Nacho Monreal's afternoon must have worsened after seeing Theo Walcott in the wings along with him and the ex-Southampton graduate's propensity to avoid defending allowed Arsenal to not have a peep in the game.
The Gunners had few chances to attack United but their players were disappointing in front of goal to say the least. Yes, they could only muster two to three chances in the entire game, but could have easily done better with the number of players they were getting forward when the ball was in the opposition half.
There has been plenty of talk about Arsenal being a championship worthy team. And despite evidence to suggest otherwise, they did show some pedigree. In spite of the terrible day they had, a goal in the last minute to rescue a point is very unlike the Arsenal of old and is much more in tune with the pragmatism that the Gunners have shown lately.
All in all, this should have been nine points out of nine for Manchester United at home and they will be left frustrated with the three that they have. They showed championship winning football but mentally weren't tough enough to withstand an Arsenal team that didn't look like title contenders but ground out a draw that would end up feeling like a win. How the roles have reversed from the 2000's!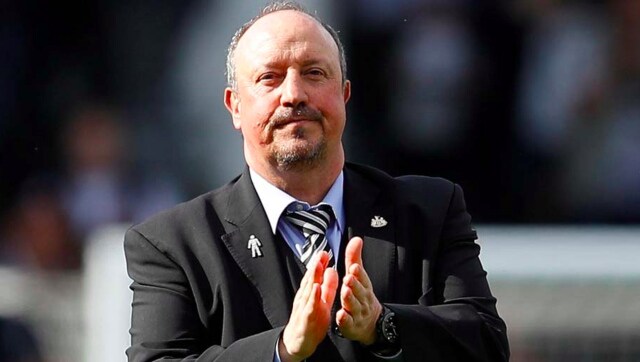 Sports
Everton have lost just one of Benitez's first seven Premier League games in charge despite a limited budget due to financial fair-play restrictions and injuries to star strikers Dominic Calvert-Lewin and Richarlison.
Sports
Speaking by videoconference on the sidelines of the presentation Tuesday of a report on the playing demands of professional players, Jonas Baer-Hoffmann called for a "reasonable and effective reform" to lighten the burden on footballers and reduce the chance of injury.
Sports
Solskjaer caused a storm when he started with Ronaldo on the bench for United's 1-1 draw against Everton in the last match before the international break.