Premier League: Manchester United face West Ham test with all eyes on Paul Pogba; Chelsea set for Liverpool showdown
Jose Mourinho's astonishing feud with Paul Pogba will take another twist when Manchester United's warring duo head to West Ham, while Chelsea's Eden Hazard bids to inflict more misery on Liverpool.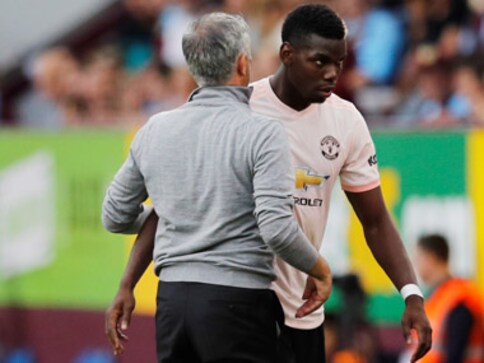 London: Jose Mourinho's astonishing feud with Paul Pogba will take another twist when Manchester United's warring duo head to West Ham, while Chelsea's Eden Hazard bids to inflict more misery on Liverpool.
On any other weekend, the showdown between Premier League leaders Liverpool and title rivals Chelsea at Stamford Bridge would be the centre of attention.
But United manager Mourinho is embroiled in a clash of egos with France midfielder Pogba that threatens to derail his side's season.
Mourinho and Pogba were filmed in a heated discussion at United's training ground on Wednesday, just 24 hours after the World Cup winner was told he would no longer be the team's vice-captain.
The volatile Pogba reportedly infuriated Mourinho by making it clear he wants to join Barcelona and poured fuel on the fire when he criticised the manager's cautious tactics in last weekend's draw with Wolves.
With United players said to be taking sides on the row, Mourinho is facing a toxic situation that could divide the club.
There was further woe for Mourinho on Tuesday as United, with the rested Pogba watching from the stands, were dumped out of the League Cup third round in an embarrassing defeat against second-tier Derby.
United are already eight points behind Liverpool and can ill-afford another setback in an already traumatic campaign.
Against that tense backdrop, the announcement of United's team-sheet at West Ham on Saturday will be eagerly awaited to see whether Pogba will be recalled or be consigned to exile.
Regardless of Pogba's presence, United must raise their effort levels, according to their veteran defender Ashley Young.
"I think they had more intensity than we did," Young said of the Derby defeat.
"You have to show that intensity and go further than the opposition. We didn't do that and I think we got punished."
Once the latest chapter of Mourinho's row with Pogba is out of the way in east London, all eyes will turn to the west side of the capital where Chelsea star Hazard plans to aims repeat his midweek heroics against Liverpool.
Belgium playmaker Hazard came off the bench to knock Liverpool out of the League Cup with a superb solo strike at Anfield on Wednesday.
Hazard's stunning late goal capped Chelsea's come from behind 2-1 victory, making them the first team to stop Liverpool winning this season.
That drama finale set the stage for Saturday's rematch at the Bridge, where Liverpool will put their six-match winning run in the league on the line against unbeaten Chelsea, who are two points behind in third place.
If Chelsea are to deal another blow to the Reds, they will surely need another memorable contribution from Hazard.
With five goals in his first six league games, Hazard has started the season in fine form, prompting Chelsea team-mate Ross Barkley to hail him as the world's best.
Asked if Hazard compared to Lionel Messi and Cristiano Ronaldo, Barkley said: "They are probably a lot more selfish than Eden is. He is not a selfish player.
"He is establishing himself in the top three players in the world now, and at the minute, he's probably the best player in the world."
Liverpool have failed to win their last four meetings with Chelsea and a victory over Maurizio Sarri's team would be a major statement of intent as they chase a first English title since 1990.
Like Sarri, Reds boss Jurgen Klopp made eight changes in the League Cup tie, but insisted it was still a valuable lesson ahead of the more important match this weekend.
"We know much more what will happen on Saturday because we've seen it before so we will use the two days to prepare," Klopp said.
"We can do better and now we know more. I think we were well prepared but the game will help massively."
Fixtures
Saturday
Arsenal v Watford, Chelsea v Liverpool (1630 GMT), Huddersfield v Tottenham, Everton v Fulham, Manchester City v Brighton, Newcastle v Leicester, West Ham v Manchester United (1130 GMT), Wolves v Southampton
Sunday
Cardiff v Burnley (1500 GMT)
Monday
Bournemouth v Crystal Palace (1900 GMT)
Football
Bowing out of the Europa League could aid Arsenal's hopes of holding onto the lead in the Premier League title but manager Arteta does not share that view.
Football
Victory lifts Newcastle to within one point of fourth-placed Tottenham and with a game in hand to come on Spurs.
Football
A second bid from Sheikh Jassim Bin Hamad Bin Jassim Bin Jaber AI Thani, the chairman of Qatar Islamic Bank, is also expected to be lodged with merchant bankers Raine, who are overseeing the sale of the club.