A shocking home defeat of Manchester United at the hands of bottom feeder West Bromwich Albion on Sunday helped crown Manchester City the English Premier League champions with five games left to play. As Pep Guardiola's carefully crafted City side grace the occasion as one of the finest teams of the Premier League era, they are on course to demolish records for points, goals and wins, just like they did to almost every other team in the country.
Guardiola, often credited with revolutionising possession-based football, did not have a sweet start to his tenure at the Etihad, Manchester City finishing fifteen points adrift of last season's champions Chelsea. But while Antonio Conte's side faltered in bolstering their ranks, while Jose Mourinho hemmed and hawed about his 'philosophy' at Old Trafford, while Jurgen Klopp slowly juggled the pieces of Liverpool's jigsaw puzzle into place, Guardiola orchestrated a complete overhaul of the dysfunctioning elements of his system.
The Spaniard employed four basic tenets of his latest reinterpretation of Cruyffian football to take English football by storm, dominating it with such ease that no club except for Liverpool got the better of them from a tactical perspective. While the UEFA Champions League disappointment continued for the second season running, Guardiola's blueprint for achieving success in England will be revered for years to come.
A Nuanced Attack
Unlike Liverpool's blitzkrieg, Manchester City's attacking duo is more balanced in its approach — Gabriel Jesus and Sergio Aguero adapting to their opposition and to their manager's tactical system on a weekly basis. While they have barely drawn attention to themselves amidst Raheem Sterling's rise to eminence and Leroy Sane's sensational sophomore season, Aguero and Gabriel have racked up 31 goals and 9 assists between them.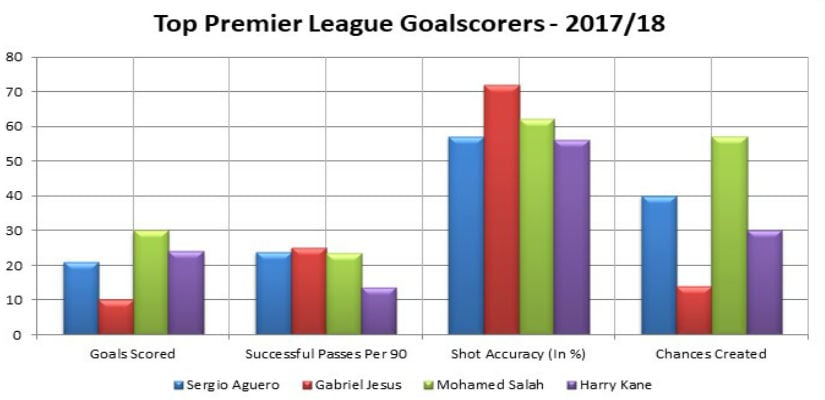 Aguero, at times, is an old-fashioned centre forward, providing Manchester City with a focal point for all their neat passing triangles. Gabriel, on the contrary, embraces all of Guardiola's preferred virtues in a forward, his agility and incisiveness offering City the dynamisms they lacked last season. While Aguero fashioned a role similar to that of Diego Costa at Chelsea or Harry Kane at Tottenham in the previous season, Gabriel won 0.76 tackles per 90 minutes, a remarkable figure considering his position of play, a testament to his success whenever City deployed a high-press.
A Unique Central Midfield
It is a poorly kept secret that switching over to a 4-3-3 from last season's 4-2-3-1 helped Manchester City control the tempo of the matches as they wished, rather than succumbing to the whims of their opponents who often chose to match fire with fire.
Although City are yet to perfect it, as was proven by Liverpool in the Champions League encounters, the trio of David Silva, Fernandinho and Kevin De Bruyne orchestrated games with an unequivocal precision which Guardiola envisioned. Perhaps most pivotal has been De Bruyne and Silva's switch to a deeper, wider zone in the midfield — a move which not only empowered City's fullbacks but also assisted the centre-halves when they attempted to recycle possession out from the back.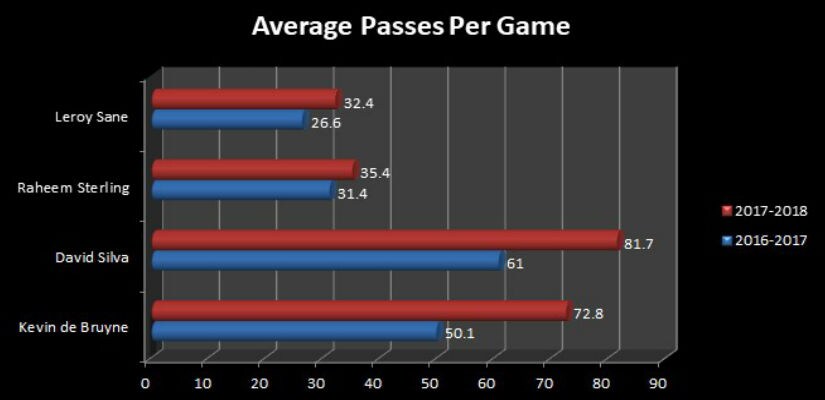 Guardiola has managed to transform Silva and De Bruyne, both excellent trequartistas, into a pair of deep playmakers to dictate the rhythm of play, thereby enabling the rest of the team into functioning their own roles.
Fullbacks Maketh the Game
Ridiculed by Mourinho for spending lavishly on fullbacks, Guardiola's judgement has been vindicated as he chose to upgrade the weakest position in the Manchester City squad with three elite yet young fullbacks in Kyle Walker, Benjamin Mendy and Danilo.
Reverting to the structure Guardiola introduced during his term at Bayern Munich, Manchester City boasted of fullbacks on both flanks who drove inwards to increase bodies in the central midfield — the fact that Fabian Delph, who is technically a midfielder, was deployed on the left flank in Mendy's injury-laced absence further bolstered Guardiola's system as team after team yielded in front of the eventual Champions.
While the likes of Aleksandar Kolarov and Pablo Zabaleta averaged more defensive contributions in every game, the arrival of Walker and Mendy allowed Guardiola to implement his brand of football without any defensive repercussions — the Spaniard's choice to push the reset button on his squad options this past summer not only lent City a new leash of life, but also set them up for persistent dominance over the next decade.
Ederson Moraes – The Indispensable One
That Guardiola prefers his teams to 'play out from the back' is a fact written in stone and the purchase of Ederson Moraes has been instrumental to City's success this season. Hailed by Maurizio Sarri as "City's most dangerous player", Ederson reinvented the position of custodian with a flair rarely seen across Europe.
The Brazilian has proven that he is miles ahead of his counterparts in England when it comes to his ball distribution abilities — boasting of a remarkable distribution accuracy of 87 percent and an average distribution length of 32m, all the while making 2.09 saves per goal — Atletico Madrid's Jan Oblak and AS Roma's Alisson being the only two players in Europe's top five league who have come close or bettered Ederson in some of the aspects. The last line of Manchester City's defence acted as the first line of their attacking spectrum, revolutionising Premier League football in the process.
"You cannot imagine. It is the most difficult thing," Guardiola acknowledged after City's 3-1 win over Tottenham this previous weekend. "In the league every game you have to stay there. It would be one of the best three seasons I have ever had as a player and as a manager. The amount of goals, chances and points, to do that in the Premier League, with the contenders we have, is because the players are so good," concluded the elite tactician, but even the harshest of Guardiola's critics will be compelled to admit that Manchester City Class of 2018 has been a marvel to watch for football fans across the globe.
Author's Note – All data has been sourced from Opta
Updated Date: Apr 16, 2018 17:44:04 IST