Premier League: Manchester City boss Pep Guardiola laughs off Dani Alves' admission that his coaching is 'better than sex'
Manchester City manager Pep Guardiola has laughed off a suggestion his coaching is 'better than sex'.
Manchester: Manchester City manager Pep Guardiola has laughed off a suggestion his coaching is "better than sex".
The comment was reportedly made by Paris Saint-Germain defender Dani Alves, who is currently promoting a documentary about his time at Barcelona playing under Guardiola.
Before Sunday's Premier League home match against Manchester United, a reporter asked Guardiola for his reaction at a press conference, prompting him to respond: "I prefer the sex – by far."
The question may owe something to a mistaken interpretation of something Alves said in 'Take the Ball, Pass the Ball', a documentary looking at Guardiola's time as Barcelona boss, which saw the Spanish club win the Champions League in both 2009 and 2011.
Brazilian star Alves, referring to Barca's late winner against Chelsea in the 2009 semi-final, said: "It is because of moments like this that we all love football. The only thing that beats it is sex."
Alves is one of many players to have cited the City manager's coaching methods as inspirational, but Guardiola has played down such claims, making a passing reference to the struggles he had with former Sweden striker Zlatan Ibrahimovic when they were at Barcelona.
"I can see a huge list who are on the opposite side," said Guardiola, whose City team are both the reigning English champions and the current Premier League leaders.
"There is a list where they love me a lot, like Dani. They have another side from Sweden and other places where they don't like me too much."
Find latest and upcoming tech gadgets online on Tech2 Gadgets. Get technology news, gadgets reviews & ratings. Popular gadgets including laptop, tablet and mobile specifications, features, prices, comparison.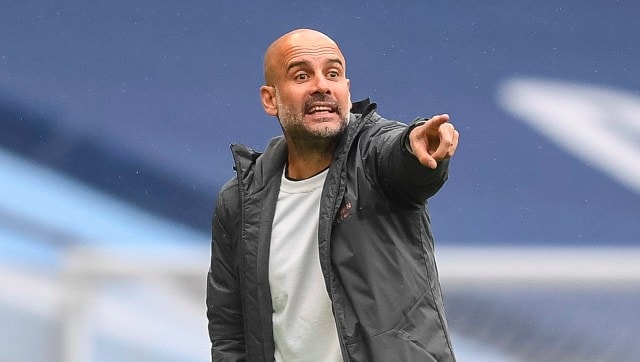 Sports
Four Premier League matches have so far been called off, including City's trip to Everton last month, but a different approach appears to have been taken in the FA Cup over the weekend.
Sports
Pogba twisted and turned, maneuvering himself into a pocket of space before unleashing a powerful left-foot shot that curled into the far corner and secured another win for United.
Sports
National League North side Chorley's reward for their victory over a depleted Derby was a home tie with Premier League Wolves.