Premier League: Manager Unai Emery issues warning for underperforming stars, promises 'new future' for Arsenal
Unai Emery said: 'This is a big team, with great players. We think we need change, little things, a few players. I want to speak individually with all the players face to face.'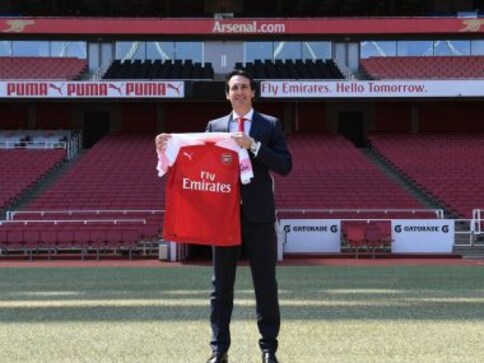 London: Unai Emery has warned Arsenal's underperforming stars he won't be afraid to wield the axe as he prepares for the challenge of creating a "new future" for the troubled Premier League side.
Emery was unveiled as Arsenal's first new manager in 22 years on Wednesday as the Spaniard faced the media at the Emirates Stadium.
The 46-year-old arrives in north London to take charge of a squad that went stale under his predecessor Arsene Wenger, who had failed to win the Premier League title since 2004.
Arsenal finished sixth in the English top-flight this season, missing out on the Champions League for a second successive year, while trailing 37 points behind champions Manchester City.
Wenger was forced out after losing his grip on an unbalanced squad and, while Emery said he will give his players a chance to impress, the former Paris Saint Germain boss made it clear he is willing to breathe life into a moribund club with new signings.
"It's a big challenge for me but I have worked also in other projects, big projects," he told reporters.
"This is a big team, with great players. We think we need change, little things, a few players.
"I want to speak individually with all the players face to face.
"It's very important for the club, after two years outside the Champions League, to work to be the best team in the Premier League and also in the world."
Despite the daunting task facing him, Emery, who was allowed to leave French champions PSG at the end of the season, insisted his move to Arsenal is a great opportunity.
"This is a big project and I am proud to be here and to work after Arsene Wenger," he said.
"In my career every year I grew up with new challenges. For me this challenge is a dream come true."
Emery, who won the domestic treble with PSG this season, is on a reported £6 million per year contract after convincing Arsenal's board he was the right man to replace Wenger.
He won the race ahead of seven other candidates thanks in part to his willingness to work with chief executive Ivan Gazidis, head of football relations Raul Sanllehi and head of recruitment Sven Mislintat.
That trio are the new power-brokers at Arsenal and Emery was quick to praise his employers.
"Thank you Ivan, Raul and Sven. The first meeting with Arsenal people was with those three who, after three hours, gave me a very good feeling for how we will work together and create a new future for Arsenal," he said.
'Win together'
Speaking in broken English, Emery paid tribute to Wenger, who departed with three Premier League titles and seven FA Cups in a reign that transformed English football.
"Thank you Arsene Wenger for your legacy, he has reverence from all coaches in the world. I learned with him all the things in football," Emery said.
Wenger won the double in his first full season with Arsenal in 1997-98 -- an achievement that might be beyond Emery given the rebuilding job facing him.
Asked what he hoped to achieve next season, Emery said: "I think that's about battling for every title, that's something in Arsenal's history and in my history as well. And I want that to continue.
"I don't promise today we will win but I can promise you we will work hard and we will work together.
"We will transmit our emotion and we will fight for the objectives."
Key to his attempt to revitalise Arsenal will be bringing the best out of Mesut Ozil, the World Cup winning German playmaker who has often cut a diffident figure in his time with the Gunners.
Emery, a three-time Europa League winner with Sevilla, called on Ozil to commit to the cause, saying: "He's one of the biggest talents here and I want talented players here.
"I want to spend time with him and all of the players - to speak to them about how inspired and excited I am to be here and for them to feel it too.
"We all need to give 100 percent and that's what I'm looking for from every player and myself."
Worringly for Arsenal fans, Emery has never won a match against Manchester City boss Pep Guardiola or Manchester United manager Jose Mourinho.
"I'm thinking about the present and the future. In terms of my past experience, it has made me stronger today," he said.
"I'm excited to be here and fight against some top managers and some top teams."
Sports
Ronaldo has always denied the allegations and maintained that the relationship with Kathryn Mayorga was completely consensual.
Sports
It was a night of stalemates for the big teams in the Nations League on Saturday, including a drab scoreless draw in the rematch of last year's European Championship final.
Football
Chelsea will now start the search for a permanent sporting director, with Granovskaia leaving the club after almost 20 years at Stamford Bridge.