Premier League: Liverpool's clash against Manchester United a vital inflection in both teams' fortunes
In the long history of Manchester United-Liverpool classics, Sunday's match won't as much be a postscript. Yet today, as we see balances tilting, it remains a vital point of inflection in their fortunes.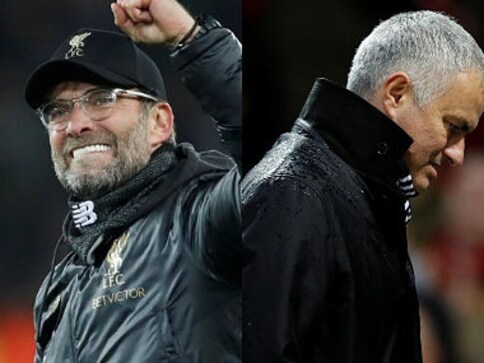 The afternoon of 23 November this year was supposed to pass by as routine for the administrative servants of Buenos Aires. The weather was its usual calm, spring-like self, the sun was playing hide and seek with the clouds. Boca Juniors had a scheduled training session at the Bombanera, their last before the following weekend's Copa Libertadores final at River Plate's Estadio Monumental. The rest of the world meandered through life, holding their anticipation and energy for the derby of a lifetime that Sunday.
And then, fifty thousand fans, armed with ticker tapes, vuvuzelas, drums and banners, filled up the Bombanera stands while the Boca players were changing into their training kits. The stadium and city authorities were left with floored jaws. Even for those who had grown up in the middle of this insane city with an insane love for football, this was unprecedented. New York Times journalist Rory Smith tweeted from the stadium, saying "There is such a thing as liking football too much."
The final ended up as a farce for the ages, shifted from Buenos Aires to Madrid after two failed attempts to stage it safely and even as those from more sophisticated cultures let out a chuckle at this mess, they couldn't have missed the fleeting, but most beautiful view of what makes football the most popular global language. What South America doesn't have in organisation and finances, it makes up with love and heart.
The Premier League isn't lacking for organisation or finances, neither do you feel that the crowds miss personality. In fact, some sections of the consumers are so into it, they regularly let those of certain cultural heritages know their place in society, as the events of this past week have so importantly pointed out again. It is also a week where the richest and the most storied football club in England, who are at this point more a picture of a burgeoning business than a well functioning team, play their most storied rivals at the most storied football stadium in English football. While the dialogue and introspection around discrimination should never end, the Liverpool-Manchester United rivalry comes to town at a juncture when English football could use a little sunshine.
The air around this match is peculiar this time. Manchester United aren't the all-conquering blitzkrieg of a team anymore, as they indeed haven't been for some time now, while Liverpool's voices are becoming louder by the week. The gap of 16 points between them on the table may be a slightly exaggerated reflection of the distance between the two teams in terms of their polish and coherence, but it is a deficit that Manchester United have deserved due to their recent technical, coaching and organisational incompetence.
It has been twenty-eight years since United have faced Liverpool chasing a trail of this magnitude. In this time, Manchester United, running on a Need For Speed type unlimited nitrous-oxide cheat code called Sir Alex Ferguson, spent two decades and a bit collecting trophies as if they were seasonal souvenirs, while Liverpool oscillated between challenging for titles and looking shockingly inept. The leftover energy from the Ferguson years ensured United's dominance over Liverpool didn't really leave with him. Four years back, almost to the day, the two teams met at Old Trafford. Liverpool were coming off a second-place finish in the 2013-14 Premier League. Manchester United were starting anew under Louis van Gaal after the ignominy of David Moyes' eight months in charge. The match ended 3-0 in United's favour and while David de Gea had to make a few saves, Liverpool never quite looked threatening.
In the long history of United-Liverpool classics, this match won't as much be a postscript. Yet today, as we see balances tilting, it remains a vital point of inflection in their fortunes. Seven out of United's starting lineup from that evening are still on the player roster. The Jurgen Klopp-led Liverpool has only kept four players from that day, two of them barely play anymore. While the Merseyside club have completely restructured and reinvigorated themselves, United have failed to move on from the past, sticking to old philosophies at the club from bottom up.
Along with the departures, the new arrivals too have added definition to this difference. This Tuesday, with Liverpool a minute away from progression and a goal away from elimination in the Champions League, goalkeeper Alisson Becker saved a point-blank shot from Napoli striker Arkadiusz Milik. For the rest of the night, January signing Virgil van Dijk made sure Liverpool had the cushion of a one-goal lead against an incisive frontline. A day later, Romelu Lukaku and Paul Pogba struggled for ninety minutes against Valencia.
Liverpool are currently top of the league, their form and stability of team selection affording new signings in Fabinho and Naby Keita the space to acclimatize to English football. In the same time, Manchester United have been all about indecision.
United's new midfielder, Fred, stuck in the rocky territory between Jose Mourinho's good and bad books, doesn't know when he will get a game, even as he sees United's current midfield do their best impression of roller skaters on an ice rink. With almost half the season gone, Mourinho still hasn't quite figured out his best eleven, never mind giving them a continuous run of games.
He is also surrounded by a rare collective trough for an entire squad, the kind where you'll struggle to point out players consistently performing at even a 6/10 level, the ever reliant David de Gea included. Mourinho has tried all kinds of combinations across the pitch, some justified, some inexplicable and almost nothing has stuck. Sometimes, you can understand all his anger and frustration. A mighty figure in football has been reduced to a caricature of himself, looking woefully out of sync with time, receiving scarily indifferent reactions from his team.
For Liverpool and Jurgen Klopp, every match is an adventure, a journey to see how far this rocketship can go whereas Manchester United and Jose Mourinho are headed in a completely opposite direction. The recent happenings at their club are more suited for Page 3 of a tabloid newspaper than the training ground of one of the world's elite football clubs.
In between all these twenty-eight years of a complete 180-degree rotation, Manchester United have gone to Anfield and struggled more often than not. Even at the peak of his powers, Sir Alex couldn't quite tame the beast that is The Kop. But if there's something Klopp will know, from as recent as this March, you never count out Manchester United in a big match. They showed it against Chelsea, Arsenal and Juventus, and they will show it again that they might have lost a lot of blood, but the trademark United DNA of taking the toughest opponents on isn't quite dead.
Bring on the derby.
First Cricket News
Jagadeesan has been an experienced player for Tamil Nadu and has featured in 26 first-class, 36 List A, and 45 T20 matches.
Football
Tottenham will pay an initial £50 million fee with a further £10 million in performance-related bonuses.
Football
Lukaku's return was made official in a video posted on Inter's social media channels with the striker Lukaku saying "we're back baby"