Premier League: Liverpool look to channel the spirit of Jürgen Klopp in a season of renewed hope
Fortunately for Liverpool, as the league enters an era of the 'Super-coach', the club has its own rockstar in Jürgen Klopp; a man who could firmly put an end to the misery at Anfield starting with this season.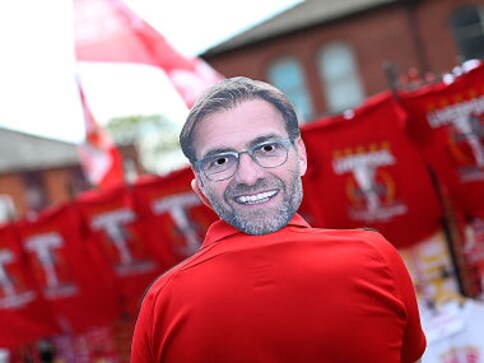 For over two decades now, Liverpool football club has looked in vain to channel the ever-fading spirit of The Kop, Anfield's famous stand of supporters, in hope of ending the club's modern-day struggles. Now it's time for a change. In the upcoming season, the club's 27th since winning the league in 1990, the Reds will firmly look to an alternate force of football: the all-pervading spirit of 'The Klopp'.
That is, the infectious enthusiasm and joviality of Liverpool's German manager Jürgen Klopp which, along with a couple of close shaves with silverware last season, has led to a feel-good and expectant atmosphere at a club that doesn't really have much else to feel good about.
Liverpool finished eighth in the league last season—the club's joint-lowest finish in 51 years. It has secured a Champions League berth only once in the last six years—pointing to the depth of the malaise the club finds itself in today. Big-name signings have proven to be out of reach too. Even the incentive of working with his former manager wasn't enough to lure Mario Götze to Anfield this summer.
Yet, there is cause for optimism heading into the new campaign and Klopp, who will begin his first full season in charge of Liverpool against Arsenal on Sunday, is entirely responsible for it. The German's manic methods and touchline eccentricity—all of which were well-known prior to his arrival—has already made him a cult figure at Anfield. So have some of his personal choices which have resonated with the club's supporters at an emotional level.
Klopp revealed that watching the documentary on the Hillsborough disaster was his first act upon joining the Reds and recently he also refused to answer a journalist —albeit for reasons other than the newspaper's disrespectful coverage of Hillsborough back in 1989 which has made it the subject of eternal hatred in the city of Liverpool.
There's genuine belief at the club that Klopp is a godsend at a time of increasing desperation at Anfield. In his unreserved, often over-the-top, celebrations of a goal (or even a successful tackle!), Klopp comes across as a man who is refreshingly anti-Red in his behaviour: free of burden and living in the moment. He's teaching Liverpool how to enjoy football again and players, fans and even the owners, who tied Klopp to a six-year contract in July, are all lapping it up.
The German's ten months at Liverpool have been decorated with stories of improved individuals—like Divock Origi, who has transformed into a first-choice forward; of resilient team performances—such as the comeback win over Borussia Dortmund; of memorable cup runs to the finals of the League Cup and the Europa League—where they beat their closest rivals; and an unwavering emphasis on building team spirit above all—Mamadou Sakho, the club's best defender and possibly future captain, was expelled from the preseason tour of United States for "repeatedly breaking club rules".
What's been hampering the team is a lack of consistency. Klopp's Liverpool have frequently gone from barnstorming performances to puzzlingly dull displays in a matter of days, or even minutes for that matter. This air of unpredictability was put down to an inherited squad of players adjusting to a new manager's methods. No such excuses, though, will be entertained in the upcoming campaign following an entire summer of squad cleaning and preseason training.
Liverpool's transfer activity has split opinion of fans. Although smart acquisitions have been made— Sadio Mane (£34m) and Georginio Wijnaldum (£25m) enter with handy Premier League experience—the lack of a marquee arrival has drawn the ire of fans who contrast the club's limited ambitions to those of its free-spending Manchester rivals.
However, Klopp has simply stuck to the very principles which have served him well over the years. He prefers to have in his squad hardworking players who complement each other on the pitch over individuals who may hog the limelight and potentially disrupt the team's harmony. This was the basis of his success at Dortmund, where he transformed a club on the verge of bankruptcy into a European powerhouse and made superstars out of little-known players like Robert Lewandowski and Götze.
The manager has explicitly stated that he is "100 percent happy with the players" brought in this summer and does not want to "kill the base (of his squad) and start completely new". Klopp's philosophy could be a blessing for Liverpool considering the club's recent history of unimpressive gambles—Andy Carroll (£35m), Christian Benteke (£32.5m) and Mario Balotelli (£16m) to name a few.
Mane, a fast-paced forward-cum-winger who scored 11 goals for Southampton last season, has been earmarked by Thierry Henry as a player to watch out for this campaign. The 24-year-old's dynamite presence will augment Klopp's gegenpressing (or "counter-pressing") approach—which was evident in the 4-0 defeat of Barcelona—while also keeping the mercurial Adam Lallana on his toes.
Wijnaldum, meanwhile, has been welcomed from Newcastle United as a versatile, goal-scoring addition (scoring 11 times last season) to an injury-prone midfield. Jordan Henderson's absence in the crucial months of April and May had left a gaping hole in the middle while Lucas Leiva remains perpetually out of luck when it comes to fitness issues. There is a strong chance that the Brazilian will follow Joe Allen—who joined Stoke City—out of the club this month.
Serbia's 20-year-old midfielder Marko Grujic, who joined Liverpool in January before being loaned back to Red Star Belgrade, will begin his first season at Anfield. He is one for the future in a role which, according to Grujic himself, will be "something between a no.6 and a no.10".
Problems in central defence have been addressed—though not quite at the scale of Manchester City's capture of John Stones. Error-strewn centre-backs Martin Skrtel and Kolo Toure have been replaced with Klopp's typically understated signings: 25-year-old Joel Matip (free) from Schalke and 30-year-old Ragnar Klavan (£4m) from Augsburg, who has impressed in preseason. With Sakho set to miss the start of the new campaign, both of these players will be called upon to partner Dejan Lovren.
Full-back positions remain a cause for worry due to a lack of cover. Left-back Alberto Moreno, whose Anfield CV is riddled with costly mistakes, remains Klopp's first choice. James Milner and Klavan offer the next best—though makeshift—alternatives even if young Joe Gomez is still part of the squad.
Continuity and cohesion will benefit Liverpool this season. Of the squad left by Rodgers, Daniel Sturridge, Philippe Coutinho, Roberto Firmino, Emre Can along with Henderson, Milner, Origi and Sakho will again form the backbone of the team. Goalkeeper Simon Mignolet will be lucky to retain his place once new-signing Lorus Karius (£4.7m), formerly with Mainz, recovers from a broken hand.
A fixture list devoid of European commitments will aid the recovery of players. Following an intense preseason, it should allow Klopp's team to maintain a high-tempo style throughout the year. He has already stated that this season unlike the last, when Liverpool played an astonishing 63 matches, won't be about player rotation. Instead, the best team will play every week.
It hardly needs reminding what the Reds are capable of achieving in a Europe-free campaign. Memories of a sensational yet ultimately painful 2013/14 season is still fresh in memory. Another title challenge isn't impossible—certainly not in a world where Leicester City are English champions—but a place in the top four remains a more realistic target.
A tough run of opening fixtures will thoroughly test Liverpool's credentials. It sees the Reds travel to Arsenal, Chelsea and Tottenham before hosting champions Leicester; all in the first five rounds of the campaign. Switching the home fixture against Burnley to an away game, due to stadium renovations, hasn't helped either. It has forced Liverpool to begin the season with four successive away trips.
With the Premier League now plush with world-class managers, like Pep Guardiola, Jose Mourinho and Antonio Conte, manning the world's richest clubs, the competition will be tougher than ever before. Fortunately for Liverpool, as the league enters an era of the 'Super-coach', the club has its own rockstar in Jürgen Klopp; a man who could firmly put an end to the misery at Anfield starting with this season.
also read
Football
Casemiro, Anthony Martial, Bruno Fernandes and Marcus Rashford were on target as Manchester United moved up to third in the Premier League.
Football
Following the Argentine team's 1-0 victory over Colombians Independiente de Santa Fe on Tuesday, Rodallega claimed some Gimnasia fans had called him 'monkey' and 'black'.
Football
New La Liga champions Barcelona tumbled to a 2-1 defeat to Real Sociedad on Saturday before receiving their trophy at a packed Camp Nou.