Premier League: Liverpool aim to maintain superb form against Southampton; Chelsea head across London to face West Ham
Virgil van Dijk has challenged Liverpool to use their blistering start to the Premier League season as fuel to finally end their trophy drought
London: Virgil van Dijk has challenged Liverpool to use their blistering start to the Premier League season as fuel to finally end their trophy drought.
Jurgen Klopp's side will aim to maintain their superb form in a potentially historic meeting with Southampton at Anfield on Saturday.
Only four clubs in the Premier League era have opened a campaign with six consecutive victories – Newcastle in 1994, Manchester City two seasons ago and the Chelsea sides of 2005 and 2009.
Now, second-placed Liverpool, who trail leaders Chelsea on goal difference, can join that list with a victory over Southampton.
A win would also mark the first time since 1990-91 that Liverpool have opened the league season with seven successive victories.
Liverpool's impressive start, which also includes their thrilling midweek Champions League victory over Paris Saint-Germain, has convinced Dutch defender Van Dijk that his club are ready to win their first silverware since the 2012 League Cup.
"It's a great time to be a Liverpool player, you want to play these clubs we are going to face," Van Dijk said.
"I want to win things, I want to create memories here and write history as well with all these boys.
"You need to have ambitions, and with the size of this club, with the people around here and the history of the club, we want to try and win everything."
Tottenham manager Mauricio Pochettino goes into Saturday's clash at Brighton under pressure for the first time in his four-year reign following a run of three straight defeats.
That dismal streak comes amid wider concerns that the undoubted progress made by Pochettino may stall this season.
A third straight year of Champions League action started with a painful late defeat at Inter Milan on Tuesday, while losses to Liverpool and Watford already leave Spurs trailing Chelsea by six points.
Anxious Spurs
Throw in reports that some Tottenham players are tired and unhappy with Pochettino's intense training sessions and it's easy to see why the Argentine needs a positive result to lift the gloom.
"The group is, of course, a little bit anxious about winning games because it is normal when you don't win the atmosphere and the energy is different but that happens," Pochettino said.
"Sometimes it is good to feel the pain of defeat, not only one but two or three.
"After we beat Manchester United the perception was completely different, now after three defeats all seems different but not under my eyes."
Chelsea head across London to face West Ham, with Eden Hazard well rested after being left at home for the Blues' Europa League win at PAOK on Thursday.
Hazard's superb form has been key to Chelsea's flying start under new boss Maurizio Sarri, but the Belgium playmaker is happy to give credit to team-mate Olivier Giroud.
Giroud offers a more robust presence than the diffident Alvaro Morata, who has endured a wretched first year with Chelsea, and Hazard is thriving on the extra space and service provided by the France striker.
"Olivier's a target man, maybe the best in the world; I think so," Hazard said.
"When he gets the ball he can hold the ball and we can go in deep with him, so for us it's a pleasure to play with him."
Pep Guardiola returns to the touchline for Manchester City's visit to Cardiff looking for his team to recover from the shock Champions League defeat at home to Lyon.
Guardiola watched in horror from the Etihad Stadium stands on Wednesday as he served a one-match ban for being sent to the stands in last season's quarter-final defeat to Liverpool.
In his absence, City produced their worst performance of the season, putting the onus on the champions to bounce back in south Wales.
Fixtures
Saturday
Brighton v Tottenham (1630 GMT), Burnley v Bournemouth, Cardiff v Manchester City, Crystal Palace v Newcastle, Fulham v Watford (1130 GMT), Leicester v Huddersfield, Liverpool v Southampton, Manchester United v Wolves
Sunday
Arsenal v Everton (1500 GMT), West Ham v Chelsea (1230 GMT)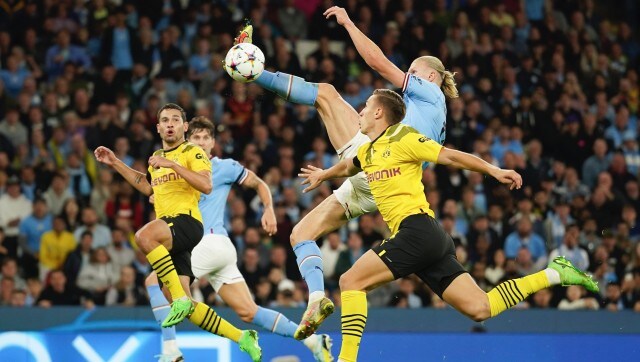 Football
Haaland has now scored 13 goals in nine games for City since they met his bargain 60 million euro ($60m, £52m) buyout clause from the German giants.
Football
Mendy still faces seven counts of rape, one count of attempted rape and one count of sexual assault against six young women.
Football
Pitch-invading fans will be slapped with at least a year of ban from English Premier League clubs' home and away matches, agreed the clubs.