Premier League: Lack of depth begins to show as Tottenham lose three matches in a row for first time under Mauricio Pochettino
Tottenham have a bit of a crisis on their hands, as their loss against Inter Milan means that the team has lost three games in a row for the first time under Mauricio Pochettino.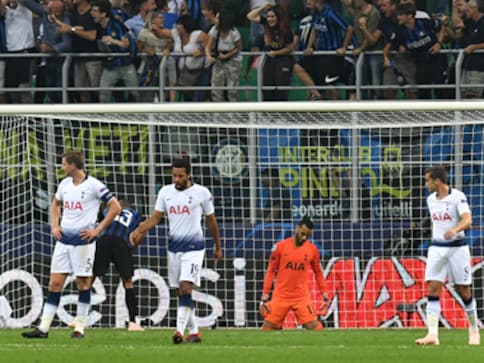 Tottenham had more players in the World Cup semifinals than any other team. It also was the only Premier League club to not sign anyone in the European transfer window.
As Mauricio Pochettino's sluggish side stumbles in the first busy period of the season, those factors might be starting to show. Tottenham has lost three straight games — two in the Premier League and the other against Inter Milan in the Champions League on Tuesday — heading into a typically difficult away match against Brighton in the Premier League on Saturday.
The passing has become sloppy. The pressing — a key feature of Tottenham teams under Pochettino — is not quite as intense. Striker Harry Kane looks drained, despite his and Pochettino's protestations to the contrary. Even Pochettino, Tottenham's usually mild-mannered manager, delivered a grouchy performance in his last news conference, accusing reporters of disrespecting his team selection.
Barely three weeks ago, Tottenham was being lauded after a 3-0 win at Manchester United that made it three straight wins to open the Premier League season. Since then, cracks have started to appear, with the displays in losses to Watford, Liverpool and Inter arguably more alarming than the results themselves.
"I understand football and I understand tough periods can arrive," Pochettino said, adding, "after our win at Manchester United, I said: 'Be careful.' And afterwards, a tough period arrived."
Is a World Cup hangover beginning to kick in? Nine of the 12 Tottenham players who went to the tournament in Russia were still there on the final weekend and did not return to preseason training until five days before the start of the Premier League. It leads to the obvious question: Are they fresh enough, mentally and physically?
Tellingly, Tottenham squandered leads against Watford and Inter by conceding late goals. In between, the team was mostly outplayed by title rival Liverpool in a 2-1 loss at Wembley Stadium last weekend. Much of the focus is centering on Kane, who hasn't scored in his last four games and is averaging fewer shots this season than last. His touch and movement isn't quite as sharp and he seems to be dropping slightly deeper than usual.
A widely held view is that the striker returned too quickly from an ankle injury sustained in March and needs some rest after an offseason in which he was under scrutiny as England captain at the World Cup. The fact that Pochettino continues to play Kane links to another issue, that of squad depth.
Tottenham became the first Premier League team to fail to make a signing in 15 years of the offseason transfer window. The theory that this would keep the squad tight and coherent is making way to one that says the squad looks stale and stretched in some areas, particularly in center midfield and up front.
The return of versatile forward Son Heung-min to the squad last week gives Pochettino an important extra option amid a 22-day stretch when the team plays seven games across three competitions before the next international break.
What makes this a tougher period for Tottenham is the continuing uncertainty over its new stadium, with the date to move in to a remodeled White Hart Lane being put back likely until early 2019. Then there's club captain Hugo Lloris' arrest and conviction for drunk driving, with Pochettino's decision to retain the goalkeeper as captain criticized by some. Lloris is currently out injured, along with attacking midfielder Dele Alli, and replacement goalkeeper Michel Vorm was at fault for one of Liverpool's goals last weekend.
Pochettino said Tottenham produced its best display of the season at Inter, perhaps explaining why he was unhappy at being asked if his decision to rest defenders Kieran Trippier and Toby Alderweireld was partially to blame for the loss.
Still, it might be a sign of his frustration that he lost his cool. Another loss against Brighton, which has already beaten Man United at home this season, would lead to more searching questions.
Football
Once the ban is imposed, Cristiano Ronaldo will miss two Premier League matches if he joins another English club.
Football
Gareth Southgate said Harry Kane would be available for selection against the USA in their group game at the Al Bayt Stadium.
Football
Hugo Lloris will tie a national team record for Les Bleus four years after lifting the trophy as captain. Opposite number Wojciech Szczesny is a penalty-saving, wise-cracking No. 1.