Premier League: Jose Mourinho says Manchester United will allow Zlatan Ibrahimovic to leave club if he wishes so
Zlatan Ibrahimovic will be allowed to leave Manchester United for Major League Soccer if a deal can be agreed, manager Jose Mourinho said on Monday.
Manchester: Zlatan Ibrahimovic will be allowed to leave Manchester United for Major League Soccer if a deal can be agreed, manager Jose Mourinho said on Monday.
The former Sweden striker has been heavily linked with a move to LA Galaxy following Alexis Sanchez's recent arrival at Old Trafford from Arsenal.
Ibrahimovic, 36, has struggled to regain his best form after missing seven months with cruciate knee ligament damage suffered during a Europa League win over Anderlecht last April.
He signed a one-year contract extension in August as he recovered from his injury but has made just one league start for United since his comeback in November and has not played since December 26 because of recurring problems.
The MLS transfer window opens in mid-February and shuts in May, meaning that LA Galaxy would not have to get an agreement with United concluded before Wednesday's English deadline.
Mourinho, speaking ahead of United's away fixture against Tottenham on Wednesday, made clear that Ibrahimovic had not spoken to him about a move to the United States, but added that he was willing to help a deal go through if that was what the striker wanted.
"He told me nothing about it," Mourinho told a press briefing. "The first time I read something about that was from you, from you media. I read on some web and listened on some television channel. He never mentioned that to me, so I don't know.
"Zlatan is in the last year of his contract. I repeat, he said nothing about it to me, but if, if, if that is true and Zlatan wants a future at another club in another country, we are here to create conditions for that to happen, not to make his life difficult.
"But I repeat the only thing Zlatan told me, or the last thing that Zlatan told me was that he wants to recover totally and feel ready to help the team. That's the last thing I heard from him."
Fellaini deal?
Mourinho is optimistic that Marouane Fellaini will sign a new contract at Old Trafford, despite uncertainty about the midfielder's future.
Fellaini is out of contract at the end of this season and has yet to agree a new deal but wants to stay at United, according to the manager.
"He's a very important player for me and a great professional who is giving everything he can to help the team," said Mourinho.
"There is a desire from myself, the board and the player to stay together. That's our objective."
Mourinho signed a new contract of his own last week, committing him to United until 2020, and said he did so because he felt that the club's ambition matches his own.
"The club wants the same as I want," he said. "It's as simple as that. The club have the same ambition that I have. They have the same desire to improve at every level to make possible these ambitions in terms of sporting achievement, so that we can reach them sooner or later.
"We know stability is very important and we decided to sign a contract with this in mind. We believe in each other. We have common goals, and we go for it."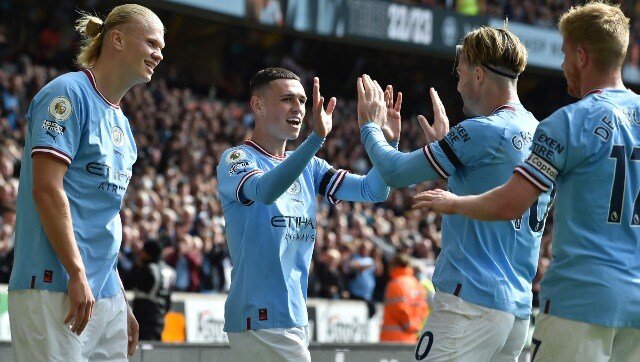 Football
After Jack Grealish scored his first goal in 56 seconds, Erling Haaland doubled City's advantage with his 14th goal in 10 games.
Football
Pitch-invading fans will be slapped with at least a year of ban from English Premier League clubs' home and away matches, agreed the clubs.
Football
For only the second time in their last 11 matches, dating back to last season, Aston Villa finished with three points