Premier League: Jose Mourinho says he is 'relaxed' about Manchester United's chances of signing Alexis Sanchez
Manchester United boss Jose Mourinho remains relaxed about his chances of signing Arsenal forward Alexis Sanchez despite reported late interest from Chelsea.
Manchester: Manchester United boss Jose Mourinho remains relaxed about his chances of signing Arsenal forward Alexis Sanchez despite reported late interest from Chelsea.
The United manager was speaking at the end of a Monday of high drama in the pursuit of the Chilean, who looks likely to leave the Emirates in the January transfer window ahead of his contract expiring at the end of the current campaign.
That will enable Arsenal to recoup some cash for the highly-rated Sanchez, with United understood to have put together a package that will be worth £35 million ($48 million, 39 million euros) to Arsene Wenger's club, and include United midfielder Henrikh Mkhitaryan, valued at £10 million, as part of the deal.
Sanchez had long been expected to join Manchester City, who failed in a bid to secure his services on the final day of the European summer transfer window.
As recently as last week, Sanchez looked set for a reunion with his former Barcelona coach Pep Guardiola at the Etihad but late on Monday saw City officially withdrew their interest, scared off apparently by the escalating fee and wage demands that are reported to be around £300,000 a week.
There were also reports later that evening that Chelsea have now made a late attempt to hijack the signing and Mourinho, speaking after his team defeated relegation-threatened Stoke 3-0 at Old Trafford, admitted Sanchez had attracted attention from other clubs.
'Have a chance'
"I am not confident but, what's the opposite? Not unconfident.
"Just relaxed with the feeling he is an Arsenal player, that he can stay there but also with the feeling that he can move. If he moves, I think we have a chance."
The Portuguese added: "Most probably, a player like him, he probably has other big clubs who are interested. And who knows?
"I think him, Mr Wenger, Mr (Ivan) Gazidis (the Arsenal chief executive), they are the ones who really know what's going to happen.
"I don't know anything about it. Today, I don't have one single piece of information so let's see what happens."
Mourinho left Mkhitaryan out of his matchday squad for the victory over Stoke, which came courtesy of goals from Antonio Valencia, Anthony Martial and Romelu Lukaku.
That decision fuelled the theory that the playmaker is bound for Arsenal as a makeweight in the transfer.
"I didn't select him today because I wanted players fully focused and I understand that with so much talk and speculation it is not easy for Mkhitaryan to play at home with this feeling," Mourinho said.
"So I prefer to protect him and the situation. If he stays here he is a very good player that started the season very, very well and came a little bit down but last season did amazing things for us, helped us to win the Europa League, being one of the most important players."
United's victory lifted them to within 12 points of Premier League leaders City and left impressive midfielder Paul Pogba talking repeatedly about catching their local rivals -- a task that seemed all but impossible before Guardiola's team saw their unbeaten league run this season end against Liverpool on Sunday.
"Obviously we see Manchester City in front of us losing and we always want to catch them," said Pogba. "So it was good for them to lose.
"But we have to think about ourselves winning. It's good that they lost points but we have to get back to winning because we lost a lot of points. We've got to get back and try to catch them."
Pogba provided two assists for goals against Stoke, taking his tally for the season to an impressive nine in the Premier League.
"It's important for me to make assists and now we're winning I'm enjoying doing this much more and to score more goals would be great," he said.
"But the most important thing is the result and to catch them. Like everybody we want to win the league. We're far away but we're going to try."
Football
Manchester City vs Manchester United: Check when, where, and how to watch the Live telecast and streaming of Manchester derby.
Football
Pitch-invading fans will be slapped with at least a year of ban from English Premier League clubs' home and away matches, agreed the clubs.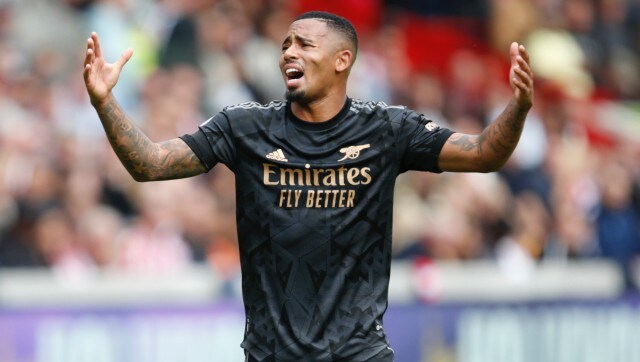 Football
Gabriel Jesus has been one of the stars of the early Premier League season with four goals and three assists in his first seven matches for the Gunners.