Premier League: Ederson must adapt to Manchester City's philospohy but can Pep Guardiola train goalkeepers?
It is worrying how little of an effect Pep Guardiola has been able to have over goalkeepers at Manchester City.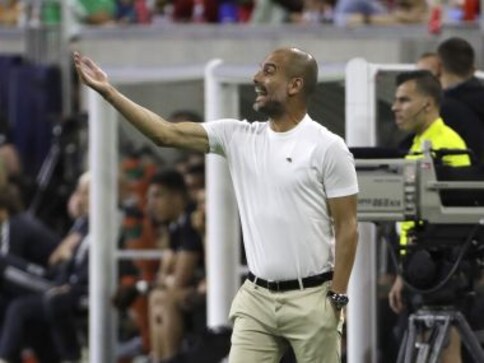 When Manchester City played Manchester United in a pre-season friendly, there were a couple of new signings people had their eyes on. While Kyle Walker acquitted himself extremely well, the new City goalkeeper was more of a mixed bag. Sure, Ederson couldn't do much about the second goal, but getting caught out and leaving your goal open to the likes of Romelu Lukaku will hardly endear you to fans.
Still, it is not fair to judge him on the basis of one game. He did show glimpses of excellent reactions — especially in a glorious triple-save against Phil Jones — but it was clear that he is not the finished article.
Ederson cost City a cool €40 million, in the process becoming the second-most expensive keeper in the world after Gianluigi Buffon. He also became the third world-class keeper Pep Guardiola has had at his disposal in just over a year at City.
First there was Joe Hart. Hart had been part of the Sergio Aguero-David Silva-Yaya Toure-Vincent Kompany-Hart spine that gave City much joy in the Sheikh Mansour era. Always a fan favourite, he joined the club for less than a million euros, a veritable bargain for a player who has been the club's No 1 for most of this decade. The England No 1 is a shot-stopper extraordinaire and has had considerable success against even the Lionel Messi-Luis Suarez-Neymar axis of goals.
But alas, just a few weeks were enough for Guardiola to be convinced that Hart couldn't pass. At least not at a level that Guardiola demanded. After starting Willy Caballero in goal in the first few matches of the 2016-17 season, Guardiola made it pretty clear that Hart just wouldn't cut it. Hart eventually spent a year out on loan at Torino and has now been loaned out to West Ham United.
Caballero was never the answer, though, and everyone knew it. The then 34-old-year was bought from Malaga CF primarily to play in cup tournaments so that Hart could rest. To no one's surprise, City quickly splashed some more cash and prised Claudio Bravo from Barcelona.
Bravo came with an excellent reputation. He had spent a good couple of years at Barcelona and was the captain of a Chilean team which had won consecutive Copa America titles. He turned out to be an unmitigated disaster at City.
He ranked dead-last in the league in saves per game by keepers who played more than 10 matches. At one time, he had conceded from 13 of the last 21 shots on target he had faced in the league. His distribution wasn't great shakes either as he ranked a so-so fifth in the league among keepers of vintage better than 10 matches.
Even without the numbers, it is clear that buying Ederson is a clear sign that Guardiola is done with Bravo. And this is problematic because Guardiola is supposed to be one of the best coaches in the world.
That he can coach defenders and midfielders to the top of their game is no secret as we saw with Jerome Boateng and Thiago Alcantara. And he does fairly well with forwards too, as a certain Messi will attest. But it is really at City that he has had to train a goalkeeper.
At FC Barcelona, the La Masia graduate Victor Valdes was already well settled when Guardiola became manager. Valdes was well-versed with the pass-first philosophy which Guardiola adores and the most crucial adjustment he helped the player make might well have been a mental one.
Guardiola then went to Bayern Munich, where he had Manuel Neuer at his disposal. Neuer is a keeper who by the time his career winds down could very well eclipse even Buffon's legacy. He has, at the very least, been the best goalkeeper this decade. He has been described as a playmaker with gloves as his style of play is that of a sweeper-keeper which Guardiola loves. So there wasn't a whole lot that Guardiola needed to do.
At City, though, Guardiola has had to work with keepers who either weren't brought up with a passing philosophy or were not the best keeper in the world. It is then worrying how little of an effect he has been able to have over them. A manager's job is not just to buy the best players in the market, but also to make better the ones he already has. His rejection of Hart could perhaps be digested as Hart was never the greatest passer of the ball. Even then, a great coach like Guardiola should have been able to work with a keeper of Hart's calibre, his past record allows him leeway to make those bold decisions.
But Guardiola got to work with Bravo for an entire season. And while he defended the keeper with Jose Mourinho-esque hyperbole there was no evidence of the Chilean providing stability to a City backline which already had the ability of keeping their supporters' hearts in their mouths the entire 90 minutes. His rotation of Bravo and Caballero in goal in the second half of the season was basically an admission of defeat on the goalkeeping side of the game.
Ederson is a promising keeper and could well end up making Guardiola look like the smartest man in the league. However, he has yet to be tested in the top leagues of the continent and there remains a nagging suspicion that a young goalkeeper will not exactly thrive under Guardiola.
The keeper situation is then hardly settled at City and it will be a brave punter who will bet on who will end up as City's No 1 at the end of this season. For all we know, it could just as well be Toure. The man is tall and can pass. And he would fulfil Guardiola's ultimate fantasy: playing a midfielder in goal.
Football
His immediate release means Ronaldo is free to look for a new club, but it is not certain there will be a suitable landing spot for the player, despite his status in the game.
Football
Once the ban is imposed, Cristiano Ronaldo will miss two Premier League matches if he joins another English club.
Football
Guardiola's contract was set to expire at the end of the current season but the defending Premier League champions have decided extend his stay at the Etihad Stadium by another two years.