Premier League: Chelsea's free-flowing football could hurt a Tottenham Hotspur prone to stumble on big occasions
Third-place Chelsea take on Tottenham Hotspur, who are fourth, in a engrossing Premier League clash on Saturday.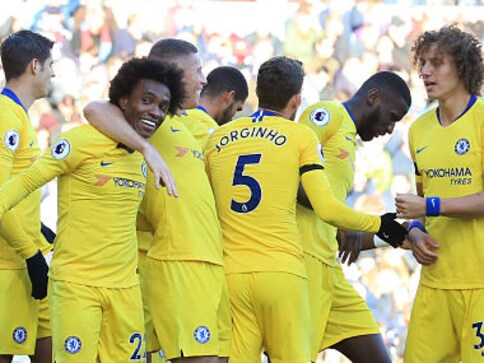 Context and form guide:
Tottenham Hotspur
"Some years are weird," conceded Tottenham Hotspur manager Mauricio Pochettino in a post-match conference. The Argentine is stuck having as much trouble getting a handle on Tottenham's season, as one would have trying to bite down on a double-patty burger with extra bacon strips, mushroom and cheese. Sure, it looked delectable as they won 0-3 vs Manchester United at Old Trafford. But you end up, inevitably, with sticky fingers (and elbows).
Pochettino added: "There is a palpable disappointment. And the reason for that is because we didn't move to the new stadium. We are human, the players and staff are all disappointed and that is not a good emotion that is going to help you to achieve all you want."
Tottenham staff, players and fans are being made to sit on their hands until the completion of the construction of their new stadium. This puts them in an awkward territory. Their team has been shifting uncomfortably for the worse part of a year trying to cosy up to their foster home, the Wembley Stadium, and the results have been feeling like could use the luck of the Mystery Machine to break down right outside the Wembley Stadium, whereupon Scooby Doo and his pesky gang meddles and catches a sabotaging perp (Tim Sherwood anyone?)
The Wembley being used as a part-time rugby pitch by the NFL isn't helping the team's cause. Tottenham's game is slick, one touch football in the forward positions. The numerous divots of the deplorable Wembley surface has made the likes of Christian Eriksen and Dele Alli look like they are playing footie on quicksand.
There is also the inconsistency of their approach to big matches. Tottenham looked like an overturned turtle in the match versus defending champions Manchester City earlier in October. Starting the match with no creative midfielders, Pochettino welcomed the Manchester City siege and it backfired.
That being said, Tottenham have registered just the one loss in the last six league matches. They have sandbagged their trenches with a series of 1-0 wins. They remain just one point from pole vaulting over Chelsea into third position. The bother is, it is precisely on such occasions that Tottenham stumble. The question is which Tottenham will turn up? The one that beat Manchester United, or the one that kept tripping over their shadows versus Manchester City?
Chelsea
"You talk to Maurizio Sarri for two minutes and you will be enthralled" is what Sporting Director Marcello Carli told Empoli President Fab Corsi.
How is Sarri? Imagine a cross between Don Corleone and Jurgen Klopp. The man known to smoke sixty cigarettes a day, has been wrongly labeled as a tubthumper in his early years as a manager, much like Swabian. He's a master tactician on top of being a supremely motivational manager. Multiple players, veterans as Francesco Tavan and Massimo Maccarone, have credited the Napoli man with reinvigorating their careers. It's little wonder why Chelsea are playing some of the tightest football in the league. They are highest in the tally of most forward passes completed — and that is a far cry from the nap-inducing Londoners we have come to respect and resent.
Chelsea, despite their football, have been a bit botchy: they have drawn three of their last six matches.
Pochettino went on about how reality and perception of his Tottenham team in the minds of people who watch are not aligned as they should be. He may be right on paper, but Chelsea's free-flowing football is giving their fans a lot to be cheerful about.
Unlike his counterpart with the Argentine variant of Maurizio, Sarri never compromises on his attacking style irrespective of the opponent.
Things to watch out for:
Look for how Sarri's Chelsea and Pochettino's Tottenham use their wingbacks in the attacking third. Take note of which of the two team's wingbacks have more possession of the ball — that would often indicate the momentum of things.
Look for David Luiz's token big match brain-belch in defence. He has struggled to cope with strikers who show the ability to run in behind channels. Harry Kane may have fun today.
Sarri's in-game management and the use of Eden Hazard as the second striker.
Tottenham Hotspur probable team: Hugo Lloris (GK); Serge Aurier, Toby Alderweireld, Jan Vertonghen, Ben Davies (defenders); Kieron Dier, Harry Winks; Christian Eriksen, Dele Alli, Lucas Moura (midfielders); Harry Kane (striker).
Chelsea probable team: Kepa Arrizabalaga; Antonio Rudiger, David Luiz, Marcos Alonso, Cesar Azpilicueta; Jorge Jorginho, N'Golo Kante, Mateo Kovacic, Willian, Eden Hazard; Alvaro Morata.
Tottenham team news: Erik Lamela, Fernando Llorente, and Heung Min Son are expected to start beside the space heater in the Tottenham dugout. Groin injury buddies Danny Rose and Trippier may share a quilt at home for the late evening kick-off. Mousa Dembele is out with an ankle injury and Davinson Sanchez sidelined with a hamstring pull.
Chelsea team news: Cesc Fabregas and Olivier Giroud have formed a formidable understanding, but is likely that they will be only called upon if the Chelsea manager needed to introduce a boar among the (Tottenham) pigeons.
Everyone in the Chelsea squad has a clean chit of health.
Football
Shakhtar confirmed that Mykhailo Mudryk will cost Chelsea an initial 70 million euros with a further 30 million in performance related add-ons.
Football
Noni Madueke scored 20 times in 80 appearances for PSV since joining the Dutch giants in 2018.
Football
Arsenal defeated Tottenham 2-0 while Chelsea eased the pressure on manager Graham Potter by beating Crystal Palace 1-0 on Sunday.