Premier League: Chelsea's dogged defensive display in vital win exposes chinks in Liverpool's armour
In a season, that's brought to light Liverpool's flamboyance and attacking flair, Sunday's defeat to Chelsea exposed their lack of plan B and struggles while chasing games.
Chelsea's faint Champions League hopes have lingered on for much longer than expected. After Sunday's 1-0 win over Liverpool, that saw the Blues close the gap on fourth-placed Tottenham to just two points and move within three points of the Reds having played a game less, Chelsea would believe a remarkable late rescue mission might be on.
On Sunday, a dogged, disciplined Chelsea side managed to thwart the highly-potent Liverpool attacking trio of Mohamed Salah, Roberto Firmino and Sadio Mane, who scored 70 goals among themselves this season. Antonio Conte set his team up in a 3-5-2 formation, that essentially reverted to a 5-3-2 without the ball. Playing in that low defensive block, the Blues maintained a compact shape and closed down every Liverpool player that entered its final third.
Chelsea's centre-halves that sat deep for most parts of the game to deny the pacy Reds forwards a chance to run beyond them. They also got tight to each of those forwards every time the ball managed to reach them in the final third to ensure that the Liverpool strikers didn't get a clear sight of goal and were forced to play with their backs to the target rather than facing it as the attacking trio like.
In addition, the three central midfielders dropped deep to double up on the three forwards every time the ball reached them. However, this was more an emergency plan for the Blues, who worked very hard to cut off the supply to these forwards.
Using the athleticism of N'Golo Kante and Tiemoue Bakayoko, Chelsea had a second layer of protection in front of the back three and their presence often forced the Liverpool midfielders to pass sideways in order to retain possession.
A look at the heat map of the Liverpool side shows that their players spent most of their time in their own half or in wide areas that Conte's men had surrendered to stay defensively compact. Liverpool didn't have the physical presence in the box and hence any crosses that Liverpool fired was comfortably dealt with by the Chelsea rearguard, especially captain Gary Cahill who had an inspired outing at the heart of the Blues defence, winning six aerial duels in total.
Liverpool's attacking trio failed to win a single aerial duel in the entire match and it was only after Klopp threw Dominic Solanke that the visitors had some sort of presence. It was in the 93rd minute when Solanke won Liverpool's first aerial duel in the game. The second followed a minute later when centre-back Virgil van Dijk, who had stayed forward to provide Liverpool an aerial threat inside the box sent a tame header towards Thibaut Courtois.
So throughout the game, the only way for the Reds to get any one of Mane, Firmino or Salah involved was through a high level of passing precision. Against the twin layers of Chelsea players, it was a tough ask. The Egyptian who was adjudged the PFA Player of the Year award last week had the least touches (34) among the 22 players that started the game. Similarly, Firmino too hardly got hold of the ball, touching it on mere five more occasions than Salah. Mane saw much more of the ball as he often dropped deep, but the Senegalese forward was offered no room to run at the Chelsea defence. Out of his 71 touches,only four were inside the box. Mane too like his teammates was forced to play the ball wide or backwards thanks to the disciplined Chelsea rearguard.
Liverpool players switched positions on a regular basis, but the Blues defenders stayed with the player in their zone instead of man marking a particular one to maintain their shape.
Tiredness after the Roma game in the Champions League in midweek did play a part in Liverpool running out of ideas, but their failure to put Chelsea under sustained pressure through the course of the 90 minutes would concern Klopp.
In a season, that has brought to light Liverpool's flamboyance and attacking flair, Sunday's result exposed their lack of plan B and struggles while chasing games.
Despite being the league's second-highest scorers, Liverpool have failed to score in seven games in the league this season, which along with Chelsea and Manchester United is the most by a top six team. The fact that United and Chelsea have scored 12 and 19 goals fewer than the Reds makes this statistic a bit alarming. It shows that Liverpool's goals come in bursts or don't come at all if the opponents manage to stifle their attack.
Klopp's men are lethal when it comes to picking up sides that leave space for their forwards to run behind their defence. The pace offered by their front three is frightening thus making it very difficult for teams to chase games against Liverpool.
In the Premier League, Liverpool have not lost a single game in which they have taken the lead. Out of the 24 games, the Reds opened the scoring they have won 18, while drawing the other six. However, on occasions when Liverpool have failed to take the lead, their record makes a fairly miserable reading. In 13 league games where Klopp's men failed to hit the front, they managed to win just 2 games, losing five times and drawing six.
Chelsea defended with great concentration and commitment as the Reds ran out of fuel following their midweek exertions on Sunday, but credit must go to Conte for setting his team up to play to its strength and be in a position to exploit the shortcomings of the opponents.
Liverpool are a team with great talent and potential. They may end this season as European champions, but Klopp would look back at the Chelsea defeat as a sign of caution as he attempts to build a team that challenges and wins top honours on a regular basis.
This season is proof enough to suggest that the Reds are on the right track to achieve greatness as a team, but till then, Liverpool may have to live on with a 'cup team' tag.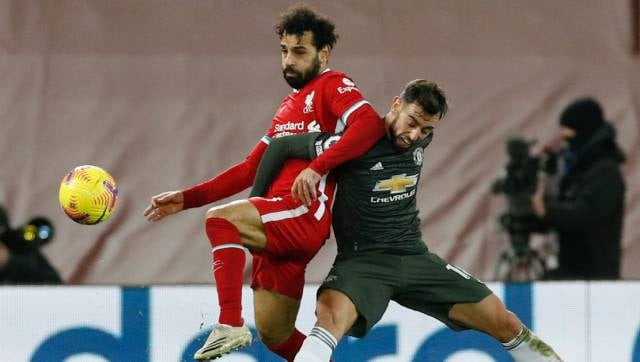 Sports
The Liverpool clash has now been rearranged for 13 May, which follows hot on the heels of United's 9 May trip to Aston Villa and home match against third-placed Leicester on 11 May.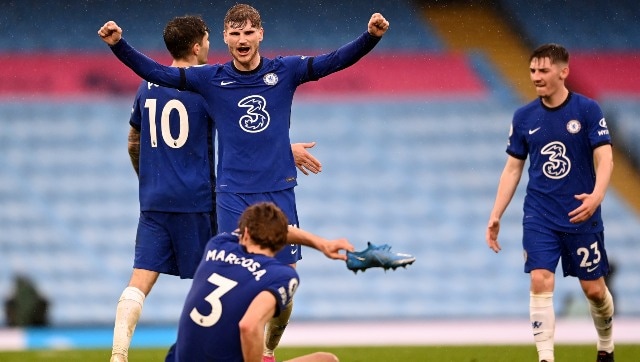 Sports
Raheem Sterling gave the home side the lead at the empty Etihad Stadium just before half-time but Hakim Ziyech levelled in the second half and Marcos Alonso bundled in the winner in the dying seconds.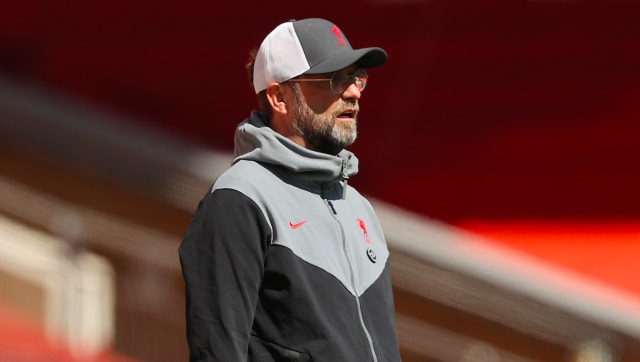 Sports
Klopp was already resigned to having a reduced budget because of the financial impact of the coronavirus, regardless of where the champions finished in this season's Premier League.