Premier League: Chelsea's Antonio Conte against the idea of Eden Hazard becoming 'selfish' for more glory
Chelsea boss Antonio Conte wants playmaker Eden Hazard to keep putting the needs of the team ahead of his own personal glory after his starring role in the FA Cup semi-final win over Tottenham Hotspur
London: Chelsea boss Antonio Conte wants playmaker Eden Hazard to keep putting the needs of the team ahead of his own personal glory after his starring role in the FA Cup semi-final win over Tottenham Hotspur.
The Belgium international came off the bench to inspire the Blues to a 4-2 win over London rivals Spurs at Wembley on Saturday as Premier League leaders Chelsea stayed on course for a domestic double.
Afterwards Chelsea team-mate Cesc Fabregas said Hazard was second in ability in the world game only to Barcelona great Lionel Messi and could yet get even better if he was more "selfish" and demonstrated a greater "killer instinct".
But Conte was happy with the progress Hazard was making playing just as he is now and that the only way to become a truly great footballer was to put the team first.
"The first target for every great champion is to play for the team and to put your talent in the team," Conte said. "I don't think that a player like Messi is a selfish player. The best players in the world don't exist without the team."
The former Italy manager added: "For me, it's sad when I listen to this, that one player must be more selfish to reach the top level. This is not my idea of football. I never will understand this. Never.
"In my team I don't want selfish players. I prefer to lose a game, than to have a selfish player.
"I don't want this, I can't accept this. I don't want my club to one day buy me a selfish player, never."
Title race hots up
Conte, whose side face Arsenal in next month's final, could win both the Premier League and the FA Cup in his first season in England.
Chelsea are four points clear of second-placed Spurs with six league games remaining.
Conte's men, however, have lost two of their last four matches – against Crystal Palace and Manchester United – to turn what threatened to be a procession into a genuine title race.
Chelsea will look to get back to winning ways in the league when they welcome Southampton to Stamford Bridge on Tuesday.
In the meantime Conte was unsure if the FA Cup result would have an impact upon Spurs' bid to be crowned champions of England for the first time since they did the double back in 1961.
"Honestly, I don't know," Conte said. "I think for us it was important this win. You reach the final in the FA Cup, a great competition. And for us it's great.
"These are two different competitions and we have six games to go. It's important to start this rush (of fixtures) very well, to try to keep these four points (the lead)."
Chelsea will face the Saints with midfielder N'Golo Kante having been named the Professional Footballers' Association player of the year on Sunday.
Kante won the Premier League title with Leicester City last season and Conte said of his PFA triumph: "We must be proud for him. It's a great achievement."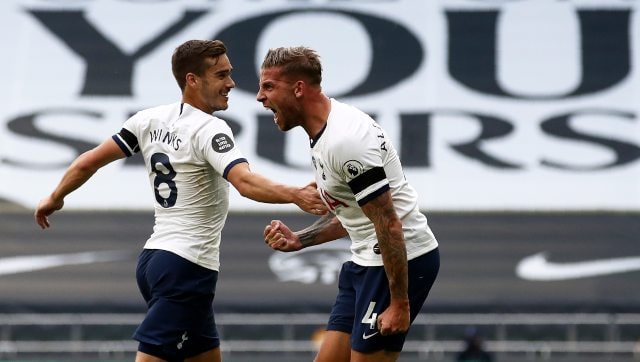 Sports
The move appears to form part of a rebuilding process at the north London side, with Belgium defender Alderweireld leaving despite having two years left on his contract.
Sports
No fee has been disclosed but British media reported value the deal at £34 million ($47 million) rising to £48 million with add-ons.
Sports
The 29-year-old Son has compiled 107 goals and 64 assists in 280 appearances in all competitions since joining Tottenham from Bayer Leverkusen in August 2015.