Premier League: Chelsea need more than Eden Hazard's brilliance to beat Jurgen Klopp's full-strength Liverpool side
Liverpool in the Premier League, however, are a completely different proposition as they remain one of the true contenders for the Premier League this season alongside Manchester City, while Maurizio Sarri's Chelsea are the outsiders.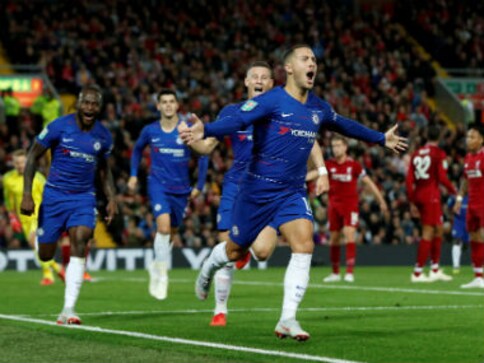 Jaded in glory, fading in sheen – the English League Cup may have lost its glamour in recent seasons, especially in the early rounds, merely acting as the playground for clubs to provide their lesser preferred players with some minutes. On certain occasions though, the Carabao Cup comes up with moments of absolute fascination – if Derby County's awe-inspiring victory at the Old Trafford stole all the headlines on Wednesday, the epic tactical clash between Jurgen Klopp and Maurizio Sarri was decided by individual brilliance of a certain Belgian playmaker.
Chelsea defeated Liverpool 2-1 to book their berth in the fourth round of the Carabao Cup, but the game was evenly poised for better part of ninety minutes. The visitors had started strongly – their trifecta of Cesc Fabregas, Ross Barkley and Mateo Kovacic in the midfield running circles around Fabinho (who was handed his first start) and Naby Keita. Fabregas has been on the sidelines since Sarri's arrival due to an injury but the Spaniard more than proved his worth in the role crafted for Jorginho assuring Chelsea fans that the team's style won't suffer in face of rotation.
Fabregas' slick ball over the top of Liverpool defence should have handed Chelsea an early lead if not for Alvaro Morata's indecisiveness in front of the goal. The visitors all but outplayed the Reds in the first half, but the game's first goal fell upon Daniel Sturridge, who scored in his ninth consecutive League Cup appearance.
Liverpool's opener came against the tide of play but did swerve the momentum in favour of Klopp's side as chance after chance went begging for the home side – some due to Willy Caballero's shotstopping skills while some due to Liverpool's lack of precision in front of the goal. Chelsea equalised soon after through Emerson although VAR played its controversial role in holding up the goal. The equaliser may have leveled up the playing field, but Klopp's side were still on top of things. The defensively depleted Reds, however, had no answer for Chelsea's playmaker extraordinaire Eden Hazard – cometh the hour, cometh the specialist. Just when it seemed that the evenly-matched contest will head to penalties, the Belgian changed the course of the tie with a suave move, reiterating the fact that not only is he the best in England, but arguably among the top three footballers in the world.
Hazard collected the ball in the centre of the field, played a quick one-two and whizzed past as many as four Liverpool defenders to slot the ball into the far corner and pave the way for Chelsea for the next round.
Although Chelsea's win put an end to Liverpool's cent percent record, it doesn't matter in terms of the Premier League title race, for both clubs had made substantial amount of changes to their starting lineup.
"I don't think it will have a big impact, to be honest. Of course, we are very pleased and we will go into the game with a good feeling but Saturday is going to be different," Gianfranco Zola said, before adding "today, to be fair, it was such a close game, they played very well, they could have won, and they had the chances to win it."
Klopp had hailed Sarri's influence on this Chelsea side as "the biggest change I ever saw in such a short space of time," and his respect for the former-Naples manager did not deviate following the game.
"It was a difficult game for both sides. They have a specific style of play, that's cool and you need to get used to it. Minute by minute we got more used to it, even in the start when we left too many spaces open and stuff like that, when they could play between the lines, we already had bigger chances. They were not really a big threat, I would say. More and more we got used to it," Klopp told reporters after the game and the fact that Liverpool were acclimatized to Sarriball makes the weekend's league contest an even more enticing one.
Liverpool will have their entire first choice eleven present on Saturday, and the polarizing contest is likely to be settled in the midfield. Similar to their appearances during the League Cup encounter, pressing will be key for both sides. While the presence of Georginio Wijnaldum alongside Jordan Henderson and James Milner enhances Liverpool's midfield dynamics, the visitors at Stamford Bridge will also discover that restricting Jorginho to disrupt Chelsea's flow will be a more arduous task than stopping Fabregas who acted as Chelsea's midfield metronome in midweek.
Perhaps the most anticipated among the individual contests remain the battle between Alisson and Kepa Arrizabalaga – none of whom were a part of the starting lineup on Wednesday. The clash between the world's two most expensive custodians will not simply decide their teams' defensive displays but also their build-up play from the back, for Alisson has already been a success at his new home, but even the younger Kepa has steadily improved in every single Chelsea appearance.
That being said, Liverpool's defence is expected to sport a sharper look than it did on Wednesday – Virgil van Dijk's presence in the heart of Klopp's defence is a calming influence on the entire backline. David Luiz's substitution in the League Cup added another dimension to Chelsea's play and the energetic Brazilian has morphed into a key player in Sarri's Chelsea. Luiz's unpredictability and Azpilicueta's poor form, however, are likely to play into Klopp's hands whose finest assets are his set of forwards.
Mohamed Salah and Sadio Mane – the wide options – are as devastating as Hazard and Pedro on any day, but it is the presence of Roberto Firmino through the centre which elevates Liverpool's attack to a sublime level. As the world was witness to Hazard's prowess, operating at his lethal best, the League Cup tie proved a spark of individual genius is enough to change the course of a knockout fixture.
Liverpool in the Premier League, however, are a completely different proposition as they remain one of the true contenders for the Premier League this season alongside Manchester City, while Maurizio Sarri's Chelsea are the outsiders.
It will take more than Hazard's mesmerising finesse or Sarri's systemic aptitude for Chelsea to present a realistic case for their titular aspirations. Liverpool, though, remain on the verge of finally living up to years of expectations.
Sports
The former England international's first game will be at home to Graham Potter's Brighton on Saturday, following the current international break.
Sports
"Ole will always be a legend at Manchester United and it is with regret that we have reached this difficult decision," United said a day after a 4-1 loss to Watford.
Sports
Robert Lewandowski is in the running to retain his Best FIFA Men's Player award after he was named Monday on an 11-man shortlist alongside Karim Benzema and Jorginho.