Premier League: Bragging rights at stake for Jose Mourinho and Antonio Conte as Manchester United take on Chelsea
Mourinho and Conte don't mince their words and their behaviour towards each other in the future will be dictated by which team comes out on top in their encounter on Sunday
This is a grudge match between two managers who do not like each other, make no mistake. Despite attempts by both men to dismiss any notion of a feud, it is inevitable that tensions will be high and what happens in the encounter will determine how this rivalry is carried forward.
Jose Mourinho and Antonio Conte have had an uneasy relationship ever since they faced each other for the first time in October 2016, when Chelsea thrashed Manchester United 4-0 at Stamford Bridge. Mourinho had a prolonged handshake with Conte at the end of the game, reportedly telling him that his celebrations on the touchline at 4-0 were unnecessary and an insult.
From there, the tension just escalated leading to them exchanging barbs publicly, with the Portuguese tactician bringing up the Italian's past and allegations of match-fixing, while the Chelsea manager referred to Mourinho as a 'little man', bristling in anger at the suggestions from the United manager.
With both of them now having said that their feud is over, the focus is only on the two teams, and rightly so. Defending champions Chelsea have had a troubled season, struggling for form in parts before showing signs of recovery. Despite the squad having been replenished with nine new players since the end of last season, Conte has been unhappy with the spending, and to some extent, the quality of the new additions. The team has still been in the top four for a major chunk of the season and a win over United will bring them a step closer to overhauling the Red Devils in the table.
Manchester United, on the other hand, have had an odd season of their own. Their performances, in general, have been solid, but they haven't been able to prove their worth in the big matches, often struggling for results. They come into this match having won only two of their last five matches, scoring only four goals in those games. Alexis Sanchez's introduction into the team hasn't been very smooth, resulting in the disruption of their rhythm. To add to this, Paul Pogba is going through a crisis of confidence due to his loss of form and subsequent benching by Mourinho. With the Red Devils struggling for inspiration on the pitch, Mourinho's power struggle with Pogba has come at the worst time for the team, as they are in a critical phase of their season.
Both teams come into this encounter having accumulated a total of only 21 points from their last 12 matches. Despite that, the Red Devils manager has just recently signed an extension to his contract, keeping him at the club for one more season, till 2020. On the other hand, the Blues' Conte faces an extremely uncertain future due to a combination of the team's results and his unhappiness and subsequent prickly handling of the team's transfer activity.
Conte's previous reign at a top club ended abruptly when he resigned at Serie A giants Juventus due to a reported lack of support in the transfer market despite having won three successive titles. His current situation at Chelsea is reminiscent of how his time ended at the Old Lady, and given the Blues' ownership's tendency to consider their manager as a disposable commodity, he needs to tread very carefully going forward.
Meanwhile, despite the recent confidence expressed in him by the United management with the contract extension, Mourinho has had issues with his players on multiple occasions in the past, especially at Real Madrid and his second spell at Chelsea. The end of his reign at both clubs came more as a necessity due to the toxic atmosphere of distrust that had built up between the players and the manager, along with the fact that results had failed to improve. As he negotiates through his first such situation at United with his handling of star midfielder Pogba, the 55-year-old needs to show that he can put his ego aside and do what's best for the team going forward to continue the good work that he has been able to do at the Old Trafford club so far.
His past as one of Chelsea's best managers, if not the best ever, always comes into the equation when he takes on the Blues and as a United manager. Mourinho hasn't had the best of times facing his old team. The Red Devils have won only one of their last 15 matches against the team from London, with Mourinho having lost three of the four matches he has overseen. However, he would be looking to draw inspiration from this corresponding fixture last season, when United defeated Conte's men 2-0.
Given the nature of the relationship between Mourinho and Conte, and Mourinho's previous relationship with the Blues, it would be easy to say that the match has bragging rights at stake. However, both teams and managers understand that their quest to finish in the top four and secure Champions League qualification for next season is the most important objective.
A win for the home side would help United move back into the second position above Liverpool, creating a six-point gap between Chelsea and themselves. A win for the away side would pull them level on points with United, and if Tottenham Hotspur also secure a win, teams from second to fifth would be separated only by two points, making the race for second place and Champions League qualification even more interesting.
Mourinho and Conte are both men who do not mince their words and their behaviour towards each other in the future will be dictated by which team comes out on top in their encounter on Sunday. However, both managers know how important getting a result is in this match and if they need to influence the opposition mentally, they will do so, knowing that will give their team an advantage in the race to the second position in the league, and actual bragging rights going forward.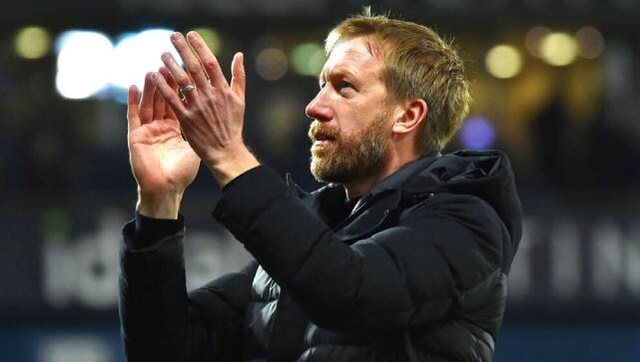 Football
Graham Potter will oversee his first Premier League game since taking charge of Chelsea at Crystal Palace on Saturday.
Football
Defending champions Manchester City moved within a point of leaders Arsenal following their crushing 6-3 win over Manchester United at the Etihad Stadium.
Football
Manchester City vs Manchester United: Check when, where, and how to watch the Live telecast and streaming of Manchester derby.