There could not be a more worthy or deserving winner of the Badminton Association of India's (BAI) inaugural Lifetime Achievement Award than Prakash Padukone, the first Indian to win the most coveted crown in the sport – the men's singles title at the 1980 All England Championships.
The All England, drenched in history, was considered the world's most prestigious badminton competition since it was instituted in 1900. Even in 1980, it remained the unofficial world championship, even though the second edition of the official world championship, run by the International Badminton Federation's (IBF, now Badminton World Federation) was to be contested in Jakarta, a few months down the line.
As a journalist covering the 1980 edition of the All England Championships at the massive seven-court Wembley Arena (once known as the Empire Pool), I was on the verge of apoplexy as the 25-year-old Padukone, having literally toyed with the hard-hitting Indonesian speed merchant, Liem Swie King, in the first game at 15-3, moved to match-point 14-10 in the second.
A long rally, a late flick of the wrist from the 24-year-old Indian to send the bird over his rival's head, a despairing Swie King return into the net – and King Padukone had conquered the badminton world with one of the most lop-sided score-lines in the history of All England finals.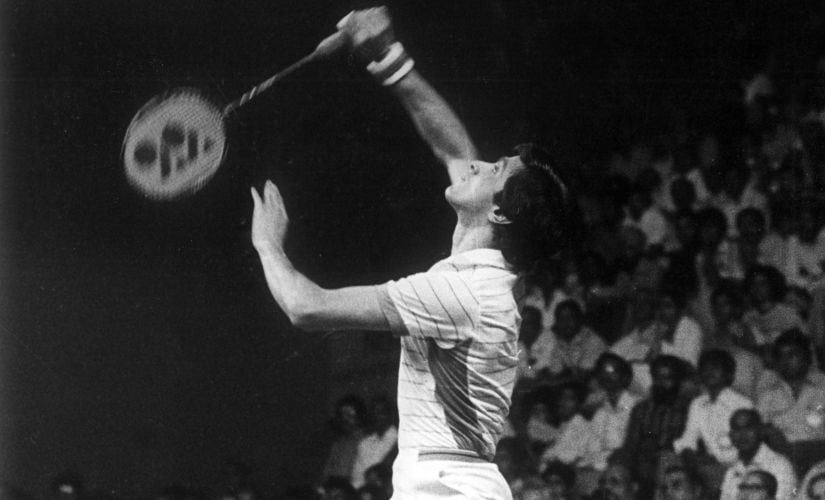 India's Prakash Padukone in action at the 1980 World Championships.
It is sheer misery for me to record the fact that the men's singles final were never captured on film since the BBC was busy on an adjoining court, covering the mixed doubles final in which Britons Mike Tredgett and Nora Perry were involved. Subsequent generations of Indians would never be able to fully appreciate the total dominance that the Indian shuttle wizard exercised over the Indonesian, one year his junior.
A broad smile on his face, sweat dripping from every inch of fabric covering him, he shook hands with his sullen antagonist a split-second before being enveloped in a bear-hug by one of his greatest admirers. I was in serious danger of being ejected from the Arena by the security personnel for my unauthorised rush into the playing area.
"Your wristband, hand towel, one sock – give me anything from your used apparel to remember this victory by!" I entreated Padukone, later, in the dressing-room. Generous that he was, he peeled off his T-shirt and handed it over. That simple white T-shirt, with a light green collar and white vertical striations woven into the fabric, remains the piece-de-resistance of my collection of badminton memorabilia.
The garment was originally saturated with the perspiration of the champion; and I had taken it back to Bombay with me in a plastic bag, with the `blood, toil, tears and sweat' intact. However, my horrified wife refused point-blank to let me preserve it in that condition; and it did see the inside of a washing machine one last time, before being carefully sealed in a clear plastic bag.
History will recall from the written word that Swie King later complained of having been 'mesmerised' by the Indian sorcerer – and he did not mean it in the figurative sense. He genuinely felt that some sort of voodoo had been worked on him, since there was no way a player so much slower than him, and with less stamina, was going to beat him by that massive margin.
If he had stopped to ponder, Swie King would have realised that Padukone's display against him had been no fluke; it had merely been the culmination of 20 days of the best badminton that the Indian played in his glittering career.
The Danish Open, Swedish Open and All-England men's singles crowns had all been thrust into Padukone's satchel in three consecutive weeks in February-March 1980. Along the way to the All-England title, the tall, slim Indian had conquered such stalwarts like Indonesia's Hadiyanto (15-0, 15-10) in the quarter-final and Denmark's Morten Frost (15-6, 15-10) in the penultimate round.
The Danish press, which understands its badminton and is as serious about it as we Indians are crazy about cricket, lauded Padukone's achievement; and one portly journalist, Juergen Beyerholm, let me in on an "exclusive" story – that the Indian champ had signed a three-year contract to train and play in Copenhagen.
But of course, there was the richly deserved hero's welcome that Padukone was to get, on his return to India. It was fitting that the first two people to congratulate him at Mumbai's Santacruz airport were Nandu Natekar, the man who could well have been All-England champion in his time, had he been fitter; and Padukone's fiancee Ujjala Karkal, a local girl.
In Padukone's hometown Bangalore, there was near-hysteria in the streets, as a ticker-tape parade, with horse-mounted soldiers and a flower-bedecked car, was held in their most famous son's honour. Padukone, standing in the back of the open car, held the famous All-England trophy aloft, as Chief Minister Gundu Rao looked on with pride.
Nothing could have kept me away from the following year's All-England; had I not been given a journalistic assignment, I would have paid my own way through. Fortunately, Padukone's triumphs of the previous year had stirred a responsive chord in the hearts of even the tight-fisted editors of Indian papers and magazines; and my trip was duly sponsored.
Seeded third this time, despite being the defending champion, Padukone, who had been troubled for several months by a heel injury, fought his way into the final with substantially more difficulty than in the previous year. The heel injury had slowed him down, and he was unable to catch the shuttle as early as he had in the previous year's tournament.
In the semi-final, Padukone was pitted against the Indonesian legend, Rudy Hartono, who had won the last of his eight All-England singles crowns in 1976; and was coming out of virtual retirement. Hartono was still magnificent till his breath lasted, but it was the turn of younger legs to win the pulsating encounter in three memorable games. The result was a repeat of the Swedish Open clash between the two great players, a few days earlier, when Hartono had been let down by his failing staying powers.
In the final, Swie King awaited Padukone yet again. It was a strange seesaw match, but the Indonesian had been well coached in the tactics required to tame the Indian. He went on an all-out initial offensive, to leap to 9-0, before the Indian warmed to his task and wrested the initiative.
Amazingly, Swie King became ill-at-ease, and started hitting wildly, allowing Padukone to retrieve smoothly and go on to bag the first game without conceding a further point, at 15-9! Yes, it was an amazing 15-point reel without reply from the Indonesian.
At the change of ends, Swie King received a long warning look from the Indonesian team coach, and adopted the second part of the plan that had been worked out for him. He prolonged the rallies, making his antagonist move all around the court, and only finishing the bird when he had the point well stitched up.
There was no more of the impetuous, indiscriminate smashing that had marked his display in the latter half of the opening game. Swie King's superior speed and fitness told in the end against an opponent who was playing at barely 80% of his previous year's level. The Indonesian won the second and third games 15-5, 15-6, to gain sweet revenge for his reverse of the previous year.
Although Swie King was his most feared rival in his earlier days, Padukone also waged some memorable battles against China's top stars Han Jian (in the Indian Open at Pune in 1981, and at the World Cup in Kuala Lumpur, the same year) and Luan Jin (at the 1982 All-England), and his friend and training partner from Denmark, Morten Frost (in India, Denmark and London).
The diminutive, buck-toothed Han Jian was a foe worthy of the Indian maestro's steel. Basically defensive in style, the short-statured Chinese player was extremely accurate and had loads of stamina. Every point had to be won from him; there were no hand-outs.
Padukone beat Han Jian in Pune by the proverbial rat's whisker, at 15-12 in the final game. Adroitly, the leg-weary Indian made repeated trips to his courtside hand towel in the decider, even as his Chinese rival sportingly made no objection. It was a pulsating encounter, replete with long and eye-filling rallies – the artist matched against the artisan. And it was the artist who eventually had the last say.
The same thing happened in the World Cup final in Kuala Lumpur. In front of 10,000 howling spectators at the Stadium Negara, Padukone bamboozled Han Jian at 15-0 in the opening stanza with dazzling speed, attacking clears and steep half-smashes.
Scores were even all the way in the second game, and Padukone just about managed to keep his nose in front for a famous 18-16 victory. But he would be the first to admit that there would have been little chance for him to take the title, had the match gone to a decider. Han Jian was, of course, to prove his calibre a little later in his career by annexing the official world singles title in 1985.
Watching a match between Padukone and Frost was an education in itself. It was said of Frost that his footwork was like ballet; he was never seen to put a foot wrong, even against a master of deception like Padukone. The two were very evenly matched, but Frost had a clear edge in firepower, an attribute that the Indian sorely lacked.
All through his career, Padukone had to perforce rely on a half-smash to finish off a rally, because he did not have a big bazooka like Swie King or Chinese hitter Chen Chang Jie. A powerful smash nets its executor several cheap points during a match, whereas the high-flying Indian shuttler had to work harder for every point because he lacked a finish.
The 1980 decision to train and play as a professional in Denmark may have been a good one at the time, because Padukone lacked adequate opposition in India. But on hindsight, one realises that it allowed Frost the ideal opportunity to study the Indian's game and analyse it from every angle. Regular practice with Frost blunted Padukone's master weapon – his deception.
And so it was that during the latter part of his career, especially after 1982, Padukone lost to Frost much more frequently than he beat him. The tall, slim Dane also had a three-year age advantage over the Indian, who burnt out a little faster because of the huge burden that leading a weak team like India in the Thomas Cup placed on him.
Frost could concentrate all his energies on singles; Padukone had to play doubles as well, to keep in touch with this event when on India duty. That he was an excellent doubles player is well known; he has five national men's doubles titles to his credit.
Padukone could play equally well with different partners like Leroy D'Sa – with whom he won the Indian Nationals in 1973, 1976 and 1977 – Kiran Kaushik (1979) and Vinod Kumar (1988), to name just three. In the Thomas Cup, he made a formidable combination with the diminutive Uday Pawar.
In fact, the numerous international exploits of Padukone tend to throw something of a blanket over his achievements at domestic level. No other player, either before or after him, has been able to match his record of nine consecutive national singles titles, won between 1971 and 1979.
Born on 10 June 1955 in Bangalore, Padukone first shot into prominence on the national scene at the 1971-72 Madras Nationals. As a precocious 16-year-old, he won the boys' singles, the boys' doubles in partnership with elder brother Pradeep; and heralded his arrival on the big stage by annexing the men's singles, pipping Punjab's Devinder Ahuja at 18-17 in the decider of a humdinger of a battle.
Blessed with a keen badminton brain, Padukone improved by leaps and bounds. His victim in the following year's National men's singles final at Gauhati, when he was still to emerge from the junior ranks, was 1965 Asian champion Dinesh Khanna. The returning machine was well beaten at 15-12, 15-4.
Just how much Padukone had powered ahead of the competition in India could be gauged from the result of the 1975-76 Goa National final, when he accounted for Devinder Ahuja, whom he had edged by a single point in the final five years earlier. This time, the scoreline read a miserable 15-6, 15-0.
One could go on about his badminton exploits; it is a really long list. I will content myself with underscoring the fact that Padukone the player was a brilliant tactician, able to catch the shuttle that split-second earlier than others, and able to dictate the pace and tempo of a match with attacking flicks and clears, net-hugging dribbles and drops that monotonously clipped the tape on their way over.
Padukone could hit a toss to one particular spot on the baseline eight times out of ten. And the remaining two times, the bird would land within a couple of inches of the designated spot; no further.
He was also temperamentally unflappable, never given to displays of excessive emotion on court, and as impeccably behaved on court as he was off it. If only he had had a bit more firepower, he would have undoubtedly been the pre-eminent player in the world in the period between 1975 and 1985.
What sets Padukone apart from other badminton greats that India has produced is the fact that he has given back to the game as much as he got from it. Had it not been for his initiative, Bengaluru today would not be the proud possessor of the Prakash Padukone Badminton Academy, that has been regularly churning out quality juniors to try and be worthy of wearing his mantle.
Find latest and upcoming tech gadgets online on Tech2 Gadgets. Get technology news, gadgets reviews & ratings. Popular gadgets including laptop, tablet and mobile specifications, features, prices, comparison.
Updated Date: Sep 15, 2017 13:43:14 IST