'Poor' Usain Bolt ate beef, won 9 Olympic medals: BJP MP Udit Raj sparks controversy
While many wonder how Usain Bolt has maintained his speed and dominance over the years, a BJP's Udit Raj seems to have an answer – eating beef.
Usain Bolt has nine Olympic gold medals to his name– a historic 'triple, triple'. He has won every race he has taken part in at the Olympics, spanning three Games and eight years.
While many wonder how the 'Fastest man alive' has maintained his speed and dominance, a Bhartiya Janata Party leader seems to have an answer. BJP MP and Dalit leader Udit Raj has said that 'poor' Bolt ate 'beef both times' which helped him win nine Olympic medals.
Raj, took to Twitter on Sunday, to make this rather strange statement, considering his party and the current 'cow controversy' around the country.
Usain Bolt of Jamaica was poor and trainer advised him to eat beef both the times and he scored 9 gold medals in Olympic
— Dr. Udit Raj, MP (@Dr_Uditraj) August 28, 2016
To nobody's surprise, the tweet received went viral and Raj backtracked. "My remark is in context of allegations that athletes don't have enough facilities," Raj was quoted as saying by News18.
Beef is a emotive issue for BJP whose governments in various states have come out with tough law banning its trade.
Udit Raj, however, tried to play down any controversy saying that he merely repeated what Bolt's trainer had said and all he meant was the athletes can find a way to excel despite adversities and they should not blame circumstances for their failures.
"All I wanted to say that giving excuses that we don't have infrastructure or there is corruption should be done away with and lesson, dedication should be learnt from Usain Bolt... What I wanted to say is our players should find ways and means as he found ways and means," he said, adding there is no lack of facilities for sports persons.
Government spends a huge money on them compared to nations like Jamiaca or Kenya, he said, steering clear of any mention of beef.
As a BJP MP, it's important to have scientific temper & u should be factually correct. @Dr_Uditraj

— Varun Sharma (@LogicalHindu_) August 29, 2016
Twitterati bombarded the MP with facts about Usain Bolt's diet and other athletes.

There are few million beef eating Indians. Where are our millions of Olympic golds Mr SmartyPants?https://t.co/zKC9V62MPj

— RamaY (@RamaY_BRF) August 28, 2016
@Dr_Uditraj Gladiators in Rome were found to be vegetarians more than non-veg. historical fact- based on strontium content in their bones

— winod rai (@winodrai) August 28, 2016
@Dr_Uditraj Whole of Pakistan eats beef! How many medals do they have?

— Mark Kumar (@MarkKumar3) August 28, 2016
Sadden to see #Dalit empowerment translating into Abrahamic worldview of victimhood, beef festivals & anti-Hinduism!
— RamaY (@RamaY_BRF) August 28, 2016
.@Dr_Uditraj Ji I guess you have not heard of Carl lewis, He adopted vegan diet and became top athlete of the year. pic.twitter.com/wAMukjqTbq

— Shailesh Jha (@HindustaniTweet) August 29, 2016
No sir, you are wrong .@Dr_Uditraj . Pls don't spread misinformation.Yams & Green banana are his secret 2 success. https://t.co/oo8YcPwC1v

— Varun Sharma (@LogicalHindu_) August 29, 2016
This is not the first time Raj has been in the news for the wrong reasons. According to reports, Udit Raj was previously asked to resign by Arvind Kejrewal, after he said "so-called protectors of the Hindu religion must answer if they consider lives of Dalits to be worth to be of less value than animals."
With inputs from agencies 
Politics
His selection assumes significance as the dissension-riven Congress faces the Assembly polls in less than five months and the fact that Dalit voters comprise 32 percent of the state's electorate
Sports
At the Tokyo Olympics earlier this year, the USOPC stopped short of mandating Covid-19 vaccines for its members. Around 100 of the 613-athlete US team travelled to Japan without being vaccinated.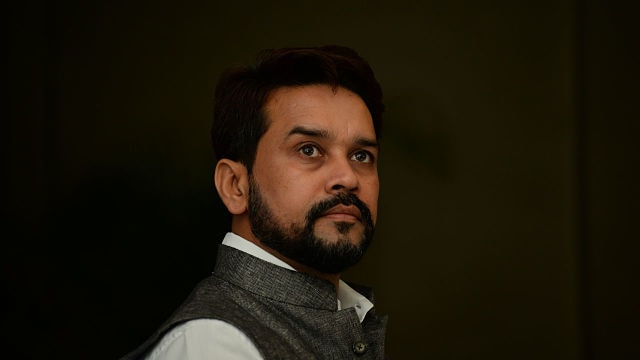 Sports
Thakur also said that there will be a talent hunt programme for various sports to identify youngsters and train them for future events.