Playing for records won't earn you respect: Ajay Thakur on importance of team ethics, Pro Kabaddi's unpredictability and more
Ahead of his team's double-header in the Mumbai leg, Ajay Thakur sat down for a chat with Firstpost, as he spoke about the Pro Kabaddi League's growing unpredictability, the emergence of youngsters and what it takes to be a successful player for a long period of time.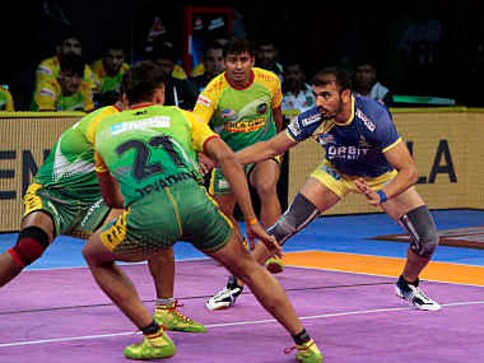 Ajay Thakur has been around for a while in kabaddi and he's done more than just hang around. Two-time Asian Games winner, a World champion and the list goes on. The Pro Kabaddi winners' medal continues to evade him, but his efforts in the six seasons of PKL so far can be measured by his sustained presence in the points charts.
Thakur is the third-most successful raider in the league's history with 625 raid points. He's been among the top ten raiders in each edition barring season three where he appeared sparingly due to an injury. The trend has continued in the new campaign as the Tamil Thalaivas skipper finds himself in the fourth spot with 96 raid points.
The names in and around him on the leaderboard have changed since the opening season, but Thakur has prevailed. The youngsters have taken over Pro Kabaddi leaving the older stars in their wake, but the 32-year-old raider from Himachal Pradesh continues to stay with the competition.
Among the top ten raiders in the Pro Kabaddi season so far, Thakur is one among just two raiders who are above the age of 30. The second one is UP Yoddha's Prashanth Kumar Rai who is 22 points behind the Indian captain having played three games more.
As he gears up to bring up a century of points in the Pro Kabaddi League this season, Thakur's focus is far away from the leaderboard. His Tamil Thalaivas side have won just three matches in the league so far and have work to do to reach the play-off spots. Things though have looked brighter for the Chennai outfit recently with two wins in their last three matches, but Thakur is keen to see his team rise up the points table.
Ahead of his team's double-header in the Mumbai leg, Ajay Thakur sat down for a chat with Firstpost, as he spoke about the Pro Kabaddi League's growing unpredictability, the emergence of youngsters and what it takes to be a successful player for a long period of time. Excerpts from the interview
Ajay, you are closing in on 100 raid points for yet another season. How do you see this achievement?
I never play for myself or any records. Kabaddi is a team game and I always play to help my team win. That's how you earn the respect. You want your team to win the gold medal, you are only respected for that, no one remembers who won the silver. Be it Olympics or any local tournament, it's the same. If I score the most number of points but my team finishes last, there's no use. So for me, individual performances or records in leagues and competitions don't matter.
This Pro Kabaddi season has been full of upsets, what's your assessment of the ongoing campaign?
I feel this season almost all teams are equally strong. I initially though U Mumba were perhaps a notch above the rest but we saw Haryana Steelers beat them on their home ground. There are more shock results to come this season. UP Yoddha beat us comfortably in the first game, but in the second game, the result was exactly the opposite. So this season is different from the first five seasons and you can't say for sure that any particular team is the strongest.
What do you think is the reason for the league's unpredictability?
The reason for this is that many new faces have made a mark this season. For example, very few people knew about Siddharth Desai before. No one had a plan for him. I played with Siddharth in Air India for the last few years and I haven't seen him play this well before. At the same time, the established players like me, Pardeep (Narwal), Rahul (Chaudhari), Rohit (Kumar), Manjeet Chhillar haven't been able to perform at the same level. Every team has set plans for these players and it's becoming difficult for known faces like us to perform consistently.
While the youngsters have raised the bar this season, you are one of the few older players that have been able to keep pace with the competition, what's the secret behind your consistency?
I work very hard on my fitness. I am of a certain age now and in kabaddi the chances of injury increase. I don't compromise on it at all, and that's how I'm able to perform consistently. I also work very hard on my skill, and that's an area where I feel the younger players can improve.
The matured players of my generation had great skill. Players like Rakesh Kumar, Anup Kumar, Manjeet Chhillar, Jasvir Singh were top notch in terms of skill. If you talk purely in terms of skill, the new generation of players hasn't been able to match that level yet. I feel their skill is not fully developed. These players have a lot of speed, their movement is excellent, but to sustain for a longer period skill is very important. In a game like kabaddi, if your game is based on speed and agility, you are more prone to injuries. Rakesh Kumar was at his peak for 10 years. If you see Pardeep Narwal, his performance this season has slightly declined. These players have extraordinary talent, but they need to focus more on improving their skills if they are to consistently perform for a decade.
Why are teams in Pro Kabaddi struggling in their home legs?
There's too much pressure on players in the home leg. The responsibility to win in front of your home crowd is just too much sometimes. Now teams have started to realise that. If you are playing against the home team, you are quietly confident because you know your opponents are going to be under huge pressure.
This season there are many experienced players in the Tamil Thalaivas team. How different has been leading the team this season?
This season our team is very good. I believed at the start that we would be able to dominate most matches, but somehow we haven't been able to showcase our quality on the mat. Our planning has been perfect but we have fallen short in execution. From my experience, I can say that this team has a lot of characters. We have the capacity to turn even the worst situation in our favour. However, a lot of times this season, we have made uncharacteristic errors. It's hard to explain this, to be honest, but I feel we can still make amends.
Have you seen an uptick in the form and team morale of Tamil Thalaivas off late?
Our morale has certainly gone up. But it's now down to us to learn from the mistakes that we have made in the past few games. I feel if we had our home leg later, our performance would have been much better. We completely lost our confidence after those five defeats. We are playing with a bit of fear now because we don't want to lose many games from here on. The pressure is on us, but we have the players to overcome it.
Kabaddi in Himachal Pradesh has been on the rise in recent times. The state's women's team won the national championship last year. How do you see Himachal Pradesh's progress in kabaddi?
When I first started playing kabaddi, nobody knew who I was. They were surprised that a player from Himachal was selected. It was almost as if I had committed a theft. Haryana was at the forefront in kabaddi and people used to question my selection at times.
When I was selected for the national team I wasn't good enough to play for India, but the federation felt that if they didn't give a chance at that time, I might get lost. After watching me play for India, kabaddi picked up in Himachal Pradesh. Now you can see there are around four to five players from the state playing in Pro Kabaddi.
There was an issue recently regarding the selection of the Asian Games team. But I feel sometimes it's important to give players from states like Rajasthan and Karnataka or any other state where kabaddi is not that popular a chance just keep the kabaddi ecosystem there interested. So making those odd selections is sometimes important or the game will only be popular in a few states, which is not good.
In Himachal, there was no player before me who played at a really good level. If they hadn't given me a chance, I don't where we would have been at this moment.
How did you keep your dream of playing kabaddi alive in a state like Himachal?
Playing a sport like kabaddi is not easy, but pursuing it in Himachal is even more difficult. The weather there is cold for most parts of the year. Kabaddi is a contact sport so you are bound to get hurt. I remember getting hit on the bone many times during winters. The pain used to be excruciating. The temperatures are so low sometimes that there are traces of ice on your cheeks and forehead by the time you finish training. Your hands go numb. I remember so many occasions when I had trouble just tearing a piece of roti with my fingers after training. It was very tough.
Apart from the tough conditions, getting recognition was even harder as Himachal wasn't known for producing top kabaddi players. Just to have a better chance of being noticed, I had shaved my head once for a trial. There were so many players and I wanted to be identified. Of course, my game was good, but with a bald head, I felt it was easier for selectors to remember me. Many of my friends questioned my decision to shave my head but I felt that may have helped me catch an eye.
How long do you think you can continue playing?
It's difficult to predict because kabaddi is a heavy contact sport. Right now I feel I can play for another ten years, but it's very difficult. You have to work very hard. You have to maintain your fitness and your diet has to be perfect. I feel it is not easy to sustain this lifestyle for too long especially after the age of 30. We have to wake up at 5 am for practice. To be very honest, no one likes to wake up early, but we have to resist that temptation. At that time, I feel that's it, I won't play beyond this season, but here I am playing again. There have been several occasions where I have felt that I won't continue beyond the current season, but those thoughts are momentary. I will continue to play the game as long as I love the game. How many more years? I honestly don't know.
Sports
The first day of the Pro Kabaddi League auctions saw records going for a toss as Fazel Atrachali, Vikash Kandola and Pawan Sehrawat snapped huge amounts of money
Sports
Pro Kabaddi League Auction LIVE UPDATES: After spending a whopping Rs 18.11 crore on Day 1 of the auctions, PKL teams are looking to complete their squads on Day 2. Haryana Steelers bought Amirhossein Bastami for Rs 65.10 lakh.
Sports
Pawan Kumar Sehrawat, who was acquired by Tamil Thalaivas emerged as the most expensive buy at PKL 9 auctions.