Playing Carlsen was like playing a human computer: Anand
In an interview with Firstpost, Anand opened up about what went wrong in the world championship match, his future plans and the man who beat him. Excerpts:
It has taken a while to find his way back to the black and white squares of a chess board. The loss to Magnus Carlsen in the World Chess Championship match has clearly not been easy to deal with. Vishy Anand, chess grandmaster, has been on a complete break.
And he's needed it. The match was played in his home town of Chennai and by the end of it, Anand was well beaten. He needed a break to clear his mind, to spend time with his son (Akhil) who was bawling in the background, to tell himself how much he truly loves the game.
In an interview with Firstpost, Anand opened up about what went wrong in the world championship match, his future plans and the man who beat him. Excerpts:
Magnus Carlsen has, at various points, mentioned that once he sits down on the chess board he doesn't believe that anyone could beat him. He carried that same confidence into the World Championship match too. What were your thoughts at the start of the match? Did you feel invincible too?
I thought that if I had a good start, I would be able to play well. I thought that if I had a good start, I could force him out of his comfort zones. I was under no illusions that I would have to raise my game – but that's exactly what I had worked so hard for. I knew I had a chance. I knew my recent shape had not been very good. But I was hoping that I had managed to turn all that around.
A match like this is always tough. In the sense, it almost feels like you are locked in a cage at times. At what point did you think it was over for you?
Well, it was staggered. The first few games were probably okay. I thought I held my own. The fifth game (his endgame errors cost game five) loss hit me really hard. It was precisely the thing that I had worked so hard on; the areas that I had sought to improve in my preparation and I was unable to execute. In that sense, I failed. The 9th game blunder didn't change things very much – I didn't see a win, it would have been a draw. The 10th game was really nothing.
So what is it about Carlsen? Did any aspect of his game surprise you?
He surprised me by changing so little. I know how he plays. But I expected him to come out and try something different. But he stuck to his guns – it was brave. It was also unexpected for me. Usually for a World Championship match, people work on something different… maybe something to surprise the opponent. Carlsen just stayed the same.
You have said that you couldn't figure out Carlsen's style. What does that mean?
I thought I could get a grip on him. I thought that I could force him to make mistakes. I thought that if I stayed with him in the early going, I would be able to match him. But his style makes it difficult. In a sense, he is an allrounder. He can do everything well and he makes mistakes – but they aren't big enough to take advantage of. He is also unconventional – there are times when he will play something and take it back on the next move… to the same place.
Did it feel like you were playing a computer?
His approach resembles… I hesitate to say… computer. Put him in front of one and he'd lose easily. But he is very confident of his calculating ability – so in that sense… yes, probably like a human computer – if that makes sense.
One of the things that were mentioned before the start of the match was that Anand was the openings specialist and Carlsen took over in the middle and end game. Do you think you did enough with that advantage?
I think what is not understood about Carlsen is that he is not bad at openings. He is not a specialist but a generalist. He can play a lot of opening and he can play them at a fairly high level. His aim is to get a solid position and you can't do that at the top level if you are bad with openings. This thing about openings is an exaggeration.
So if Carlsen were to play Kasaprov – you have played them both – who wins?
One thing that is clear about Carlsen is that he is one of a kind. I am a big believer in comparisons. I would say both are very good, very strong.
But these are the kind of kind of comparisons that chess buffs all over the world make all the time. It probably just adds to the fun…
Well, Carlsen is a more allround player. His strengths are harder to determine. Kasaparov was a specialist. He thought hard about his game and had very specific strengths. So if anything, I would Carlsen the edge there. Being an allrounder is not easy – you are backing yourself to keep up the level throughout the game but somehow Carlsen has managed it.
In interviews to the Norwegian press, Carlsen has criticised your approach, saying that you blamed tournament losses to preparation for the world championships. He has also said that he will never do that. Your thoughts?
I guess you have to put up with some snide remarks when you have lost. But honestly, what can I say…
You have spoken about wanting to play in the Candidates next year. Does this loss change anything? Will your method change? Will you change?
I think the recent trend is away from openings. In a sense, computers have killed the opening phase. There is only so much that you can do. So if anything can be done, it is to rebalance the game. That can only happen by concentrating on the middle and end game.
For now though, I have taken a break from chess. Then I got to London for a tournament. Then I take another break – a long break. That's when I will give it some serious thought – what I want to do and how I want to do it.
Do you think about your legacy? Is it about time to start thinking about it?
Well, there are times when you wonder what you have done for the sport. I am happy at the kind of response that the match got in India and I feel I played some part in it. I would like to believe that India understands chess and with NIIT Mind Champions academy, I hope to help more players in the country. A legacy though is not just about what I think.
Finally, how are you going to wind down?
Probably with a game of Blitz – maybe on the internet, maybe just at home. Blitz would be fun. For the moment, I just want to enjoy chess without thinking of results; without thinking really.
Sports
After a shocking loss from a drawn position in the fifth game, Anand looked prepared to strike back but the Berlin defense yet again came in his way as Carlsen demonstrated his superior skills on the board once more in a drawn endgame to beat the world champion.
Sports
With just four games left in the match, Vishy, who is two points behind, has no options left.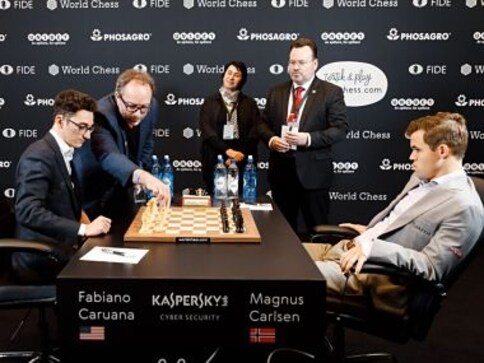 Sports
Thirty four moves and just over three hours into the game, a draw was agreed between Magnus Carlsen and his world title challenger, Fabiano Caruana.