Plane carrying Brazilan football club Chapecoense Real crashes in Colombia; 5 rescued alive, 76 killed
An airplane with 81 people on board, including players from Brazilian team Chapecoense Real heading to Colombia for a final, has crashed.
Bogota: A chartered aircraft with 81 people on board, including a Brazilian first division soccer team heading to Colombia for a regional tournament final, has crashed on its way to Medellin's international airport.
Colombian police say that five people have survived a plane crash near Medellin's international airport and the rest of the passengers have been killed.
Gen. Jose Acevedo, head of police in the area surrounding Medellin, provided the information.
"It's a tragedy of huge proportions," Medellin Mayor Federico Gutierrez told Blu Radio on his way to the site in a mountainous area outside the city where aircraft crashed.
Aviation authorities said the aircraft, a British Aerospace 146 short-haul plane operated by a Bolivian charter airline named Lamia, declared an emergency at 10 pm on Monday (0300 GMT) due to an electrical failure.
Authorities and rescuers were immediately activated but an air force helicopter had to turn back due to low visibility.
The aircraft, which made a stop in Santa Cruz, Bolivia, was transporting the first division Chapecoense soccer team from southern Brazil. The team was scheduled to play on Wednesday in the first of a two-game Copa Sudamericana final against Atletico Nacional of Medellin.
The plane was carrying 72 passengers and nine crew members, aviation authorities said in a statement. Local radio said the same aircraft transported Argentina's national squad for a match earlier this month in Brazil.
Meanwhile,  the South American football federation (CONMEBOL) put out a press release on its website saying the South American Cup final has been suspended after the crash.
In a statement on its Facebook page, Chapecoense said "may God accompany our athletes, officials, journalists and other guests traveling with our delegation."
The team said it would refrain from any further statements until it had fully evaluated the extent of the crash.
A video published on the team's Facebook page showed the team readying for the flight earlier on Monday in Sao Paulo's Guarulhos international airport.
The team, from the small city of Chapeco, joined Brazil's first division in 2014 for the first time since the 1970s and made it to the Copa Sudamericana finals last week by defeating Argentina's legendary San Lorenzo squad.
Atletico Nacional, the team Chapecoense was scheduled to play in the final, has expressed solidarity with the affected team, tweeting "Atletico Nacional regrets deeply and is in solidarity with Chapecoense Real after the accident happened and is awaiting information from the authorities."
Nacional lamenta profundamente y se solidariza con @chapecoensereal por el accidente ocurrido y espera información de las autoridades.

— Atlético Nacional (@nacionaloficial) November 29, 2016
The Medellin airport authority's Twitter account provided details and updates of the crash:
Confirmado, la aeronave con matrícula CP2933 * transportaba al equipo @ChapecoenseReal. Al parecer hay sobrevivientes.

— José María Córdova (@AeropuertoMDE) November 29, 2016
La emergencia, con aeronave en que se transportaba el equipo @ChapecoenseReal, se presentó en Cerro Gordo de la #Unión, Antioquia.

— José María Córdova (@AeropuertoMDE) November 29, 2016
El acceso al sitio del accidente, con aeronave de @ChapecoenseReal, solo se puede hacer por tierra debido a las condiciones climáticas.

— José María Córdova (@AeropuertoMDE) November 29, 2016
Trabajamos con las autoridades de la región para atender emergencia que se presenta con aeronave de @ChapecoenseReal#TamoJuntoChape

— José María Córdova (@AeropuertoMDE) November 29, 2016
With inputs from agencies 
Subscribe to Moneycontrol Pro at ₹499 for the first year. Use code PRO499. Limited period offer. *T&C apply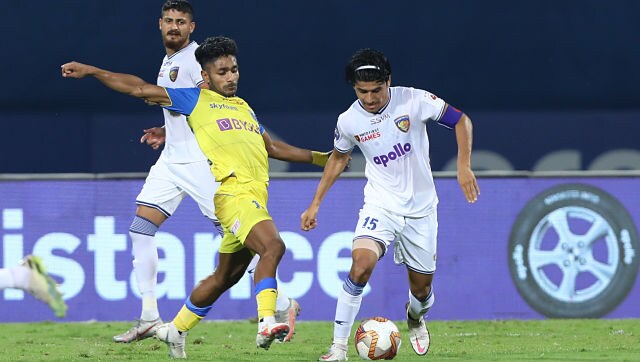 Sports
Fatkhulo Fatkhulloev gave Chennaiyin the lead in the 10th minute which was cancelled out by Gary Hooper's 29th-minute strike from the spot.
Sports
Even on Friday, the AFC did not specify the dates, only saying that "it has been working with member associations grouped together to help them make their own arrangements and play out the remaining games in one venue".
Sports
City boss Guardiola has no intention of letting his players get distracted by the praise with a frantic schedule ahead of them.