PGA Tour: Short game carries Zach Johnson to win in Hawaii
Johnson chipped in for his opening birdie and then hit four exquisite wedge shots on the back nine Monday to rally from two shots behind to win the Tournament of Champions.
Kapalua: Zach Johnson is taking his place among the big boys in golf with two of the shortest clubs in his bag.
On a Plantation Course at Kapalua that should be paradise for the game's longest hitters, Johnson chipped in for his opening birdie and then hit four exquisite wedge shots on the back nine Monday to rally from two shots behind to win the Tournament of Champions.
"I just picked it apart," said Johnson, who shot a 66 and finished at 19-under 273.
That was pivotal on the back nine, where five players had a chance to win. Johnson ran off four birdies in a five-hole stretch, all of them with a wedge in his hand, none of the shots particularly easy. He wound up with a one-shot win over Jordan Spieth, the perfect way to start a new year.
Johnson didn't need any heroics this time, not like last month at the World Challenge in California when he holed a shot from the drop zone on the final hole and wound up beating Tiger Woods in a playoff. Kapalua was mainly about chipping and putting, and Johnson is among the best.
"Getting the ball in the fairway and giving my wedges a chance was crucial," he said. "It's about plotting my way, putting myself in a yardage spot that I know is going to give me an opportunity."
Johnson, starting his 11th season on the U.S. PGA Tour, won for the 11th time in his career. Since his rookie season in 2004, only Woods, Phil Mickelson and Vijay Singh have won more on the tour.
It also was his third win in his last six starts, dating to the BMW Championship outside Chicago in September that qualified him for the winners-only event in Kapalua.
The 20-year-old Spieth birdied both par 5s on the front nine and looked as though he might become the youngest player with two PGA Tour wins since Ralph Guldahl in 1932.
He had a one-shot lead going midway through the final round but missed three good birdie chances in the soft, middle portion of the back nine before finishing with two birdies for a 70.
"I was very pleased with the finish, being able to birdie the last two holes and at least have somewhat of a chance on 18," said Spieth, who missed a 100-foot eagle putt just off the front of the green to force a playoff. "But ultimately, 14, 15, 16 really kind of hit me hard in the middle of the back nine."
He made par on all of them, twice missing putts from about 6 feet.
Johnson caught Spieth for the lead with a wedge from 83 yards to about 2 feet for birdie on No. 12. He then laid back with a 3-wood on the 14th hole and hit wedge to about 8 feet below the hole for birdie and the outright lead. Perhaps the most daunting shot came on the par-5 15th, up a steep slope to a green with a false front. The grain from the fairway and on the green was against him.
"If you just missed it a little bit, it's come back at you," he said. "I hit a great shot."
He followed that with a wedge to 5 feet and a tough, downhill putt that broke sharply toward the ocean for his final birdie.
Webb Simpson, tied with Spieth and defending champion Dustin Johnson to start the final round, never caught up and closed with a 70. He tied for third with Kevin Streelman, who had a 67.
Jason Dufner was four strokes back in fifth after a 69. Dustin Johnson (73) and Australian Adam Scott (69) were another stroke back in a four-way tie for sixth.
Scott, the Masters champion, got within one shot of the lead with an eagle on the 15th hole, only for his wedge to hit the flag on the 16th. He had to settle for par on the hole, and then closed his round with a bogey.
AP
Find latest and upcoming tech gadgets online on Tech2 Gadgets. Get technology news, gadgets reviews & ratings. Popular gadgets including laptop, tablet and mobile specifications, features, prices, comparison.
Sports
World number 171 Burns stood on a 36-hole career low of 15-under 129 at Silverado Country Club in Napa, California.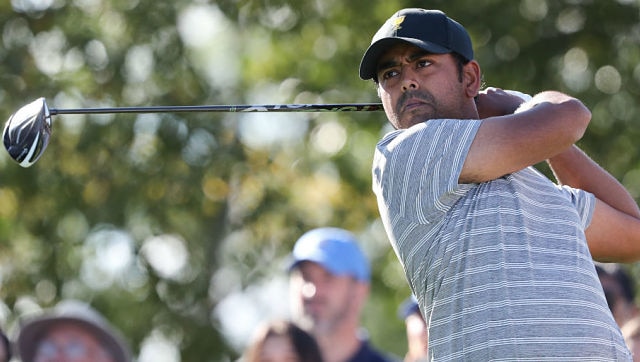 Sports
Lahiri, who has been battling indifferent form in the last two years, enjoyed his best result on the PGA Tour in nearly 18 months when he signed off tied 36th at Safeway Open two weeks ago.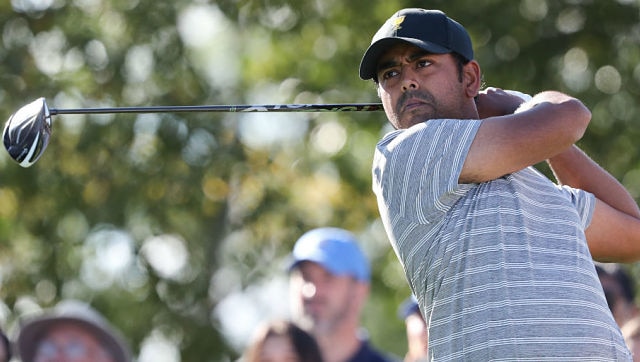 Sports
Lahiri, who had a triple bogey on the second hole and a bogey on the third started the recovery soon after with an eagle on the fourth.