PGA Tour: Reed becomes youngest to win a World Golf Championship
Since 1990, only Woods, Phil Mickelson, Rory McIlroy and Sergio Garcia had three PGA Tour wins before turning 24.
Doral: Patrick Reed built a big lead on the front nine and held on for a one-stroke win at the Cadillac Championship on Sunday, showing off a great short game when the pressure was building.
Equipped with a two-shot lead, the 23-year-old American wisely played the final hole at Doral conservatively. He two-putted for bogey and closed with an even-par 72 for a one-shot victory over Bubba Watson and Jamie Donaldson of Wales.
Reed became the youngest winner of a World Golf Championship, his third win in his last 14 tournaments.
Tiger Woods, only three shots behind going into the final round in his best chance this year to win a tournament, said his back flared up after an awkward shot out of the bunker on the sixth hole. He failed to make a birdie in the final round for the first time in his PGA Tour career, and his 78 was his worst Sunday score ever.
Reed is expected to go to No. 20 in the world ranking. In his own ranking, he feels he belongs much higher.
He cited an amateur career that includes going 6-0 in matches to lead Augusta State to two collegiate titles, followed by three PGA Tour wins in seven months.
"I don't see a lot of guys that have done that besides Tiger Woods and the legends of the game," Reed said. "I believe in myself, especially with how hard I've worked. I'm one of the top five players in the world. I feel like I've proven myself."
Since 1990, only Woods, Phil Mickelson, Rory McIlroy and Sergio Garcia had three PGA Tour wins before turning 24.
Reed has had a share of the lead going into the final round of all three of his victories — the Wyndham Championship last August, the Humana Challenge in January and a World Golf Championship at Doral that featured the strongest field so far this year.
Watson, who won at Riviera three weeks ago, went bogey-free over the final 27 holes, a strong performance on the overhauled Trump National Doral. He closed with a 68, finishing with par after blasting through the palms, into the grandstand and back into the rough.
Donaldson birdied the 17th to get within one shot of the lead. At the 18th he hit into the back bunker, blasted out inside 15 feet and missed the par putt. He closed with a 70.
Reed finished at 4-under 284, matching the highest winning score at Doral. Mark McCumber won at 284 in 1985.
Reed, Donaldson and Watson were the only players to finish under par.
Dustin Johnson, who lost momentum around the turn, made double bogey on the 18th hole for a 72 and tied for fourth with Richard Sterne (71).
Woods' performances are less than encouraging heading toward the Masters. He has played only four tournaments: missing the 54-hole cut at Torrey Pines, tying for 41st in Dubai, withdrawing after 13 holes in the final round of the Honda Classic last week, and then fading badly on Sunday.
He is scheduled to make only one more start — Bay Hill in two weeks — before Augusta National.
The other guy in the red shirt and black pants played like he knew what was doing with the lead. Reed left no doubt early that it would be his tournament to win.
His two-shot lead dwindled to one after a bogey from the bunker on the second hole, and that was as close as it got until it no longer mattered.
AP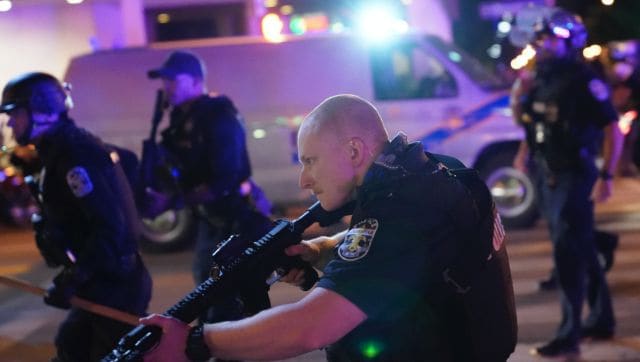 World
The Justice Department report came out after a shocking weekend showed how the vast surplus of guns has made its mark on US society
World
Scott Bray, deputy director of naval intelligence said that the Pentagon had detected nothing 'that would suggest it's anything non-terrestrial in origin' behind these phenomena
Sports
Tiger Woods said he has not reached out to Mickelson and said he didn't know if there was any need for issues to be resolved.