PGA Tour: Hunter Mahan comes up with timely victory at The Barclays
On a day when six players had at least a share of the lead, Mahan found a way to make it look like a comfortable win.
Paramus, New Jersey: Hunter Mahan pulled away with three straight birdies late in the final round Sunday to win The Barclays, ending more than two years without a title on the PGA Tour.
The victory was the sixth of his career, and one of the most important.
Mahan had gone 48 tournaments worldwide without winning and began the FedEx Cup playoffs at No. 62, guaranteed to play only two events. By closing with a 6-under 65 for a two-shot victory, he is assured of making the Tour Championship every year since the FedEx Cup began in 2007.
And by beating one of the strongest fields of the year, Mahan was sure to make a lasting impression on Tom Watson for when he makes his three captain's picks for the Ryder Cup on Sept. 2.
"To get a win in an event like this and the timing, it feels unbelievable," Mahan said. "So I'm extremely proud of myself. I felt great the last few weeks. My game was starting to come around. I knew this was around the corner, but to do it — and to do it today with a 65 — feels great."
On a day when six players had at least a share of the lead, Mahan found a way to make it look like a comfortable win.
He rolled in a 10-foot birdie putt to take the outright lead on the par-3 15th, hit wedge to 3 feet for a birdie on the 16th and then rolled in a 20-foot birdie on the par-5 17th. That stretched his lead to three shots going to the final hole when Cameron Tringale bogeyed the 18th, and Mahan tried to inject a little drama.
Mahan drove into the trees, pitched out and then missed the green. But he holed an 8-foot putt for bogey.
Jason Day, who shared the 54-hole lead with Jim Furyk, would have needed to hole out from the rough on the 18th to force a playoff and he missed the green. Day closed with a 68 and shared second place with Stuart Appleby (65) and Tringale, who celebrated his 27th birthday with a 66.
Furyk now has failed to win the last eight times he has held at least a share of the lead going into the final round. He was in the mix until missing the fairway on the 14th and taking bogey, and he wound up with a 70 to finish in eighth place, four shots behind.
Tringale began the week with questions about disqualifying himself from the PGA Championship several days after the final major ended. He said he had doubts about whether he whiffed a tap-in for bogey and thus signed for a wrong score. He said he wanted a clear conscience.
"Didn't expect it to be this clear," Tringale said with a smile.
This was the best finish of his career, and as a byproduct of these FedEx Cup playoffs, it paid off nearly as well as a victory. Tringale, who was No. 61 in the standings, moved all the way up to No. 10 and is virtually certain of being in the FedEx Cup finale at the Tour Championship. That earns him automatic entry into at least three majors, including his first trip to the Masters.
The top 100 players in the FedEx Cup standings advance to the second playoff event next week outside Boston. Seven players outside the top 100 at the start of the week qualified for the Deutsche Bank Championship, including Morgan Hoffmann at No. 124. Hoffman, who grew up minutes away from Ridgewood, played with Mahan and shot 69 to tie for ninth.
Geoff Ogilvy earned the 100th spot, only it wasn't in his hands. Ogilvy missed the cut, and his chances came down to Brendon Todd, who made a 15-foot par putt on the last hole to allow Ogilvy to advance by two points. If Todd had missed the putt, Troy Merritt would have been at No. 100 by about a half-point.
Mahan last won in the Shell Houston Open in 2012, a week before the Masters. But his game slipped the rest of the year. He narrowly missed qualifying for the Ryder Cup team and was passed over as a captain's pick. Just over a year ago, Mahan had the 36-hole lead at the Canadian Open when he withdrew shortly before the third round upon learning his wife had gone into labor with their first child.
To his surprise, his wife and 1-year-old daughter Zoe were waiting for him when he walked off the 18th green as a winner.
Mahan finished at 14-under 270 and earned $1.44 million. He moved to No. 1 in the FedEx Cup standings, assured of being among the top five players at East Lake with the best shot at capturing the $10 million bonus.
British Open and PGA champion Rory McIlroy, going after his fourth straight victory, closed with a 70 and tied for 22nd.
AP
Sports
Tiger Woods said he has not reached out to Mickelson and said he didn't know if there was any need for issues to be resolved.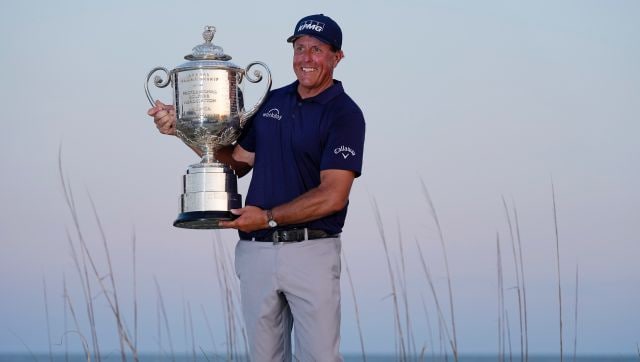 Sports
Phil Mickelson did not play in last month's Masters for the first time since 1994 and is missing the PGA Championship for the first time since he made his debut in 1993
Sports
With LIV Golf's first event next month in London set to pay a record $25 million, Rory McIlroy's tune has changed even with no players so far committed to the upstart series.