PGA Tour Championship: Tiger Woods returns from the brink to deliver a blockbuster for the ages
Throughout the years, Woods has defied belief with his astonishing achievements. A stellar amateur career was followed quickly by a spectacular 12-shot romp at the 1997 Masters that established him as the superstar of the sport.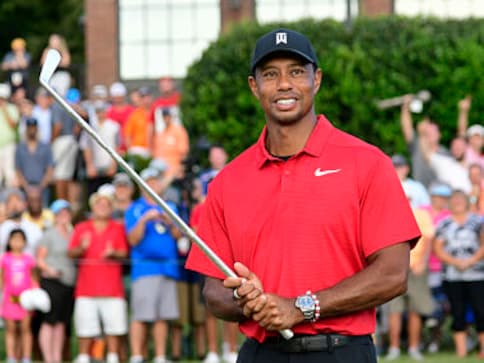 The odds seemed so impossible, even Ethan Hunt would have baulked at accepting the mission. Tiger Woods, like Tom Cruise's reel life character, has delivered one Mission: Impossible after another, but his 80th PGA Tour win on Sunday was a blockbuster like no other.
Throughout the years, Woods has defied belief with his astonishing achievements. A stellar amateur career was followed quickly by a spectacular 12-shot romp at the 1997 Masters that established him as the superstar of the sport. Then came the 'Tiger Slam' in 2000 and 2001 when he held all four major titles simultaneously.
Perhaps his most heroic effort was winning the 2008 US Open, when he literally played on one leg and defeated Rocco Mediate after a gruelling 18-hole Monday playoff. By that time, he had won 14 majors and 16 of his 18 World Golf Championship titles at the age of 32.
The ruptured anterior cruciate ligament in his left knee was just the start of his many issues. In 2009, his carefully-built image was torn apart following multiple revelations of debauchery which led to rehabilitation for sex addiction and subsequent divorce with wife Elin Nordegren.
When Woods returned to action in 2010, he was a shadow of his former self. It is often said that golf is played mostly on a five-inch course – the distance between your ears – and it was presumed that Woods was a mental wreck after his ordeal.
However, between 2012 and 13, he went on another sizzling run and won eight titles, including two WGCs, and returned to World No 1 – a feat that almost seemed impossible given his state in 2009-10.
Just when things were looking up, his back gave way. It led to a first microdiscectomy surgery in April 2014. Then a second. And then a third. And finally a spinal fusion surgery in April 2017.
To a golfer, a healthy back is paramount – as important as feet are to a football player. It is the engine that drives the entire swing. The modern golf swing, which calls for a complete rotation of the shoulders and not much action with the hips, and the immense torque that the spinal cord generates repeatedly during the swing, means the back is abused like in no other sport.
Woods repeatedly tried to brave the pain, but it forced him to surrender and go down on his knees time and again. It also led to an addiction to painkillers, and when he was arrested for driving under influence in October last year (later proved he did not have any recreational drug or alcohol in his system), it meant another long rehab.
The V2 of Tiger Woods emerged from this darkest phase of his life. Only his die-hard fans believed he'd resurrect from the mental and physical trauma. The critics and pundits had given up on him.
The first signs of change was in his attitude. This was a different Tiger we were seeing – he was more modest, more approachable and more thankful. The machine in the late 90s and early 2000s, was finally giving way to a man who understood there was much more to life than golf.
The golfing comeback started at the Hero World Challenge last year in December. It's a tournament he hosts, and having slipped to 668th in the world ranking, he gave himself an invite to the 18-man elite field. It was also the first time he played pain-free in more than three years.
Things started gathering pace this season. There were several impressive performances, including a brief period when he took the lead at the Open Championship in Carnoustie, but a victory was proving elusive. It finally happened last week and came in vintage Tiger Woods fashion. The field simply had no chance against him as he won by two shots despite late bogeys on the 15th and 16th holes and failing to get a birdie on the par-5 18th.
Woods' improbable victory is now being hailed as one of the greatest comebacks in sport. Niki Lauda and Ben Hogan would definitely want to contend that – both having returned from near death experience to the winner's podium – but it was as dramatic and miraculous as any we have seen so far. It was a supreme example of how human will can surmount even the most impossible physical and mental challenges.
The pictures from East Lake – of a tsunami of fans following golf's Pied Piper on the 18th hole – and the massive jump in TV ratings of Sunday telecast (up 206 percent over 2017, up 506 percent in streaming which was an all-time record for NBC), was an indicator of what Woods means to golf. As one commentator pointed out: he does not just move the needle, he IS the needle.
Woods waited 1,876 days between his 79th PGA Tour win and his 80th. Now that he has accomplished it, what next?
The first task would be this week at the Ryder Cup in Paris. If his magnificent CV has one blot, it is his performance in the much-anticipated biennial competition against the Europeans. One factor that was always blamed was that Tiger was more of an individual genius who could not fit into the team environment. That has changed over the past couple of years and he now has a fantastic relationship with most of his teammates. It now remains to be seen whether that translates into wins for the US as they try and defend the Cup.
Then there is the question of the 15th major title, and the pursuit of Jack Nicklaus' all-time record of 18. One step at a time, but what seemed impossible not many months ago, seems like a distinct possibility after his Tour Championship win.
Another number to chase is 83. Three more PGA Tour wins will help him break Sam Snead's all-time record of 82 wins on the Tour.
Whatever he does from here on, one thing is for certain – with Tiger roaring, golf will never be the same again.