PBL 2018-19: New-look teams, star power highlight latest edition as league enters fourth season
The churn of players in this edition of PBL makes it difficult to predict the likely victors of this 23-day competition.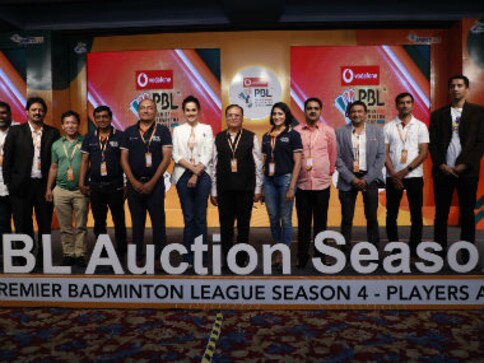 The lure of the lucre in the Premier Badminton League (PBL), added to the fact that the results of individual matches are unofficial and not added to the players' career match records, has induced a star-studded field to be on show at the fourth edition of the league, starting at The Dome, National Sports Club of India, on Saturday.
Even players who had dropped out of the cash-rich World Tour Finals due to injury that would have affected their head-to-head records with the other top-notchers in the international arena were picked up at the recent auctions, that witnessed a major churn in the line-ups of the nine teams participating in the 23-day long competition this time (22 December 2018 to 13 January 2019).
Spain's three-time world champion Carolina Marin, who withdrew from the season-ending finals in Guangzhou, citing injury, has been named the 'icon player' for the new Pune7Aces team, co-owned by Bollywood star Taapsee Pannu, and captained by veteran Danish doubles specialist Mathias Boe.
The Spaniard had been the face of Hyderabad Hunters last year, leading them to the title and the top prize of Rs 3 crores with a hard-fought 4-3 triumph over Bengaluru Blasters at the Gachibowli Stadium in Hyderabad. It had, incidentally, been the second successive year in which the final was decided by a 4-3 margin, with Chennai Smashers edging out Mumbai Rockets by the odd match in seven in the 2016-17 edition.
Marin, who had won the 2016 Olympic gold medal at the expense of PV Sindhu, claims to be looking forward to a repeat contest against the World Tour Finals winner, who has moved from Chennai to Hyderabad this year as their 'icon player'. Considering the fact that the Pune and Hyderabad teams clash on the opening day of the competition, she would have had to make a swift recovery from her injury, to take on a player who currently appears to be in peak form.
The team auctions were different this year, with no retention or Right-to-Match (RTM) cards available. Since all players were thrown into a common pool, the auctions turned into a dogfight for teams to get their combination right while looking for that one icon player who could inspire them to the rich purse and glory.
The nine franchises were given a total purse of Rs 2.6 crore, with the icon players being purchased for a figure no higher than Rs 80 lakhs. If two or more teams were to bid Rs 80 lakhs for a particular player, there was a draw of lots. The teams were also required to choose at least four Indians and a minimum of three women in their 10-member squads.
Predictably, the auctions threw up some unpredictable results. Indonesia's Tommy Sugiarto became the highest paid non-icon player, with Delhi Dashers splurging Rs 70 lakhs for his services. The Delhi outfit won a tense battle with two other teams to acquire the world No 11, paying more than double his base price.
It is interesting to note that India's Sameer Verma, who beat Sugiarto quite easily at the World Tour Finals group stage and went on to reach the semi-final, was purchased by Mumbai Rockets for just Rs 42 lakhs. But of course, the auctions were held well before the Guangzhou grand finals, and Verma's amazing run in that competition was still to be known.
South Korean doubles expert, Lee Young Dae, who returned to international competition after retiring three years ago, became the icon player for Mumbai Rockets at a cost of Rs 80 lakhs. Saina Nehwal, who played for the Awadhe Warrior with distinction in previous editions, was bagged this time by North Eastern Warriors, who paid the top price for the 28-year-old icon.
Other players to be fought over, and to secure icon status for the maximum figure of Rs 80 lakhs, were: Kidambi Srikanth for Bengaluru Raptors, HS Prannoy for Delhi Dashers, Denmark's Viktor Axelsen for Ahmedabad Smash Masters, and South Korea's Sung Ji Hyun for Chennai Smashers. Awadhe Warriors managed to secure the services of another Korean, Son Wan Ho, at a cost of Rs 70 lakhs, being the only one amongst the nine teams to get their 'icon player' at Rs 10 lakhs less.
Among Indians who failed to attain icon status and be the 'face' of their teams, the fast-rising doubles expert, Satwiksairaj Rankireddy, was the top draw, with Ahmedabad Smash Masters outbidding Hyderabad Hunters to secure the 17-year-old talent for Rs 52 lakhs, a massive jump from his base price of Rs 15 lakhs.
Among the overseas doubles stars, left-handed Englishman Chris Adcock was much in demand and was eventually picked up by Chennai Smashers at a cost of Rs 54 lakhs. Not surprisingly, the franchise successfully bid for his wife and regular mixed doubles partner, Gabrielle, paying Rs 36 lakhs for her services to the team.
The churn of players, moving from one franchise to another, makes it difficult to predict the likely victors of this 23-day competition, although it does appear that defending champions Hyderabad Hunters have spent their money wisely, and strengthened both their singles and doubles departments. Veteran South Korean Lee Hyun Il, 38 this year, was the hero of their win last year and could be a big factor this time as well.
The matches this year are being held at five centres – four ties are being played in Mumbai, between 22 and 24 December; five in Hyderabad, from 25 to 28 December; six in Pune, from 29 December to 1 January; seven in Ahmedabad, between 2 and 6 January; and the last five group ties in Bengaluru, from 7 to 10 January.
There are double-headers on all the weekends, barring the opening day on Saturday, 22 December, due to the inauguration and opening ceremony. The semi-finals of the tournament will also be held in Bengaluru on 11 and 12 January, as will be the final on Sunday, 13 January.
The two teams contesting the opening match of PBL 2018-19 are:
Hyderabad Hunters: P V Sindhu, Kim Sa Rang, Eom Hye Won, Bodin Issara, Sai Uttejitha Rao, Lee Hyun Il, Mark Caljouw, C. Rahul Yadav, Arun George and Meghana Jakkampudi
Pune 7 Aces: Carolina Marin, Mathias Boe, Lakshya Sen, Brice Leverdez, Sony Dwi Kuncoro, Ajay Jayaram, Vladimir Ivanov, Chirag Shetty, Line Kjaersfeldt and Prajakta Sawant
Badminton
World No. 12 Sen squandered an opening-game advantage to go down 21-15, 10-21, 13-21 to home favourite Christie, ranked third, in a 62-minute men's singles match.
Badminton
The Danish ace and top seed, fresh from his Malaysia Open win on Sunday, served out his fourth-seed opponent in 38 minutes in the men's singles semi-finals in New Delhi.
Badminton
Lakshya Sen dished out a superlative performance to outwit Japan's Kodai Naraoka 21-12 21-11 while Saina Nehwal eked out a 21-15 17-21 21-15 win over Chinese Taipei's Pai Yu Po