PBL 2018-19: Anders Antonsen, Sameer Verma put in scintillating performances to help Mumbai Rockets reach final
For the second day in a row, it was a duo of young singles players who played the star role in helping Mumbai Rockets get past defending champions Hyderabad Hunters in the second semi-final of the Premier Badminton League's fourth edition
For the second day in a row, it was a duo of young singles players who played the star role in helping Mumbai Rockets get past defending champions Hyderabad Hunters in the second semi-final of the Premier Badminton League's fourth edition (PBL-4) at Bengaluru's Sree Kanteerava Indoor Stadium.
In the same manner as Kidambi Srikanth and B Sai Praneeth had helped the home team, Bengaluru Raptors, across the line against Awadhe Warriors on Friday, it was 24-year-old Sameer Verma, playing as trump, and Denmark's Anders Antonsen, three years his junior, who won their singles encounters for Mumbai in style. Skipper Lee Yong Dae had earlier combined with his Korean compatriot Kim Gi Jung to get the Rockets off to the best possible start in their eventual 4-2 triumph.
The script for the Mumbai-Hyderabad clash panned out exactly as had been anticipated. It was clear from the very outset that Hyderabad would start the tie as hot favourites, with three points virtually sealed in the kitty through their women's singles trump match and the mixed doubles.
The choice of Hyderabad captain PV Sindhu as trump against Mumbai's Achilles heel, Shriyanshi Pardeshi, was a no-brainer, while the mixed doubles combination of Korea's Eom Hye Won with either Thailand's Bodin Issara or fellow-Korean Kim Sa Rang, was strongly favoured to deliver a point from Gi Jung and Indonesia's Pia Zebadiah Bernadette, who had been unconvincing in their league matches.
The title holders thus needed to win just one of the remaining three matches; and had their strongest chance in the men's doubles, which was scheduled as the opening duel of the tie. Southpaw Issara and the ever-smiling Sa Rang had a better win record in the league than Yong Dae and Gi Jung, but the latter pair had not been World No 1 a couple of years ago, for nothing.
Quality-wise, the match failed to produce badminton of the highest order, but it made up for its scrappiness with edge-of-the-seat excitement, as the two pairs traded blows, and never conceded a big lead to the other at any stage of the encounter. The big-hitting Issara played the best of the four, but still ended up on the losing side of a 14-15, 12-15 decision, as Sa Rang was below par on the day.
That brought Verma into the arena, sporting a 5-1 win-loss record in PBL-4, against Dutchman Mark Caljouw, who was 4-2 in his six matches, having won the first four, and then losing steam in the last two games at the league stage. Despite having lost the trump against Bengaluru Raptors in Mumbai's final league tie, Verma was brave enough to shoulder the responsibility of playing the trump against Hyderabad.
And what a scintillating display the Dhar (Madhya Pradesh) native put on, in the face of the aggressive, energetic, all-action shuttler from the Netherlands! Verma was calm and confident, and played with great control, despite the drift in the stadium, which reigning Spanish world champion Carolina Marin criticised as being inimical towards playing quality badminton.
"It is difficult to control the shuttle, so it is better to play more at the net and stick to downward, attacking strokes," said Marin, while briefly joining John Burgess and former Indian national champion Vimal Kumar (now chief coach at the Prakash Padukone Badminton Academy) in the commentary-box during the Verma-Caljouw match. "It is very hard on the players who aim their strokes at the lines."
Verma, however, seemed not to have heard or bothered with the Spaniard's words of caution, and employed the deep clear to the baseline with impunity. Every time Caljouw judged the bird at the baseline, it landed an inch or two in. All his smashes and half-smashes were returned with dividends attached; and he was made to look rather ordinary in the face of a clever, accomplished display from the Indian.
One time, a wristy flick from Verma cleared the Dutchman comfortably as he rushed the net behind his smash. On another occasion, Verma leaped high as if to smash, and delivered a delicate drop shot that had Caljouw reaching forward vainly. So dominant was the Indian that he led 8-2 in each of the two games, before wrapping up a facile 15-8, 15-7 triumph, and putting his team 3-0 ahead.
That impressive-looking lead came down to 3-2 in a jiffy, as Sindhu took the court, and ruthlessly cut down Mumbai's Pardeshi to size, with a hopelessly one-sided 15-6, 15-5 verdict. Pardeshi was overawed and overwhelmed, and kept over-hitting the shuttle. Indeed, this was one David vs Goliath battle in which the taller, stronger player never gave her opponent even a whiff of a chance.
It was then up to the 21-year-old Antonsen to wrap up the tie against Korean old-timer Lee Hyun Il, a good 17 years his senior. In badminton terms, that age gap is representative of two different generations!
But Hyun Il is a unique specimen, with his languid, unhurried style of play, his tight defence, and his occasional use of the left-hander's advantage of the overhead kill down to the right-hander's backhand sideline. It had been the Korean veteran who had delivered the crucial fifth match in Hyderabad's wafer-thin 4-3 triumph in last year's finals against Bengaluru Blasters (mutated to 'Raptors' this year).
For most of the opening game, it was Hyun Il who appeared in control, as Antonsen took some time to get into his normal attacking mode. The turning-point of the match came at 10-13, when Antonsen suddenly stepped up a gear, hitting lustily, and rushing the net behind his smash to put away even a marginally high return. An unbroken five-point reel finished off the game in quick time against the shell-shocked veteran, who simply could not up the ante.
Youth simply could not be denied thereafter; and, as Antonsen grew in confidence and maintained a breakneck speed, the old-timer wilted like a flower in the afternoon heat. An 8-4 lead at lemon-time soon became 11-5; and the Dane finished the duel with a flourish, for a richly deserved 15-13, 15-6 victory. There was no need to play the mixed doubles, after Mumbai rocketed past the finish-line for a 4-2 decision.
There can be no doubt that the final on the morrow between Bengaluru and Mumbai will be a hotly contested one, and could well conclude in a 4-3 result, exactly as the finals of the immediate two previous editions of PBL had ended. But the Raptors appear to have an edge over the Rockets in three of the five matches on Sunday, at least on paper.
= Srikanth, unbeaten in seven matches this year, should take on Sameer, who has an only slightly inferior win record of 6-1. Sai Praneeth, who also has been beaten just once in seven matches, will face Antonsen, who has a 5-2 win-loss record in the ongoing PBL season. The Indonesian combination of Hendra Setiawan and Mohammad Ahsan have a 4-1 winning record that is superior to Lee Yong Dae and Kim Gi Jung's shaky 3-2.
In the women's singles, Mumbai's Pardeshi will have an even chance of contributing a point to her team's kitty, when she takes on Vietnamese Vu Thi Thrang. And Mumbai's mixed doubles combination of Indonesian Pia Zebadiah Bernadette with either Kim Gi Jung or Lee Yong Dae have an equally good chance against Marcus Ellis and Lauren Smith.
The one thing that could throw all calculations awry is if a nominated trump loses, even as the rival team's trump card wins. In such an instance, there would be a landslide triumph for one of the two teams. For punters, the arrow of fate would appear to point to Bengaluru Raptors to lift the PBL-4 trophy and the Rs 3 crore top prize.
Find latest and upcoming tech gadgets online on Tech2 Gadgets. Get technology news, gadgets reviews & ratings. Popular gadgets including laptop, tablet and mobile specifications, features, prices, comparison.
Sports
The former world number 13 beat Maxime 21-8 21-8 in just 19 minutes at Saarlandhalle Saarbrcken.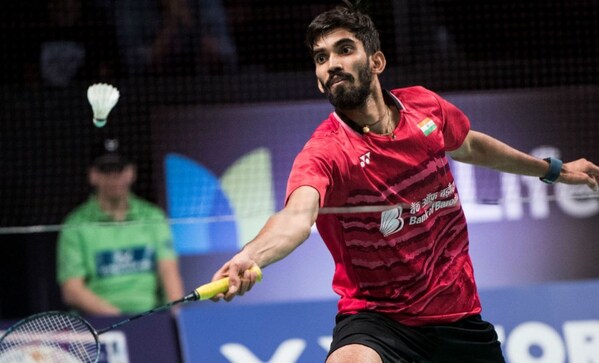 Sports
The former world number one, who had claimed four superseries titles in 2017, beat Toby 21-12 21-18 in 37 minutes, as the sport finally got going after the long coronavirus-forced hiatus.
Sports
Srikanth will now face world number two Chou Tien Chen of Chinese Taipei, who beat Ireland's Nhat Nguyen 21-8 21-16.