PBL 2018-19: Ahmedabad Smash Masters maintain a clean slate as Hyderabad Hunters, Mumbai Rockets falter
The Viktor Axelsen-led Ahmedabad Smash Masters went through three ties without a defeat, while Awadhe Warriors managed to win both the ties they had been scheduled to play.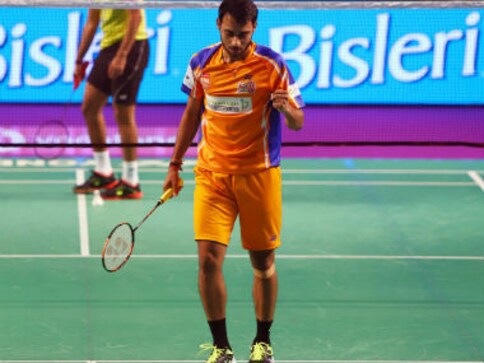 As had been predicted in the preview of the fourth edition of Premier Badminton League (PBL-4), the comprehensive churn of players at the auctions, and their redistribution between nine teams, have made it extremely difficult to lay a finger on the likely winner of the first prize of Rs 3 crores.
At the end of the second leg of this 23-day event, the results of the first nine matches (four in Mumbai, five in Hyderabad) unveiled only two undefeated teams from amongst the nine that had faced the starter's gun. The Viktor Axelsen-led Ahmedabad Smash Masters went through three ties without a defeat, while Awadhe Warriors managed to win both the ties they had been scheduled to play.
Hyderabad Hunters, who had made the initial running, with a storming 6-1 win over newcomers Pune 7 Aces, picked up another thumping 5-0 victory over Chennai Smashers on Christmas Day, but then came to grief at the hands of Awadhe Warriors by a 1-4 margin in the presence of their adoring home supporters.
Mumbai Rockets, who had started out with an impressive 5-0 triumph over Delhi Dashers at the NSCI Dome in Mumbai, folded up 1-4 against North Eastern Warriors, who had been downed by Ahmedabad by the same score at the same venue.
Nevertheless, the unique points system in the league, where only the points achieved for victory are counted, while the record of trumps won against trumps lost is worked into the eventual tally, ensured that Hyderabad remained top of the table with 12 points (9 wins, 3 losses, 2 trumps won, 1 trump lost). Ahmedabad had the same tally of 12 (6 won, 6 lost, 3 trumps won, zero trumps lost).
In other words, the more matches a team wins, the better is its position on the table. Every match counts; and what counts even more is the placement of the trump. A carelessly placed trump can prove very costly, as Hyderabad found to their discomfiture, for their South Korean mixed doubles combination of Kim Sa Rang and Eom Hye Won, fielded as a trump in the very first match against Awadhe, came to grief at the hands of Denmark's Mathias Christensen and India's Ashwini Ponnappa.
Hyderabad's fortunes took a bigger nosedive with the sudden and unexpected downturn in the form of skipper PV Sindhu. After holding out desperately in the closing reaches of her opening encounter in Mumbai against three-time world champion and Olympic gold medallist Carolina Marin, Sindhu ended up losing both the matches she was required to play in her hometown, Hyderabad, in the familiar surroundings of the Gachibowli Stadium.
Against South Korean Sung Ji Hyun, the icon player of Chennai Smashers, she appeared out of sorts in the first game, but came back strongly in the second, to take the match to a decider. After staying within hailing distance at the half-way change of ends, Sindhu completely lost it, and smacked the shuttle anywhere but on the court, to surrender without a whimper.
That reverse did not, however, cost her team too much, since Hyderabad ended up winning their own trump match through the men's doubles pairing of Bodin Issara of Thailand and South Korea's Kim Sa Rang, who combined brilliantly and came from a game down to down Hong Kong's Or Chin Chung and India's B Sumeeth Reddy. Hyderabad then managed to break the rivals' trump, thus dealing Chennai's final score a mortal blow.
It was the Netherlands' Mark Caljouw (purchased in the auction at a bargain price of Rs 7 lakhs) who produced an impassioned performance and wielded his racket like a sword to rain down smashes and break Chennai's ill-advised trump, Parupalli Kashyap.
The 32-year-old Kashyap is nowhere near the player he was when he won the 2014 Commonwealth Games gold medal; and it was hardly ideal to requisition his services as trump, so soon after the break he would have taken for the celebration of his wedding to Saina Nehwal. The 23-year-old Dutchman was simply too fast and strong for the ageing Indian.
After Caljouw's star turn, the oldest singles player in the competition, 38-year-old Korean left-hander Lee Hyun Il (bought for an impressive Rs 60 lakhs), knocked out 31-year-old Malaysian Chong Wei Feng with a typically efficient, no-frills display, to give Hyderabad the tie by a 5-0 scoreline, that marked their second consecutive win.
In their third tie, however, the home team received a rude shock when Chinese-born American Zhang Beiwen's smooth game, as efficient as that of veteran Lee Hyun Il, accounted for Sindhu in straight games. Purchased by Awadhe Warriors at a cost of Rs 39 lakhs, the unassuming Zhang initially concentrated on getting used to the conditions, and only began tightening the screws on her arch-rival when Sindhu led 12-8 in the first game.
From that point, it became a virtual rout, as the rangy Indian managed only nine more points in the match, compared to her rival's 22, in the eventual 13-15, 8-15 scoreline that marked her third win over the Indian, against two losses, in 2018 alone. So frustrated was Sindhu at losing the first game in a flood of unforced errors, that she smashed her racket on the floor and then threw the mangled contents into her kitbag before switching courts for the second game.
The 23-year-old Hyderabadi's laboured performances in PBL-4 force the conclusion that she is ripe for a break before embarking on the next season. Having played in 19 tournaments this year, among the most by any player on the international circuit, Sindhu appears stale and careworn; and, in some phases of her matches, appeared to be playing by rote, as it were.
Not so, Sameer Verma, the only other Indian who had qualified for the recent year-ending World Tour finals in Guangzhou. Verma, who was picked up by Mumbai Rockets for Rs 42 lakhs, had been impressive in his straight-games win over his Delhi Dashers senior, HS Prannoy; and he continued his excellent form in PBL-4 by knocking out China's Tian Houwei, also in straight games.
That workmanlike win helped Mumbai to reduce the margin of defeat by North Eastern Warriors to 1-4, for the Rockets had been forced on the back foot by the poor form of their mixed doubles player from Indonesia, Pia Bernadette Zebadiah; and thereafter, the loss suffered by their nominated trump, Anders Antonsen of Denmark, against Thailand's Tanongsak Saensomboonsuk.
Antonsen appeared to be on track to defeat the Thai left-hander when he wrested the second game with a degree of comfort against a player not exactly renowned for his staying powers. However, the shortened game format – 15 points with no extension allowed, compared to the classical 21 points, with extension up to 30 – suited Tanongsak admirably, and he put everything he had into attack, to pocket the decider at 15-11, and put North Eastern Warriors in a near-impregnable position.
One must also make a footnote on the form of a few top players who were expected to set PBL-4 on fire. Even as Prannoy, unbeaten in seven matches in the last edition of the league, lost both the matches he played in this year's competition, Saina Nehwal of North Eastern Warriors has preferred to sit it out, on account of a shin injury. Axelsen, captain of Ahmedabad, blotted his copybook by losing to Delhi's Tommy Sugiarto, who had opened his own campaign with a loss to Sameer Verma.
The towering Dane chose to sit out his next projected encounter against Bengaluru Raptors, ostensibly with an injury. He fielded Malaysian Daren Liew, instead, leaving the second singles in the hands of Sameer Verma's elder brother, Sourabh. It deprived the audience of the chance of seeing a Srikanth-Axelsen duel, but gave them their first glimpse in this PBL of the Indian ace against his nemesis Liew, against whom he trails 0-3 in career head-to-heads.
Sourabh edged out Praneeth at 15-14 in the decider, making it the second successive match that Ahmedabad were winning by the third-game golden point, behind their mixed doubles triumph. Satwiksairaj Rankireddy and N Sikki Reddy pipped the English combination of Marcus Ellis and Lauren Smith.
The Srikanth-Liew duel was fascinating, with the former taking the first game comfortably, and then conceding the second with some wayward, almost disinterested, play. The Indian powered to a massive 8-0 lead in the decider with a major change of gears, but was still forced to hold off a gritty rearguard action by the Malaysian that reduced the margin of defeat to 11-15. It is amply clear that Srikanth remains extremely uncomfortable against Liew.
It was left to Scotland's Kirsty Gilmour to break the 3-3 deadlock with a 15-8, 15-13 win against the Vietnamese, Vu Thi Thrang. It was the Scottish girl's second victory in three matches for Ahmedabad, and the only blot in her copybook was the huge 8-15, 9-15 pounding she took at the hands of North Eastern's Rituparna Das in Mumbai.
As the action moves to Pune with a double-header on both Saturday and Sunday, debutants Pune 7 Aces, who have lost both their earlier matches, have a chance of redeeming themselves in the presence of their home crowds at the Shree Shiv Chhatrapati Sports Complex. They take on the Mumbai Rockets and Bengaluru Raptors in back-to-back matches over the weekend; and will hope to add to the measly two points they have gained from their first two forays.
Badminton
PV Sindhu defeated Jia Min Yeo 21-19, 21-17in the women's singles semi-final match
Badminton
Sindhu, who won a silver and a bronze in the last two editions, is chasing an elusive gold medal at the ongoing Games and thereafter her immediate target will be the Tokyo World Championships from 22-28 August.
Badminton
While India claimed the top spot, Sri Lanka are currently in second place in group A.