Paris Saint-Germain need a quick remedy after horror season brought forth club's existential crisis
Unai Emery, appointed as Paris Saint-Germain manager for his European knock-out expertise, didn't deliver when required to.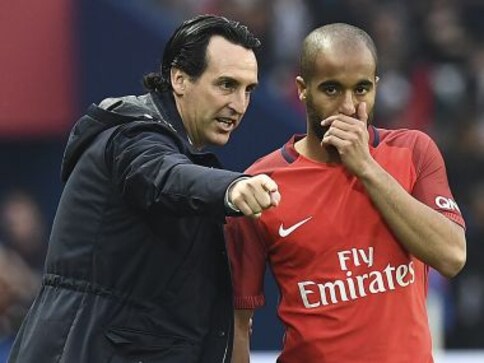 Paris Saint-Germain's slogan is 'Revons plus grand' — today everything in football is branding and content — but this season the Parisian verbal dream was but an inapt expression of intent, a slogan without substance. With 87 points, PSG — the nouveau riche behemoth of French football — failed to win Ligue 1, drawing with lowly Caen on Saturday.
Europe's darling team conquered 'Le Championnat' — Monaco, a dizzy ensemble of prodigies, Kylan Mbappe, Thomas Lemar, Bernardo Silva and others, thrilled in France with a 'brand' of superlative and attacking football. They also reached the last four of the European Cup.
The team from the principality transformed from a billionaire's toy to a club with a distinct vision; from spending hundreds of millions of dollars on spangled players, who then left — James Rodríguez to Real Madrid, Yannick Ferreira Carrasco to Atletico and Radamel Falcao to Manchester United — to a self-sustaining outfit with young talent. Portuguese coach Leonardo Jardim built a delightful team with its coronation as French champion a meritocratic triumph.
In Monaco, they have a project, a word that is often touted in Parisian circles. 'The project' — a word once conceived by an all too zealous — however isn't defined in the French capital, or is it? For long, ever since the Qatari takeover of west Paris in 2011 in fact, everything at PSG has been informed by one obsession: winning the European Cup.
Flashback to 8 March and the evening that a global institution of footballing delight, built on the precise science of triangulation, on the foundations of Pep Guardiola's tiki-taka and on 'Cruyffian' principles of yesterday, was in grave peril after a 4-0 first leg second round Champions League defeat at the Parc des Princes. What transpired at Camp Nou was an all-encompassing assault of D-Day proportions from Barcelona, which PSG, playing with a suicidal defensive line, couldn't resist.
With the 6-1 result, Paris became a tragic parody. The Parisians froze: where had the XI, who had so dominated Barcelona in the first leg, been — the ebullient Angel Di Maria, the electric Julian Draxler? Where was the application of a game plan? And so, Unai Emery, appointed for his European knock-out expertise, didn't deliver when required to.
Emery had failed to impose his swashbuckling Sevilla style in Paris: the high pressing, the rapid transitions and the importance of his full-backs. The players wanted a game based on ball possession, but that often translated into a lateral stasis, a reminiscent of the Laurent Blanc era. His tactical decisions and substitutions, notably at home to Monaco and away to Barcelona in the Champions League, were sometimes baffling.
The Basque became a symbol of PSG's malaise, closely followed by the club's president Nasser Al-Khelaifi, who, at times has been too indecisive and aloof in his management. Back in 2016 Serge Aurier denounced Blanc on social media, but the Ivorian full-back was allowed a return to the first team — a grave mistake, Aurier was 'bigger' than the institution.
Al-Khelaifi ousted Blanc weeks after his contract extension, 'obeying' an order from the Qatari capital Doha. He did appoint Patrick Kluivert as director of football, but the Dutchman had little experience in the role. He let David Luiz go and failed to replace Zlatan Ibrahimovic upfront.
This season was an 'annus horribilis' for PSG, a perfect storm that left the club in an existential crisis with plenty of problems to consider: must Emery remain? What about Marco Verratti? He may want to leave, but player power is of little importance to the Qatari hierarchy in transfer deals. Will the club attract a new 'technical director' with sporting director Oliver Letang leaving and Kluivert out of his depth? Is Arsene Wenger option? Does PSG need more star power?
It's a footballing brain teaser, but a monstrous conundrum for the upper echelons at PSG, who must quickly resuscitate a club from which the sheen is beginning to fade. At least, they can still win the European Cup this season: in June, PSG play defending champions Lyon in the final of the Women's Champions League in the Welsh capital Cardiff.
Sports
India's ranking among Asian Football Confederation members, however, still remained static at 19th place.
Sports
The astrological firm apparently took three sessions with the Blue Tigers.
Sports
Manisha Kalyan is set to become the first Indian to play in UEFA Women's Champions League.