Panasonic Open 2018: Khalin Joshi on course for maiden win after sharing lead with Siddikur Rahman
On Saturday, the traditional moving, Joshi did not just move, but galloped. He had nine birdies – as against three on first day and six on second – against one bogey and from 5-under in T-15th position he is now in shared lead with Bangladesh's Siddikur Rahman
New Delhi: Khalin Joshi often gives the impression of being a young man in a hurry. He hurries between shots; he hurries between holes and even speaks fast. He smiles and admits that. And, then he adds, "I am more calm. I am taking more time in between shots, holes and generally give myself time."
After a stellar career that he rounded off with a brilliant round of 62 at his home course, he turned professional in 2013 and since then he has been showing a lot of promise on domestic and Asian Tours. He has three wins on the domestic PGTI Tour, but none on Asian Tours.
He admits, "Earlier I used to think others are winning but now I am calm and I know I am playing well. It will come when it does. If I keep knocking on the door and keep getting into contention I will ultimately get that win."
On Saturday, the traditional moving, Joshi did not just move, but galloped. He had nine birdies – as against three on first day and six on second – against one bogey and from 5-under in T-15th position he is now in shared lead with Bangladesh's Siddikur Rahman, who feels that this is almost like his 'home course' and where he has an enviable record of 12 Top-10s in 15 starts between 2010 and 2015, including one win and four seconds. His last win, too, came here but in 2013. "It is time to get another one and what can be better than DGC," says Siddikur.
As Joshi moved to shared lead, Ajeetesh Sandhu (70) played round that did not please him in terms of scores, but is happy with his play. He stays third at 12-under and just one behind the leaders.
With Joshi and Sandhu right there, and Aman Raj (68), another young face, who had a breakthrough win on Indian Tour seven weeks ago, in fifth place, there are expectations of a home winner for the seventh time in eight editions of the Panasonic Open India.
Joshi is still looking for his first Asian Tour win, despite two runner-up finishes in Bangladesh (Bangladesh Open in 2015) and Bengaluru (Take Solutions Masters in 2017), while Siddikur stayed in the hunt for his second Asian Tour title at the DGC, where he won his last Asian Tour title, the Indian Open in 2013.
Siddikur battled to 2-under 70 with pars in each of his last seven holes, where he missed a bunch of chances, while Joshi flew to a smooth 64 with nine birdies and a bogey. The duo is now 13-under 203.
Curiously, Joshi shot 64 in the third round of the Take Solutions to get one behind the lead, but faded in the final round to finish T-6 and Viraj Madappa won his maiden title.
Five players including India's Sachin Baisoya (67) and M Dharma (70) were T-6th at 9-under.
Things did not work out well for Jeev Milkha Singh (75) as he slipped from T-6th to T-24th, while defending champion Shiv Kapur (71) played his third successive under par round but could not get going for a low score and was T-17th.
Summing up his fine round, Joshi said, "I got off with a par, I birdied second, made a good par on the third. (I) birdied fourth, birdied fifth and birdied eighth. I had a par on ninth and birdied 10th and 11th. After a par on 12th, I made a bad bogey on 13th where I was just in the rough, but my next shot flew over the green. I had a great chip to about four feet but missed it for par. I birdied 14th, 15th and 18th for 32 on either side of the course."
On how he has handled the course this week, he added, "I have been playing pretty solid all week. I just didn't finish well on the first day. Finished with two bogeys. But other than that I have been playing well. Giving myself more birdie chances, which is the key over here. And I have always struggled to hit fairways in the golf course in the past. You know I have worked on my driving, I am playing more aggressive this year. I am hitting drivers in few holes."
He admitted that not winning Take Solutions Masters in 2017 after he had a great chance, took some time to recover, but then smiled and added, "All that's past and I am ready for new things. I spoke to Shubhankar, we just chatted a bit. I am sure we will talk again and I am feeling good right now."
On Saturday, Siddikur got off to a brilliant start with a hat-trick of birdies, but then bogeyed fourth and ninth and had just one more birdie on 11th.
He said, "It's good that I played in the leader group today. It's been some time since I last played in the leader group. I think I have overcome the nerves today already so I should be fine for tomorrow. One more day to enjoy out there so I am really looking forward to it."
"I got off to a great start with three birdies in a row. Dropped a few shots after that but all in all, it wasn't too bad. I had some doubts here and there about my game during the round but I managed to control myself and told myself not to think about what will happen."
There were two hole-in-ones, by eight-time Asian Tour winner Jyoti Randhawa and by Venezuelan Woolmer Murillo, who plays on the Asian Development Tour. Both aced Par-3 12th, but the prize of a Panasonic product was available as a prize only for a hole-in-one on the Par-3 17th.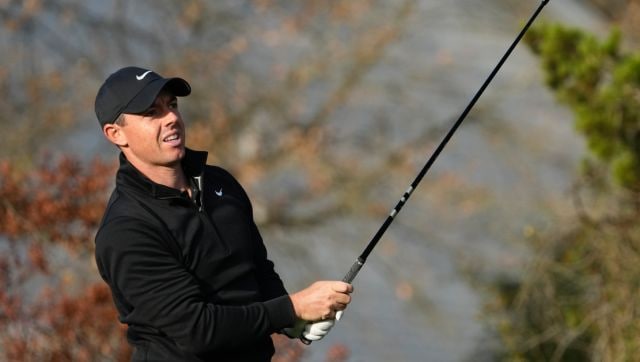 Sports
Several golfers, notably former World No 1 Dustin Johnson, joined the lucrative LIV Golf series after previously insisting they remained committed to the PGA Tour.
Sports
PGA Tour have proposed moves to combat the rise of LIV Golf, which has steadily been luring star names to sign with the upstart circuit
Sports
After a thrilling three-man fight down the back nine at The Country Club, Fitzpatrick fired a two-under-par 68 to finish on six-under-par 274 and defeat Americans Scottie Scheffler and Will Zalatoris by one stroke.