It was a particularly muggy and drippy afternoon in Ipoh, Malaysia. India were playing Australia at the 2017 Sultan Azlan Shah Cup when Eddie Ockenden lunged forward to pick up a ball in India's striking circle. P Sreejesh, off his line to stop Eddie, skidded, the knee bent at an awkward angle. Three minutes later, he was being helped off the pitch by former full-back and stand-in manager Jugraj Singh.
That was five months ago. Sreejesh had experienced one of the most common knee injuries – the anterior cruciate ligament sprain or tear (ACL). The cruciate ligaments are found inside the knee joint. They cross each other to form an 'X' with the anterior cruciate ligament in front and the posterior cruciate ligament in the back. In the five months since, Indian hockey has found itself at the crossroads and staring at an existential crisis.
What seemed a pretty smooth road to the 2018 World Cup, twisting and turning through the Commonwealth Games (CWG), Asian Games, past the Hockey World League Finals and then onto the freeway leading to the 2020 Tokyo Olympics suddenly turned bumpy. India failed to reach the final of the Azlan Shah, and couldn't make it to the last four of the HWL semis in London. Worse, they lost to Malaysia and Canada when it seemed the team could canter through.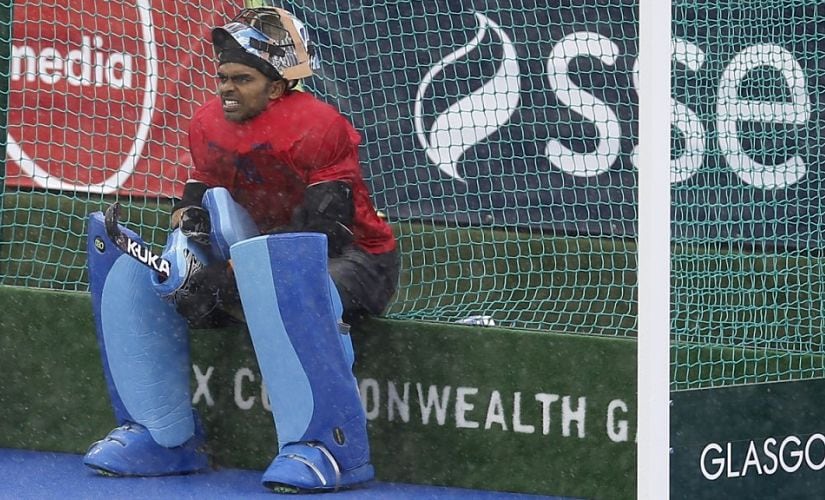 The biggest casualty has been the sacking of Olympic-bound coach Roelant Oltmans; a direct result of the losses that piled up. It would seem churlish or even downright discourteous to redline that all the issues the team faces now are simply because of the absence of one player. To the critics, it would appear like a one-player team; a recipe for disaster. But the same was said of Sardar Singh at his peak; of Dhanraj between 98' and 2000 or even when Prithipal Singh was at his peak between 1960 and 64'.
It's been a while since India looked up to a goalkeeper to deliver. Since 2011, when India won the first Asian Champions Trophy at Ordos where Sreejesh kept away Pakistan in the tie-breaker, expectations have grown. Sreejesh too has delivered.
Amidst the chaos that engulfs Indian hockey at the moment, will Sreejesh, the man expected to lead India back to a top four position heal in time? Or have the injuries' taken their toll on a man whose 'mind' is considered unbreakable?
Col (Dr) Bibhu Nayak, specialist on deputation (sports medicine) at Delhi's AIMS laughs off the suggestion that Sreejesh can in anyway be bogged down with injury.
"He has been regular when we were having the rehabilitation period," says Dr Nayak. "Yes, it's a difficult injury and it does take a toll on the person. I mean, you literally have to learn how to walk, sit do what you normally take for granted. But knowing him as a person and player both, he would be out of that 'worry' zone quite fast and back in his position as India's number one goalkeeper."
ACL injuries are common but just as some players have come back successfully, there are several who don't quite make the grade – either they are afraid of going all out or the injury hasn't been allowed to heal completely. "I don't think that will be the issue in this case," explains Nayak. "There is no fast tracking of Sreejesh happening. He hasn't played since the injury and the rehabilitation has been good. It's definitely up to Hockey India and the team management but I am quite sure they won't push him back into the team knowing the importance of him as a player or a team leader."
Over the years, Indian hockey goalkeepers have not really been considered demigods. And neither they enjoy the usual fan worship. In recent times, Ashish Ballal and before him Mark Patterson were the ones that enjoyed top billing along with the star forward or the goal-spewing penalty corner specialist.
Sreejesh changed all that. His performance, his leadership skills and his penchant to play the fool endeared him to hockey fans. He caught the imagination of the nation thanks to his confidence and the fact that he could motivate an entire team. Tournament after tournament, match after match, fans were confident that Sreejeesh could take on the European and Australian heavyweights, save goals and ensure India have a decent chance of winning the match.
The brilliance between the goalposts gave India that buffer and the day he wasn't on song, defenders found it difficult. By the time he arrived in Incheon for the 2014 Asian Games, he was the man India turned to for salvation. And it arrived in the final against Pakistan where he kept away the Pakistan forwards with a few brilliant saves and then his performance in the tie-breaker gave India the gold.
So when that ACL popped in the humidity of Ipoh, it was time to recalculate. Romeo James, the 84' Olympic Games goalkeeper and someone who has worked with Sreejesh says, "The position of the goalkeeper was always very crucial. But since the 4 quarters were brought in, he plays a huge role especially in the 4th quarter with the score board at 1-1. A man like Sreejesh, unless it's an out and out brilliant flick, I know he will save it. And for that reason alone, he needs to be brought back into competition when the management is absolutely sure that he is more than healed."
Three months prior to the 82' Asian Games, Mir Ranjan Negi had a knee surgery and he was fast-tracked into the final against Pakistan. Though, hockey is a team game and sometimes you can be up against a brilliant team, in this case, Pakistan, but Negi could have been rested. But as Romeo, a part of that 82' team also, says, "Medicine, thinking, physios, everything has changed. These are modern times and players are looked after very well and in this case, Hockey India understands the role of Sreejesh. He will be brought back only after he is ready to come back."
India's high performance director, David John, believes there will be no bringing back Sreejesh in a hurry. "It was a significant injury," says David. "There is no way he will be at the HWL Final in December. But we will take him to New Zealand in January and test him out slowly so that he is back in form for the CWG and the later tournaments."
David also says that a number of tests will be done so that all parameters are satisfied. "He is a world class goalkeeper and no way will we risk India's position in the coming tournaments," John added.
Confidence is a massive thing for a goalkeeper. Conceding early or saving a few early can make a world of difference. That is the aspect that Romeo points towards. "Bringing him back against a soft team would be better," he says. "If he concedes early, it does play on your mind. Even though he is the kind that may not get fazed at all. But his confidence needs to be nursed. In golf, sometimes when you miss small putts, it can tell on the overall play. So bring him back slowly and give him enough confidence."
For the man himself, the national captain P Sreejesh, it's like old times at the camp in Bangalore. He is bantering around, doing his act. And he plays the part of a sardar to perfection. A turban which is tied perfectly and for a second, you are almost fooled into thinking 'have I seen this Sardar somewhere?'
"Yes, I was hugely disappointed when it happened," says Sreejesh, referring back to that afternoon in Ipoh. "I cried, asking myself 'what do I do?' I knew it was the ACL. But then I started reading. Took feedback from a lot of people and realised that it will take 6-7 months. I reached India and went straight to Dr Anant Joshi who said it's an ACL plus a MCL (medial collateral ligament) and that he would fix the MCL first and then get onto the ACL. So he advised surgery and then I went back home and took a three weeks break."
It was after the break that Sreejesh came to Delhi to Dr Nayak. "I literally had to learn how to walk," says Sreejesh. "Climb the stairs and even how to sit in a car. It's something one needs to do because the healing is the most crucial aspect of the injury."
It's probably this very healing that didn't happen to Rajiv Mishra, India's highest scorer in the 97' Junior World Cup, who after a knee surgery went back into a match, three weeks later. A career that promised so much was completely destroyed.
Away from his teammates, watching them play at the HWL Semi-Finals and the team not doing well must have been frustrating for Sreejesh. "I was watching the team on TV. For me it was like watching from the dugout. Emotionally, I was with the team. But no, I didn't call them up or something. That I don't do. Even when we play badly and I am in the team, I don't lecture any player. From the bed, I discussed the game with my father."
Maybe the break was a balm for Sreejesh. Or as he says, he saw the world in a 'different perspective.' "I got time with my family," he says. "We had a kid, a son, and I got some time with him. When I had my daughter, I could only see her for four days. Here I was with my son and with my family I went to the temple in our village Kizhakkambalam."
Sreejesh does admit that opinions came from all directions – do this, do that and some even said it's the end of your career. "But I trust myself," says Sreejesh. "Injury is itself a feeling. It's a part of the game. It's a bad time, no doubt about that. But you need to rise above that. Everything happens for a reason."
Sreejesh is glad that he was at the naming ceremony of his son, Sriansh. His daughter is called Anusree; definitely a lot more 'Srees' around in the family.
It will be nine months before Sreejesh enters a competitive match, in faraway New Zealand in the month January. 2018 will be a massively important year for Indian hockey. Podium finishes at the CWG and Asian Games are a given but it's the World Cup in December that Sreejesh will look forward too.
Once on the ground with the home fans roaring away, the Indian captain peering ahead through the visor, the days away from the turf, the operation theatre, recovery, healing, rehabilitation, all those days will seem far away like an unwanted dream sequence. Standing under the lights, the stick in his right hand, Parratu Raveendran Sreejesh will be back, on his own terms, fears banished forever.
Your guide to the latest election news, analysis, commentary, live updates and schedule for Lok Sabha Elections 2019 on firstpost.com/elections. Follow us on Twitter and Instagram or like our Facebook page for updates from all 543 constituencies for the upcoming general elections.
Updated Date: Sep 22, 2017 17:02:11 IST