Our preparation began a year before Rio Olympics: Dr Kiran Challagundla, third member of Team Sindhu
Firstpost spoke to the unassuming Kiran Challagundla, the third member of Team PV Sindhu, responsoble for the silver medal at the Rio Olympics 2016.
Since PV Sindhu won the silver at the Rio Olympics 2016, the focus has been on the player and her coach Pullela Gopichand. But there was a third member of Team Sindhu who kept away from the media limelight – physio Dr Kiran Challagundla, the unsung hero of Team Sindhu. He played a critical role in ensuring she stayed 100 percent fit in the run-up to Rio and at the Olympics. Seen in the context of the serious injury to Saina Nehwal, 36-year-old Kiran's role cannot be overemphasised.
Firstpost spoke to the unassuming Kiran Challagundla on what really happened behind the scenes and how he prepared Sindhu for the big event.
Congratulations. You have been part of the Gopichand Academy since 2009 and a lot of work went into winning that silver medal for India, isn't it?
Yes. The work started one year back because we knew both Sindhu and Kidambi Srikanth will qualify to play the Rio Olympics. So we started preparing last year. The decision on when an athlete should peak is very important. She should not have peaked in December 2015 or March this year. So we worked on some of the key aspects.
How does the process of peaking happen. Explain to us in non-sporting jargon, what it exactly means.
It differs from athlete to athlete. Different kinds of training works to pump up different athletes. For some, long distance running works, for some working out in the gym works better. So as a physio, you need to understand the sportsperson's body. That happens by trial and error. But at the same time, one needs to take care how much to push the athlete, because if you push more, it can lead to injury. There is no one formula.
So you target a tournament and work towards peaking during the tournament, right?
Yes, we need to ensure peaking does not happen at uneven times. If there are ten tournaments in a year, obviously not all of them are of the Olympics level. We need to decide when the body will be 80 percent fit or 90 percent fit, depending on the importance of the event.
This is almost like a manual on how to win an Olympic medal. So you work on the body and Gopi works on the skills, right?
Gopi changed the skill and application levels a few months in the run-up to Rio. For instance, we know that both Sindhu and Srikanth are good smashers but Gopi changed the skill in such a way that Sindhu did not go for too many smashes but whenever she did, she got a point. So her body has to be fine tuned to ensure it works.
Once you landed in Rio, you would have had to acclimatise to the conditions there and fine tune if necessary?
Yes. All the work was done before we left India. In Rio, we only had to fine tune the fitness. The problem was we had landed on 3 August and the matches were till 19 August. That was a long period during which to ensure peak fitness. That was critical.
Along with peak physical fitness, it was also important to ensure that Sindhu was kept mentally calm, isn't it?
Very important, I would say. To ensure that, Gopi Bhaiya and I worked as a team. Sindhu had no access to a telephone or social media. Gopi had taken away the phone from her in India itself. He did not want any sort of distractions. But then we were conscious of the fact that she is only 21, who is used to interacting with her parents and sister, to who she is very close. So Gopi and I used to keep changing our roles, we would be a strict father at times, an affectionate mother at other times, also as a friend who would tease her. Just ensure she remained at peace and did not stress out.
Games are lost many times in the mind rather than because of poor technique so what you are saying is very important.
Yes, as she was disconnected from friends and family, she was looking for them in us. On court, Gopi will be a coach but in the dining hall, he was like her father. We needed to keep her calm and focused. That was top priority.
Your return flight back to Hyderabad was a total travelling and stopover time of 35 hours, via Sao Paulo and Dubai. And then you spend the next two days on top of a double decker bus. What does it do to jet lag?
(Laughs) Actually with so much activity happening around you, I don't think Sindhu has experienced jet lag. She is only 21, she is fine. In fact, even when we went from here, it was the same travelling time and we are usually used to travelling times of about 10 hours or so. But we designed the schedule in such a way that within 12 hours, Sindhu's jet lag was out.
The unfortunate part of the Rio campaign was that Saina Nehwal got injured and was upset by a player ranked 61 in the world. You have worked with Saina, how bad is her injury?
I do not have the full details beyond what I read in what she had put out on Twitter. All I would say, having worked with Saina, is that Saina is Saina and she would bounce back. In fact, Sindhu had an injury to the ankle but luckily it was one and a half years back. But while Saina opted for surgery for her knee, we went for the conventional non-surgical treatment for Sindhu.
But do you think it was the right decision for Saina to play with such a serious injury that has now put her out of action for four months?
When she came to Rio, there was no investigation. People were not aware of the extent of the seriousness of her injury. We met a sports medicine doctor there who too could not figure out the seriousness of the injury. When she spoke to me, I gave her a realistic expectation of how much she can push herself.
How much did you tell her she could push herself?
I would not be able to reveal that exact detail but yes, if 100 percent is what is desired, it was less than that.
You worked with IPL team Deccan Chargers in 2008, before shifting to badminton. But in terms of the nature of injuries, cricket and badminton would be different as chalk from cheese, right?
Very different. Modern badminton tests every part of the player's body. Whereas injuries in cricket are in a different body part for a bowler and different part for a batsman or a wicketkeeper.
The other unfortunate incident that occurred in Rio involving marathon runner OP Jaisha saying she was not provided with water and energy drinks during the race. How does this kind of a goof-up even happen? It is most natural that an athlete should be provided for, instead of her asking for water.
I cannot say what happened in the marathon, whether it was a case of miscommunication. I can speak about how it happens in badminton. We know what the players need, there is no need for them to ask for anything.
In many senses, you are the unsung hero of Sindhu's campaign at Rio, staying away from the limelight but playing such a critical role.
Money and fame should not be aim of any profession. Of course, it is important but giving support is also important. In fact, even after our return I tried to avoid the media but Gopi Bhaiya and Sindhu pulled me and wanted me to be there. That is sufficient. At the academy, I get a lot of attention.
What happens next, you have the Superseries tournaments like Japan Open and Korea Open coming up in September. Would Sindhu not be at her peak, technically speaking?
We have not decided which tournaments she will be playing. It depends on how many days we will get to prepare. So the fitness regimen will be tailored accordingly.
Sports
At the Tokyo Olympics earlier this year, the USOPC stopped short of mandating Covid-19 vaccines for its members. Around 100 of the 613-athlete US team travelled to Japan without being vaccinated.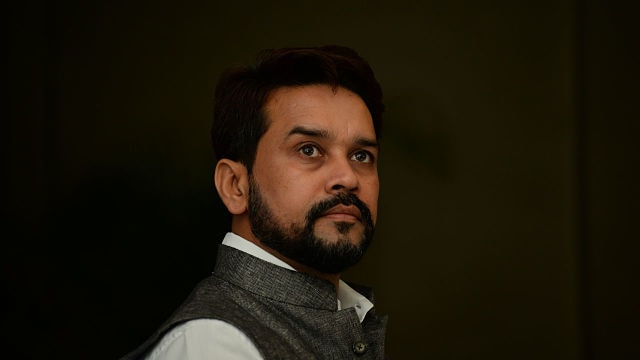 Sports
Thakur also said that there will be a talent hunt programme for various sports to identify youngsters and train them for future events.
Sports
"A small dream of mine came true today as I was able to take my parents on their first flight," wrote Neeraj on Twitter.