Organised, spirited, impassioned: Wales' incredible journey to Euro 2016 semi-finals
The seeds of the forest of Welsh success that has grown in France over the last few weeks were sewn not by Galactico Gareth Bale or his manager Chris Coleman, but by former manager John Toshack.
The seeds of the forest of Welsh success that has grown in France over the last few weeks were sown not by Galactico Gareth Bale or his manager Chris Coleman, but by former manager John Toshack. When he was appointed to the Wales manger's role for the second time in 2004 — his first stint in 1994 had lasted just 41 days before he resigned — they were at a crossroads.
For a long time Toshack was seen as the great Wales manager that they never had. He had a good track record at club level. He oversaw Swansea City going from the fourth division to the first in the late 70s and early 80s. He was in charge of Real Madrid not once, but twice. Ever since that brief stint in charge in 1994 that ended after defeat to Norway, Welsh fans had wanted him to be in charge. By the time he was back in the job it was a mixed bag, he never made it to a major tournament or saw the success that Coleman has had, but for many he was the one that started the whole process.
When Toshack started as Wales boss, the players that had been the cornerstone of the national team for the last decade were either retiring or on the verge of calling it a day. Toshack had much publicised fallings out with the likes of Robbie Savage and Craig Bellamy, for so long the mainstays of the national team.
Toshack decided that the answer was youth and recruitment. The youth part is pretty obvious, this Wales team is still very young and have been playing international football for a long time now. Of the players that were given their debut under Toshack, nine have had a playing role in the Euro campaign in France and 14 are in the squad.
The recruitment side of things was led by the then Wales Under-21s manager Brian Flynn. Toshack was recently interviewed by the Daily Mail and he made clear how important his role was. "Brian Flynn was manager of the Under-21s and he deserves so much credit — the plan was to find Welsh players wherever we could and he was brilliant at it. If your dog was Welsh, Flynny would know about it."
One of those who came to the side this way was the captain Ashley Williams, who was born in England but has a Welsh grandfather. He was playing for Stockport in the third tier of English football when Flynn and Toshack scouted and recruited him. This is perhaps a shortcut to success, but after so many years of failure it was something that Toshack was convinced was worth doing. As Williams headed home against Belgium to equalise for Wales in a European Championship quarter-final, the gamble certainly paid off. Williams may have been brought into the Wales side in a roundabout way, but no one can doubt his commitment.
Some of the credit needs to go to Gary Speed who took over from Toshack during the qualifiers for the 2012 European Championship. The project of focusing on youth and finding new talent was just bearing success, but the Football Association of Wales (FAW) decided to move on and few argued with the decision. The feeling being that Toshack had taken the team as far as he could.
During Speed's brief stint in charge of the team, Wales went from 113th in the FIFA Rankings to 48th earning them the "Best Movers" title. But by the time that award had been announced Speed had passed away, a tragedy that shook Welsh football to its core.
What Speed had done while he was in post was turn that group of passionate and talented youngsters into a team that was organised and spirited. When Coleman took over as Wales boss he only added to those traits as they qualified for Euro 2016 with just one loss in ten matches, second behind Belgium — a team they beat in qualifying and then again in the quarter-finals of the tournament proper.
The feeling of closeness that this team have discovered after coming of age together is such that BBC journalist Dafydd Pritchard tweeted the following after talking with a member of the Welsh support team.
Spoke to a member of Wales' coaching staff earlier. Players have been saying they wish Wales could form a club side. Sums up the spirit.

— Dafydd Pritchard (@DafPritchard) July 3, 2016
And this sums up so much of this side, they are playing with each other, but more than that they are playing for each other. It is that closeness and that understanding of how each of them play the game that has led to them making a European Championship semi-final.
There they will play against Cristiano Ronaldo's Portugal, a team that are yet to win a match inside 90 minutes at this tournament and who have been about as enjoyable to watch as root canal surgery, but are a hugely talented group of footballers. If football were played on paper, this Portugal side would win and win easily. But if football was played on paper, Wales would not be one match away from a final at a major tournament.
They say the journey is more important than your final port of call, that it is how you get there that really counts, not what you get when you arrive. But if this Wales team, created by Toshack, moulded into a team by Speed and finished by Coleman, end this journey holding a giant silver cup it will be an amazing route that they took and an even better final destination.
Subscribe to Moneycontrol Pro at ₹499 for the first year. Use code PRO499. Limited period offer. *T&C apply
Sports
Forlan goes back a long way with Luis Suarez, to 2007 when he set up Suarez's first goal for Uruguay and to 2013, when Suarez set up Forlan's last.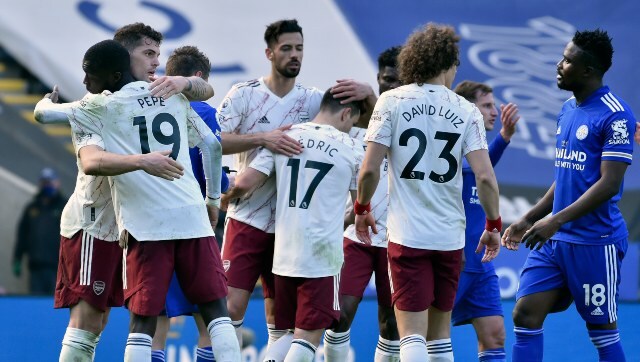 Sports
The defeat left Leicester in third place, trailing leaders Manchester City by 13 points with 12 games remaining.
Sports
Ronaldo hadn't scored for Juventus since the start of the month. He came close on a couple of occasions before breaking the deadlock in the 38th minute when he headed in an Alex Sandro cross.