Open Championship 2018: Shubhankar Sharma shows his class by winning a battle against all odds to make the cut
India's Shubhankar Sharma showed fortitude in oodles in making his first cut in a major championship on Friday at the Open Championship.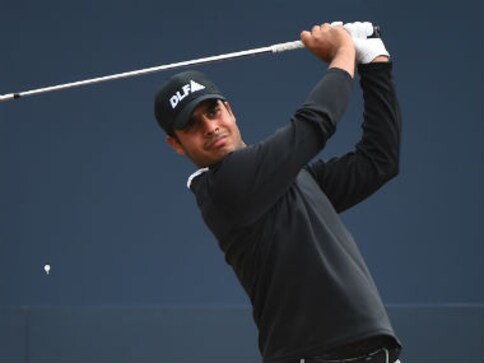 Fortitude… the ability to somehow squeeze out a miracle from your mind and body when everything seems to be going against you. Over the years, that has been one quality in sports that has really separated the men from the boys. India's Shubhankar Sharma showed that in oodles in making his first cut in a major championship on Friday at the Open Championship.
Nothing was going right for the man who turns 22 on Saturday, halfway into his second round. After a battling two-over par 73 effort on the opening day, he needed to either stay there or do better to ensure that he saw the action over the weekend.
The first five holes, Sharma was great off the tee, dissecting the fairways with the precision of a surgeon. But his approach shots were not dialled in and he never got any chance. The next four holes, he started spraying it wildly with his tee shots, and on a course like Carnoustie, that can only lead to disaster. The few chances he got, the putter refused to cooperate with him.
And then there was the weather. Sharma has virtually enjoyed an Indian summer so far in Scotland, with hardly any rain during last week's Scottish Open, or so far at the Open Championship. Used to playing in dry conditions, the incessant rains posed its own set of challenges.
Suffice to say things did not look good at all when he made back-to-back bogeys on the eighth and the ninth holes.
And then came the turnaround.
Sharma felt he found something on the green when he missed the par putt on the ninth hole. It was a 15-footer which he missed, but something clicked. So, after giving himself a bit of pep talk on the 10th tee and standing on a putt of similar length for birdie after two good shots, he saw nothing but the perfect line.
The first birdie of the day brightened things up considerably, and from then on, Sharma was unstoppable. There was a stutter on the long and tough par-4 12th, but that could not dampen his mood. He quickly bounced back with a birdie on the par-3 13th.
A birdie on the par-5 14th was on expected lines — it would be a sin not to make one there considering how easy it was playing and more importantly, because up next for the Sharma was the famous closing stretch of Carnoustie; holes 15 to 18 are brutal. Even the slightest of mistake is accentuated by a terrain that has teeth sharper than a piranha.
It was of paramount importance that Sharma played those four holes without dropping a shot. He had pulled back to three-over par for the tournament, a number that looked like a good bet for the cut to fall on.
And this was where he once again showed his mental strength and tenacity that has made the golfing world sit up and take notice of the young man. Pars on 15-17 was followed by a birdie of outstanding class on the 18th, where he struck a stunning second shot from the rough to six feet and made the putt to finish with a birdie.
It was his demeanour, even when things were not going his way, which stood out. Sharma even managed to joke with the fans during the round.
On the fourth tee, a mobile went off twice as he was getting ready to hit his tee shot. That would have upset most players in the field, but he took it in his stride. He smiled towards the direction of the person and quipped: "Is that your morning alarm finally going off now?"
But Sharma admitted to nerves, and nobody can fault him for that. It is his first Open Championship and comes at a time when he has had hardly any experience of links courses.
"I was trying to be as comfortable as possible. I was trying to be as free as possible on the course, but inside I was nervous. It wasn't easy out there. Every shot was a struggle," said the world No 87.
"But, you know, at the end of the day, you keep reminding yourself that you have to play almost like you're playing any other tournament, playing a round back home. You have to just keep it that simple. If you let the pressure of a major championship get to you, you will mess it up.
"So, I was just trying to be as calm as possible, just trying to have as much fun as possible, and really happy that I finished well."
Sharma became the eighth Indian to play the Open Championship, and the youngest ever to make the cut. It is also only the seventh time in the history of the tournament, which dates back to 1860, that an Indian player will be in the final two rounds.
First Cricket News
"The move is the first major overseas expansion of Reliance Industries' cricket operations in the global franchise-based leagues," according to a release.
First Cricket News
Jahid is the third player from Essex to accuse it of racism that has rocked English cricket in the wake of the Yorkshire-Azeem Rafiq episode.
First Cricket News
Baroda Cricket Association Ajit Lele told PTI that Krunal communicated his decision to the state body on Friday but did not give any reason for leaving the leadership role.