Oman are a better side but we will give them a fight: Indian striker Sunil Chhetri
Star striker Sunil Chhetri conceded that Oman are a better side than his team but asserted that the Indians will play without any pressure when they take on Oman in their AFC qualification match
Bengaluru: Star striker Sunil Chhetri conceded that Oman are a better side than his team but asserted that the Indians will play without any pressure when they take on Oman in their AFC qualification match for the 2018 FIFA World Cup in Bengaluru on Thursday.
Responding to a query about India's chances against Oman, Chhetri said, "Let us be very clear in our minds, that we are playing a very good side. Oman are a better side than us. We need to give our best, and have to be positive and make the rivals realise we are giving them a fight."
"We have young players and they have a clean mind, which is not under pressure or any kind of tension -- tension spriniging from past track record against rivals like Oman. This should work to our advantage," he said at the match-eve press conference.
Asked about the army training which the entire team and support staff underwent at the Army Corps Centre here, Chhetri said the exercise brought the players together but it was not something which would do wonders for the team overnight.
Indian footballers had undergone army training as a new concept in team building exercise, which happened at the Army Service Corps Centre (ASC) where footballers were put through obstacle courses consisting of 21 different barriers and also team building recreational games.
"The training was good which brought us together, but it is not something that has been highlighted by the media as a game-changer. It is not something that it will make Ninjas out of this exercise," he said.
Chhetri has not been among goals as he scored just 11 from 28 matches he played this season so far. The biggest disappointment was his below par goal-scoring performance in the I-League where he played 20 games and scored only twice.
"To be honest it bothers me (of not having scored too many goals), if you see my stats this season," he said.
PTI
Find latest and upcoming tech gadgets online on Tech2 Gadgets. Get technology news, gadgets reviews & ratings. Popular gadgets including laptop, tablet and mobile specifications, features, prices, comparison.
Sports
Because of coronavirus restrictions, a maximum of 5,000 fans are allowed at games, unless clubs get a special dispensation from their local authority.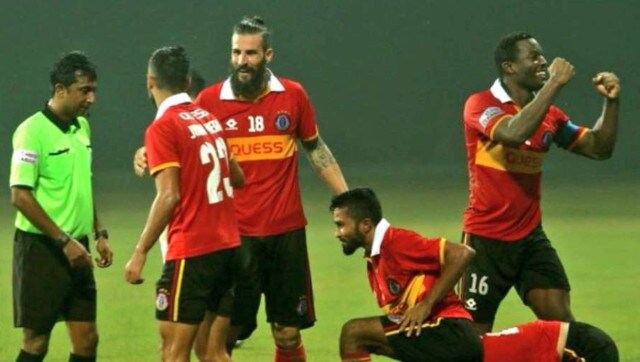 Sports
East Bengal's investors have registered a new company named Shree Cement Foundation to pick up and submit bid documents for one franchise slot in the upcoming Indian Super League.
Sports
Manchester City said both Riyad Mahrez and Aymeric Laporte have not displayed any symptoms and are in self-isolation.