Olympics 2016: Why private funding for Rio-bound athletes is good for Indian sport
But there is another unprecedented number that shows just how the long way that Olympics sports have come in India with as many as nine private sector companies signing up as sponsors for the Indian contingent
More than a hundred.
This is a number India should be proud of.
The 2016 Rio Olympics will India send a 100-plus strong contingent, its largest in Olympic history, for the first time. The unprecedented number of athletes who has qualified for the Games is a sign of just how far Indian sport has come in the last years. To understand the significance of this century, consider this — India had 83 participants in the previous edition at London, while the 2008 Beijing Games saw 56 members in the Indian contingent, almost half the figure today.
But there is another unprecedented number that shows just how the long way that Olympics sports have come in India.
As many as nine private sector companies have signed up as sponsors for the Indian contingent at the 2016 Olympics, according to Hindu Business Line.
This number should be cheered as much as the number of participating athletes. Because, this is the first time that the private sector will be contributing to national sport on such a large scale. This support will be crucial to India's chances, because at the end of the day, it is the off-field support that often matter as much as the performance on field.
Shooter Anjali Bhagwat, who has represented India in three consecutive Olympics, reaching the finals in 2000 at Sydney, welcomed the corporate support. "It's a good thing, because we wanted corporate to get involved in sports. When I went for the Olympics I didn't have any ammunition in my hand for practise, and had to borrow and buy it there at the Olympics. Athletes going to the Olympics need sponsorship and support and private funding need sponsorship and support because even though the government is largely funding them, there are some limitations," Bhagwat told Firstpost.
Having the facilities and equipment in hand can make a huge difference to athletes' preparation, as they can focus on their training and not in gathering funds for their Olympic sojourn. As Bhagwat points out, this is a marked difference from how things were in the not so distant past.
Anju Bobby George, who represented India in Long Jump at the 2004 and 2008 Olympic Games also reiterated how things have changed from her time as an Olympian. "In our time we struggled a lot for getting funds, but now it is getting easy. Even in the last Olympics, there was private support but this time there is more support and it's good because this way they can focus on training rather than running here and there for support and money. This will help athletes deliver their best," she told Firstpost.
As both former athletes have said, this development is a vast improvement from the previous Olympics. On being asked what has been the catalyst for this change, George attributed it to awareness.

"Everything has changed now because people are aware about the Olympics and World Championships. We can see the change because this time more than 100 athletes have qualified for the Olympics," said George.
Bhagwat adds that the awareness has increased due to the achievements of Indian athletes. "Indian athletes have shown results on the international level and thus have got coverage and popularity. Sport has reached the common man and participation has increased, which has lead to corporate showing interest in the athletes."
Among the companies sponsoring Indian athletes are Edelweiss Tokio Life Insurance (of financial conglomerate Edelweiss Group) and Amul. Edelweiss will be the principal sponsor of the Indian contingent at Rio Olympics and has offered a life Insurance cover of Rs one crore for each athlete representing India. The Gujarat Cooperative Milk Marketing Federation (GCMMF), which sells its product under the brand Amul, will also pay Rs one crore to the Indian Olympic Association (IOA) for sponsorship.
This is sure to go a long way in helping Indian athletes prepare better as Viren Rasquinha, CEO of Olympic Gold Quest (OGQ), is a Not for Profit organisation had said in an interview with Firstpost,"All our funding comes from the private sector from corporate, from HNLs, or from the 'aam aadmi', so every drop counts."
When the 100-plus strong Indian contingent begins their quest for medals in Rio from 5 to 21 August, it will be historic in more ways that one for both the athletes and Indian sport.
Sports
2016 Rio de Janeiro Olympics refugee team had 10 athletes.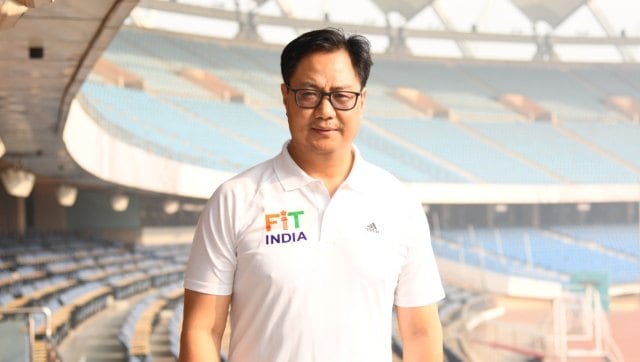 Sports
A total of 100 Indian athletes have so far qualified and another 25 to 35 might make the cut for the delayed Tokyo Olympics scheduled from 23 July to 8 August.
Sports
The IOA on Tuesday dropped Li Ning as its official kit sponsor for the Olympics to 'honour public sentimen'.