Olympics 2016: From Michael Phelps to Refugee Team, the most enduring moments from Rio
Here are some enduring takeaways from the 2016 Rio Olympics.
Shaking to samba and expressing a sense of longing with uniquely Brazilian words, Olympians and fans said goodbye to the Rio Games with one last big bash that was both revelatory and a sigh of relief.
The closing ceremony Sunday celebrated the 16-day spectacle that was the Rio Games, which combined numerous highlights with ugly and even bizarre episodes that sometimes overshadowed competition. Cariocas — as Rio's residents are known — weren't swayed by the issues that led up to these Olympics, and braved rain and strong winds on the final night to cap their moment in the worldwide spotlight.
While South America's first Olympics are over, safely and with a grandiose finale, many problems remain. Still, Brazil showed that it still definitely knows how to party.
Here are some enduring takeaways from the 2016 Rio Games:
Sealed with a kiss
Swimming great Michael Phelps regained his cherished 200m butterfly Olympic crown, dominating a grudge match with Chad le Clos in which the 2012 champion from South Africa was relegated to fifth place. Phelps, 31, held off the challenge of young rivals Masato Sakai of Japan and Tamas Kenderesi of Hungary — then enthralled the Olympic Aquatics Stadium crowd with a climb into the stands to share his moment of triumph with three-month-old son Boomer, snuggled in the arms of his mother Nicole Johnson with Phelps's mother Debbie, at their side.
Diniz drama
World record-holder Yohann Diniz's courageous effort in the 50km race walk ended in an eighth place finish and a stretcher. The Frenchman set a torrid pace in the sultry heat and led by one minute, 40 seconds at the halfway stage. He soldiered on through severe intestinal trouble before collapsing at the 38km mark, only to rise and finish the race, five minutes and 45 seconds behind winner Matej Toth of Slovakia.
Another world
The Rio Olympics threw the economic disparities of Brazil into sharp relief. The 5 August opening ceremony at Maracana was low on technology and high on invention thanks to the economic constraints faced by the recession-hit nation. But the festivities seemed a world away from those watching the fireworks from a terrace in the Mangueira favela, a slum where some of the nation's poorest live less than a kilometer from the iconic stadium.
To our leader
North Korean gymnast Ri Se-Gwang had tears in his eyes as he stood to attention on the podium, giving a military-style salute as his national anthem blasted out in honor of his men's vault gold. The two-time world champion crushed his rivals with the hardest combination then lauded North Korean leader Kim Jong-Un. "It does not mean anything to me," he said. "It is a gift that I present to my country."
Shattered
A horrifying injury to French gymnast Samir Ait Said in men's vault qualifying shocked competitors and prompted questions about a scoring system that pushes athletes to try increasingly dangerous moves. Ait Said snapped the lower part of his left leg in an awkward landing, suffering a double tibia and fibula fracture. He was in agony as his leg flopped to one side to gasps of horror from the crowd and other gymnasts. Ait Said, who missed the 2012 games after breaking his right leg in a vault, was out and about in Rio on crutches before the Games ended, visiting France House and insisting, "The adventure of Tokyo 2020 is still possible".
Worth the pain
Middleweight Misael Rodriguez begged for money on Mexico City's streets and buses to fulfil his dream of reaching the Rio Olympics, saying the trip was "well worth all the pain" despite coming away not with gold but bronze in a division won by Cuba's Arlen Lopez.
Handshake snub
Egyptian judoka Islam El Shehaby was jeered out of the Olympic arena after refusing to shake hands with his Israeli opponent Or Sasson, or make the customary post-bout bow. The snub reverberated beyond the bounds of Rio, with the International Olympic Committee saying the Egyptian Olympic committee "strongly condemned" El Shehaby's action and he was given a strong reprimand.
Vilifying Lavillenie
French pole vault star Renaud Lavillenie was reduced to tears on the medal podium as a hostile crowd showered him with boos for a second time. Lavillenie had lashed out at fans who subjected him to deafening booing and catcalls during his dramatic duel with Brazilian Thiago Braz da Silva — which the home favorite won. Lavillenie compared it to the treatment of black runner Jesse Owens at the 1936 Berlin Olympics. But pleas for sportsmanship and respect for the Olympic spirit brought no relief as he accepted his silver medal.
Three times three
Usain Bolt danced for joy with his Jamaican relay teammates after anchoring the squad to a 4x100m victory that sealed his Olympic "triple-triple" — his third straight sweep of the 100m, 200m and 4x100m golds.
Bolt, who says Rio was his last Olympics, departed the Games with nine gold medals, level with Carl Lewis and Paavo Nurmi for most among track and field athletes.
"We wanted to win to make Usain immortal and he is immortal," relay teammate Yohan Blake said.
Feelgood factor
For the first time, a team of refugees took part at the Games. IOC president Thomas Bach said they were treated like "rock stars" in the athletes village with competitors asking for selfies. It was 10-strong and included Congo's Popole Misenga who won over the judo arena crowd by making the second round where it took a world champion to beat him. The team also featured Yusra Mardini, a teenage swimmer from Syria who braved a Mediterranean crossing in a leaky dinghy, and compatriot Rami Anis who fled the war-ravaged nation in 2011 to avoid being enlisted into the army.
Kosovo appeared at its first Olympics and took only two days to get its first gold — Majlinda Kelmendi in the judo. Fiji got their first medal by winning the rugby sevens. Tennis player Monica Puig gave Puerto Rico their first gold at a Games; hammer thrower Dilshod Nazarov did the same for Tajikistan as did Cheick Sallah Cisse for Ivory Coast in taekwondo.
Neymar to the rescue
Brazil set the target of being in the top 10 in the medals table and did not make it. Judoka Rafaela Silva got the hosts only gold in the first week. They ended with six. But thank goodness for Neymar. The football team started with lacklustre 0-0 draws against South Africa and Iraq and were roundly lambasted by their diehard fans.
But Brazil got it right on the night when, superstar Neymar scored the winning penalty in a shootout victory over Germany.
It was the hosts' first football gold and was also sweet revenge for the humiliation of their 7-1 World Cup semi-final loss to the same opponents two years ago on home soil.
Ladies first
The United States and Australia sent teams to Rio that had more women than men. The US had 292 women in their squad and 263 men while Australia had a 212/207 split.
Men behaving badly
Ryan Lochte was condemned as the ultimate 'ugly American abroad' for his made-up story that he and three teammates were robbed at gunpoint. In fact the four swimmers had only been stopped by security and made to pay compensation for drunkenly vandalising a gas station bathroom.
European Olympic chief Patrick Hickey was arrested at his luxury hotel and then detained in a high security prison, facing charges of involvement in a ticket scam, ambush marketing and conspiracy over the sale of Rio Olympics tickets at inflated prices.
Boxers Hassan Saada of Morocco and Namibia's Jonas Junias Jonas were arrested on charges of "sexual assault" on chambermaids working in the Athletes Village.
With inputs from agencies
World
Ruben Dario da Silva Villar, the Colombian fish trader, provided the ammunition to kill the pair, made phone calls to the confessed killer before and after the crime, and paid his lawyer, federal police officials said during a press conference held in Manaus
World
During his visit to Boa Vista, the state capital of Roraima, President Luiz Inacio Lula da Silva said the way the Yanomami are treated is inhumane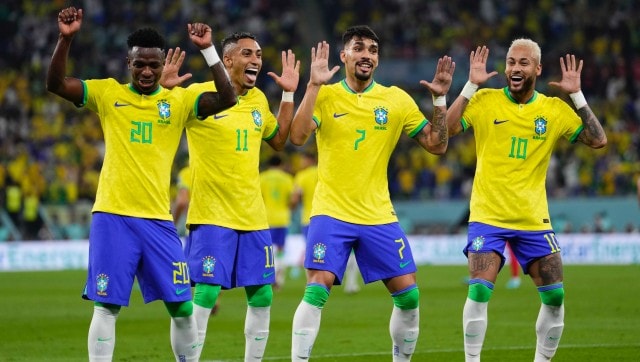 Football
There are potential Brazilian candidates, but none have garnered widespread support.